RECIPES
YUMMY BAKED PARMESAN TOMATOES
------------- Advertisement - Continue Reading Below -------------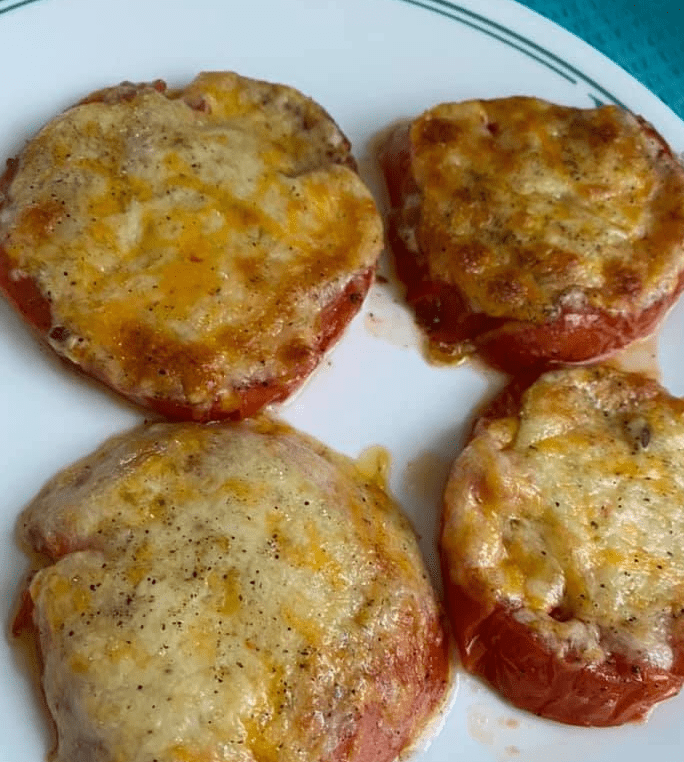 HOW TO MAKE BAKED PARMESAN TOMATOES?
These tomatoes are beautiful, aromatic, and delicately flavored. They are covered with cheese and spices and drizzled with olive oil baked on top. These are irresistible!
Since I first made them, I've been dreaming about them. They are full of parmesan cheese, herbs, and some olive oil, over the red sliced tomatoes. You're sent to the moon! That easy but so sweet. So good. Delicious! It's all I look for in an appetizer; excellent flavor, unusual presentation, and extremely satisfying.
I love to have a basic but full-flavor recipe. These tomatoes are all of that and more! They are perfect alone, or between two slices of toasted bread, they'd be fabulous. Yum! Next time, I believe this is what I am doing. Talk about delicious!
INGREDIENTS NEEDED TO MAKE THESE BAKED TOMATOES:
------------- Advertisement - Continue Reading Below -------------
3 large Beefsteak tomatoes.
1 Cup.Of grated Parmesan cheese.
A large spoon.Of Dried basil.
A large spoon.Of Dried oregano.
2 large spoons.Of Fresh chopped Italian parsley.
METHOD OF PREPARATION :
Step 1:
I started the preparation by preheating the oven to 400 degrees F. Then, I sprayed with the cooking spray on a baking sheet.
Step 2:
After that, I cut that the tomatoes into 1/4-inch pieces and evenly distributed them on the prepared baking sheet.
Step 3:
Next, I added enough parmesan to each slice to cover the surface. And immediately I added basil and oregano on top.
Step 4:
At this point, I baked for about 10 minutes, until the cheese was melted and bubbly.
Step 5:
The final move was garnishing with fresh chopped Italian parsley, and I serve it directly.
These baked tomatoes are a great side dish for a barbecue party with friends, you need just to double the ingredients to please a wide crowd hahaha! Everyone will love it, even persons who don't like to eat tomatoes baked, and just to be clear: I'm one of them!!
If you're looking for other side dish recipes, they are thousands of them on my website, you can take a look at those that I've added below to the related posts.