------------- Advertisement - Continue Reading Below -------------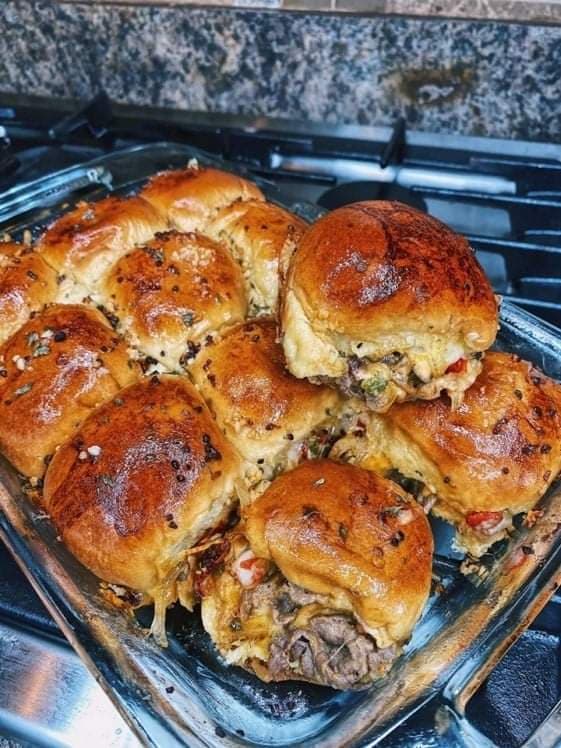 Prep Time: 10 minutes
Cook Time: 30 minutes
Total Time: 40 minutes
Ingredients:
12 Slider buns, halved
1 1/2 lbs. thinly sliced Certified Angus Beef steaks, best flavor!
12 slices of cheese, or equivalent
3-4 Tablespoons olive oil
1 clove garlic, minced
1 large green pepper, sliced
1 small onion, sliced
1 cup of mushrooms, slice and chopped
1/4 teaspoon salt
1/4 teaspoon ground black pepper
1 cup brown beef gravy
mayonnaise
1/4 cup melted butter
Instructions:
Remove the thinly sliced Certified Angust beef steaks from the refrigerator 10 minutes before you are ready to cook them. Pat them dry.
Sprinkle them lightly with some salt and pepper on each side.
Preheat a nonstick skillet on high heat for 2-3 minutes.
Add 1 tablespoon of olive oil to the surface of the pan and coat.
Place steaks into the pan. Fry for 30 to 60 seconds. Carefully flip the steaks over and sear the other side for 30 to 60 seconds. Do not overcook.
Remove the steaks from the pan and allow to rest on a plate for about 5 minutes.
Slice the steak into thin strips and set aside.
Heat 3 tablespoons of olive oil over medium heat in same skillet you prepared steak in. Add the onion and saute for about 15 minutes. Add the pepper, garlic, mushrooms, salt & pepper, and continue cooking an additional 10 minutes.
Add the steak back in and toss.
Pour in the gravy and heat until hot.
Meanwhile, remove the tops of the slider buns and place the bottoms in a 9×13 pan. Spread a thin layer of mayonnaise on the bottoms. Spoon the veggie, beef and gravy mixture over the mayo. Top with cheese slices or spoon shredded cheese on top. Put the tops back on.
Brush melted butter over the top of the buns. Cover the pan with tin foil.
Bake at 350 degrees for about 10 minutes or until the cheese has melted. Uncover and cook for an additional 2 minutes or until tops are slightly browned and crisp.
Hope You Enjoy