------------- Advertisement - Continue Reading Below -------------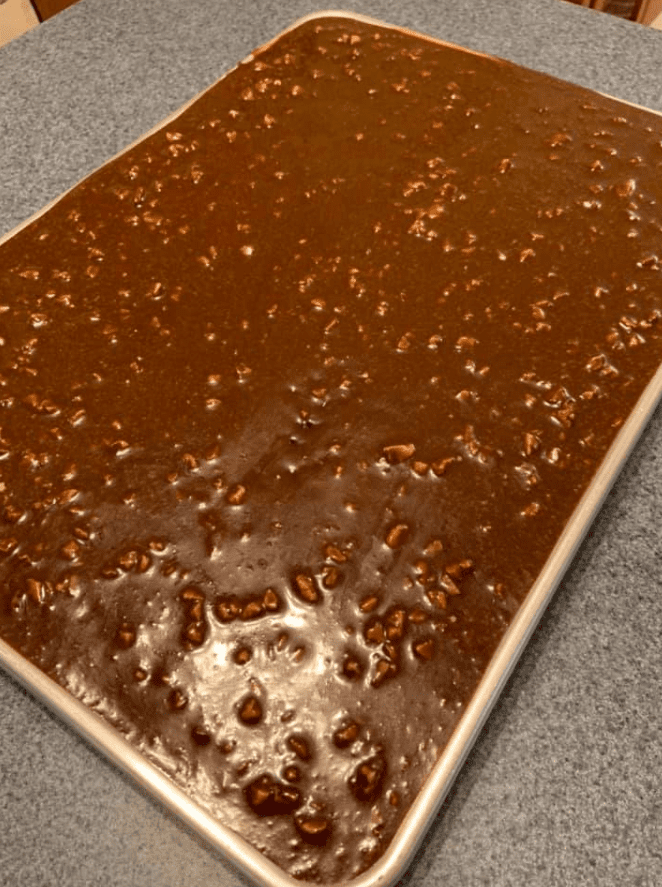 HOW TO MAKE TURTLE SHEET CAKE?
I am so honored to share with you guys everything I always enjoyed doing, that's why I choose the recipe today, cause it does delicious with the combination of chocolate, caramel, and pecans!! isn't It the best combo in the whole world!!!
This Texas Turtle Sheet Cake is a delectable take on a typical Texas dessert. It's unavoidable that if you spend a vacation in Texas, someone could give you a bite of Texas Sheet Cake. It's easy to cook and serve, and it satisfies large crowds. This huge cake reflects Texan hospitality. I want to add chocolate chips and caramel sauce to mine.
Not wanting the children to see you licking your fingertips when you prepare this cake, so be prudent, pay attention!!!
It's almost like paradise, actually. Drizzle caramel sauce over the top right before eating. You can drizzle directly onto the whole cake before slicing, or drizzle over each slice before serving – it's your cake, so do whatever you like.
WELL, THESE ARE ALL INGREDIENTS YOU'LL NEED WHEN YOU WANT TO TRY IT:
------------- Advertisement - Continue Reading Below -------------
FOR THE CAKE:
1 C.Of black coffee.
1/3 C.Of unsweetened cocoa powder.
2 medium eggs.
1/2 C.Of buttermilk.
2 C.Of cake flour.
2 C.Of granulated sugar.
1 C.Of soft butter.
FOR THE CHOCOLATE FROSTING:
4 Tablespoons.Of buttermilk.
3 C.Of powdered sugar.
1/4 C.Of softened butter.
3 Tablespoons.Of pure cocoa powder.
OPTIONAL INGREDIENTS FOR TOPPING:
1 C.Of chocolate chips.
1/2 C.Of caramel sauce.
1/2 C.Of chopped pecans.
INSTRUCTIONS:
Step 1:
I set the temperature of the oven to 350 degrees F, and I greased and dusted with flour a medium baking pan.
Step 2:
In a large mixing bowl, I sifted the cake flour and I added the granulated sugar, and mixed well.
Step 3:
In a medium saucepan, I added a cup of butter, another cup of unsweetened cocoa powder, and a cup of coffee and brought the mixture to a boil, stirring continuously.
Step 4:
I mixed the flour+sugar mixture with the chocolate mixture in one bowl.
Step 5:
Using a hand-held mixer, I carefully incorporated all ingredients.
Step 6:
I blended again for an additional 2 minutes after adding eggs and a cup of buttermilk.
Step 7:
After that, I poured the mixture into the pan that has been prepared, and I bake it for approximately 30 minutes.
THIS IS HOW TO MAKE THE FROSTING:
Step 1:
I combined the sugar with a large spoon of cocoa powder, and another large spoon of buttermilk in a medium pot. And I brought the mixture to a boil over medium heat stirring continuously.
Step 2:
I removed it from heat and blended in the powdered sugar with a wire whisk.
Step 3:
It was better when I started with 1 cup and whisked until smooth, then I added 1/2 cup at a time until the frosting was as thick as I preferred it.
Step 4:
I poured the warm frosting over the cake once I removed it from the oven and that the chocolate chips and pecan bits were fairly dispersed.
Step 5:
I drizzled the cake with caramel sauce before serving.
ENJOY IT!!