------------- Advertisement - Continue Reading Below -------------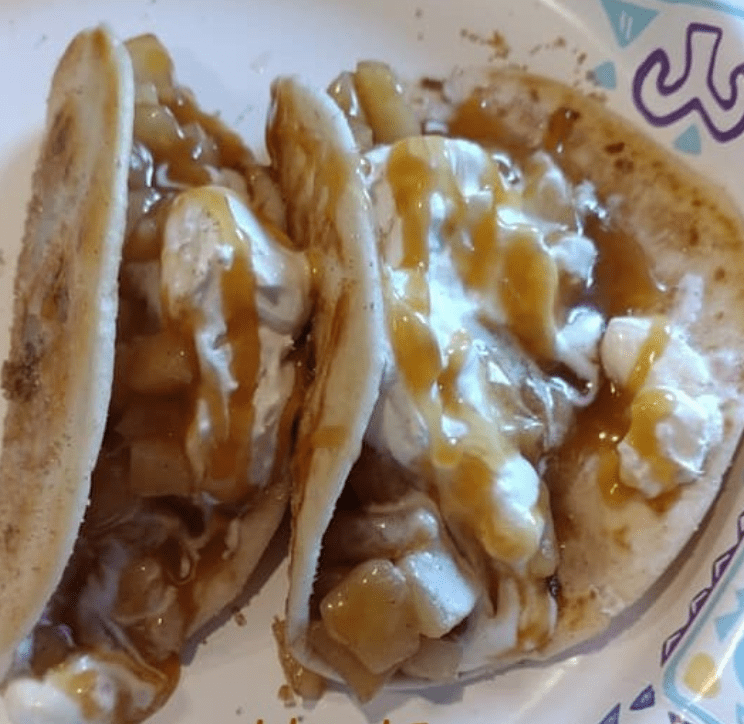 How To Make Apple Pie Cheesecake Tacos?
Crunchy cinnamon sugar tortilla shells, filled with cheesecake filling and topped with homemade apple pie filling, are absolutely PERFECT. Apple Cheesecake Tacos is a very delicious dessert, it is great for the fall days ahead. Crunchy tortilla shells, creamy cheesecake filling, and aromatic homemade apple sauce are a great mix.
In an ideal cake, three different tastes mixed.
INGREDIENTS:
------------- Advertisement - Continue Reading Below -------------
6 flour Tortillas.
1 cup graham cracker crumbs.
1/2 tsp ground Cinnamon.
1/4 cup unsalted butter, melted.
FOR THE CHEESECAKE FILLING:
1 cup of heavy cream.
1 cup of cream cheese, softened.
1/4 cup of powdered sugar.
1 tsp lemon zest.
1 tsp vanilla extract.
FOR THE HOMEMADE APPLE FILLING:
4 medium apples diced to small cubes. (peeled and cored of course)
1/3 cup of brown sugar.
2 tbsp of softened butter.
3 tbsp of water.
2 tbsp of cornstarch.
2 tbsp of water.
1 tsp of ground cinnamon.
A little pinch of nutmeg.
P.S: If you don't have time to prepare the filling you can just use one can of apple pie filling.
DIRECTIONS:
STEP 1:
I preheated the oven to 400 degrees F.
STEP 2:
I combined and set aside graham cracker crumbs and cinnamon in a medium bowl.
STEP 3:
To get around 24-30 shells, I cut 4 rounds out of each tortilla shell with a cookie cutter. Then I dip each one into molten butter, then covered with graham mixture.
STEP 4:
I flip the upside-down muffin tin and set the strips of tortilla between the muffin cups.
STEP 5:
I baked for 10 minutes until the brown is just perfect.
I let the pan cool.
STEP 6:
I melt the butter in a medium-sized pan and add the apples, brown sugar, spices, and 3 tablespoons of warm water.
STEP 7:
I cook over medium-high heat, for around 5 to 6 minutes or until the mixture is very soft and tender.
STEP 8:
I mix well the cornstarch and 2 teaspoons of water into a small dish. Then I add it to the pan and continue cooking until the apples are moist, and the filling thickens for around 5 more minutes.
STEP 9:
Using medium speed to beat cream cheese, heavy cream, powdered sugar, lemon zest, and vanilla for 2 minutes until it thickens. I put it for thirty min in the freezer, and I move to a bag for piping.
STEP 10:
I pipe the cream cheese filling into the taco shells and finish with a half teaspoon of apple pie filling.
STEP 11:
For the topping, I sprinkle with graham cracker crumbs! AND THE TACOS ARE DONE!
ENJOY!