------------- Advertisement - Continue Reading Below -------------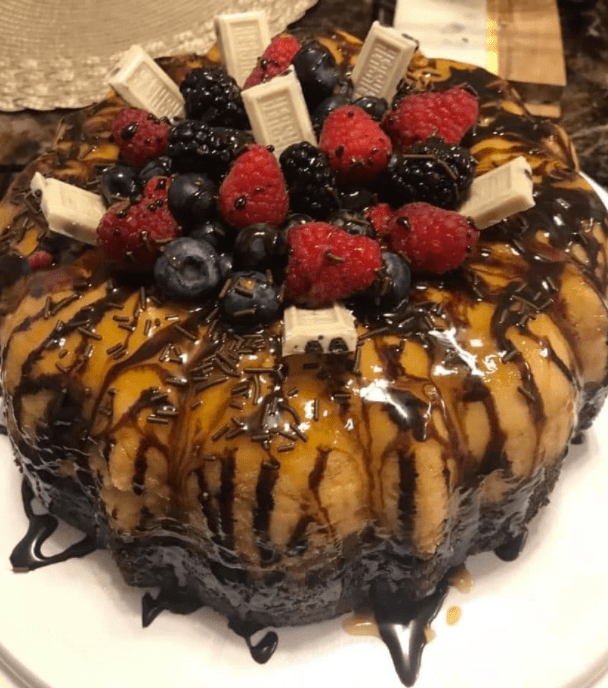 Mexican Chocoflan Impossible Cake is a dense, rich chocolate cake stacked with creamy vanilla flan, dripping with a delicate layer of cajeta caramel sauce!
Low Carb Recipes To The Prism Weight Reduction Program Chocoflan Impossible Cake Mexican Chocoflan Impossible Cake Is A Dense, Rich Chocolate Cake Stacked With Creamy Vanilla Flan, Dripping With A Delicate Layer Of Cajeta Caramel Sauce
Ingredients:
For cake:
1 box chocolate fudge cake mix (follow box directions plus 1 egg)
For flan:
Cajeta (Mexican caramel sauce)

4oz cream cheese at room temperature
4 eggs
1 can sweeten condensed milk
1 can Evaporate milk
1tbsp vanilla
Directions:
Your custard should be thick and creamy in texture. So it is important to use a water bath to keep your custard/flan from cracking and becoming rubbery this ensures it cooks evenly.
Preheat oven to 350. Mix cake batter according to box adds 1 more egg mix well. Spray a bundt pan with baking spray or grease with butter. Drizzle Cajeta on the bottom of the bundt.
Add batter. Put cream cheese, eggs, milk, and vanilla in a blender and blend well. Pour mixture into bundt over batter.
Set bundt in a water bath.
I used a rectangular Pyrex to set in the pan and filled it almost halfway with water. Cover with foil (spray foil to prevent the cake from sticking) since the cake will switch places with the flan once baked.
Bake for 1.5 hours or until firm or until the toothpick inserted comes out clean.
Let cool in pan for 1 hour at room temperature. Flip onto the platter and drizzle with more Cajeta.
Chill 1 hour or overnight… pecans can be sprinkled on top as garnish and berries Optional)
Enjoy !!