------------- Advertisement - Continue Reading Below -------------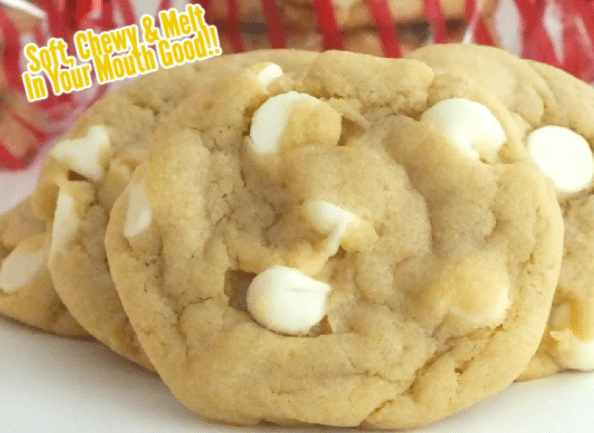 SERVINGS : 9 dozen cookies
Soft Banana Pudding Cookies with white chocolate chips and vanilla wafers. These cookies taste just like banana pudding! They are moist and delicious, soft and chewy cookies. These cookies are full of banana flavor creating an amazing cookie.
You can substitute the white chocolate chips for milk chocolate chips if you desire.
Ingredients  3x
3 cup unsalted butter at room temperature
2.25 cup brown sugar
0.75 cup granulated sugar
3 3.4 oz package banana cream instant pudding mix
6 large eggs
3 teaspoon vanilla extract
7.5 cups all-purpose flour
3 teaspoon baking soda
1.5 teaspoon salt
3 cup chopped vanilla wafer cookies
4.5 cups white chocolate chips
Instructions
Preheat oven to 350 degrees F. Line a baking sheet with parchment paper or a Silpat baking mat and set aside.
Using a mixer, beat together butter and sugars until creamy. Add in pudding mix, eggs, and vanilla extract. In a medium bowl, whisk together the flour, baking soda, and salt.
Add the dry ingredients to the wet ingredients and mix until just combined. Stir in the vanilla wafer cookies and white chocolate chips.
Drop cookie dough by rounded tablespoons onto prepared baking sheet. Bake for 10 minutes, or until slightly golden around the edges and set.
Remove cookies from oven and let cool on baking sheet for two minutes. Transfer to a cooling rack and cool completely.
If you like these Banana Pudding Cookies, you might also like: