------------- Advertisement - Continue Reading Below -------------
These Apple Pie Cookies are made with a buttery soft cookie dough then stuffed with a delicious not too sweet apple pie filling. These  Cookies are addicting, filled with a gooey, sweet, warm apple pie filling and finished off with a caramel drizzle.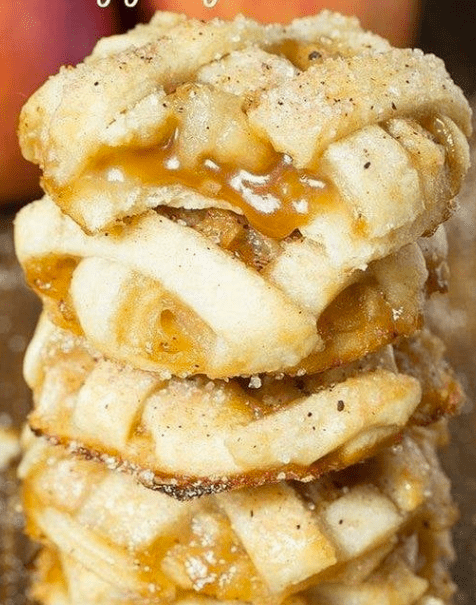 Prep Time: 25 minutes
 Cook Time: 55 minutes
 Total Time: 1 hour 20 minutes
 Yield: 2 1/2 doze
INGREDIENTS
1 roll of refrigerated pie dough (I used Marie Callender's)
5 small Granny Smith apples, peeled, cored, and diced finely
1/4 cup granulated sugar
1 teaspoon ground cinnamon
2 tablespoons lemon juice
1 tablespoon cornstarch
FOR THE STREUSEL TOPPING
2 1/4 cups all purpose flour
2/3 cup brown sugar
2/3 cup granulated sugar
2/3 cups old fashioned oats
pinch of salt
3/4 cups plus 2 tablespoons (14 tablespoons total) butter, melted
---
INSTRUCTIONS
Preheat oven to 350 degrees. Spray the wells of a standard size muffin tin with nonstick spray. Roll out dough onto a lightly floured surface, and cut out circles about 2 inches in diameter. Gather and re-roll unused dough and cut additional circles. I used the rim of a small plastic cup. Place the circles in the bottom of each muffin well.

------------- Advertisement - Continue Reading Below -------------

Add the apples, sugar, cinnamon, lemon juice, and cornstarch to a medium saucepan. Cook on medium heat, stirring occasionally for about 5-10 minutes until the apples have softened slightly and the juices begin to thicken. Remove from heat.
Add about one tablespoon of the apple filling on top of each circle of pie dough.
In a medium bowl, mix flour, brown sugar, granulated sugar, oats, and salt. Add melted butter and mix until well incorporated.
Add a heaping tablespoon of the streusel topping to each muffin well, and gently pat it down over the apples.
Bake for 17-19 minutes. **Allow the apple pie cookies to cool in the muffin tin for at least 10-15 minutes before removing.** I like to use a dull knife to gently remove them from the tin. Cool on a wire rack.
---
NUTRITION
SERVING SIZE: 1 Cookie
CALORIES: 177
SUGAR: 12g
SODIUM: 80mg
FAT: 7.6g
SATURATED FAT: 4.2g
UNSATURATED FAT: 2.7g
TRANS FAT: 0.2g
CARBOHYDRATES: 26g
FIBER: 1.3g
PROTEIN: 1.6g
CHOLESTEROL: 14mg