------------- Advertisement - Continue Reading Below -------------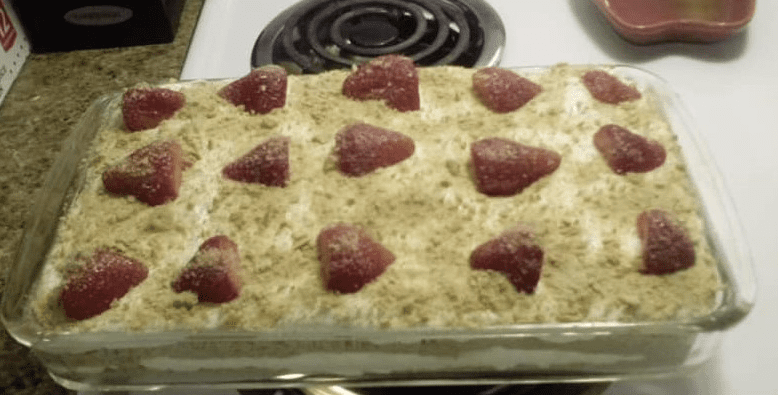 First Of all, trust me, even though you're on a diet, you're probably going to eat this delicious cake, I'm sure that you can't resist it, it has a special magic that makes everyone loves it!

The top of the list of plain, tasty sweets that can feed a crowd is icebox cakes. There's no better time to make a –strawberry– icebox cheesecake for the next potluck or family gathering, with the strawberry season upon us and these fresh, bright, juicy berries readily available.
HOW TO MAKE STRAWBERRY CREAM CHEESE ICEBOX CAKE?

Strawberry icebox cheesecake can be prepared in less than 20 minutes in advance, making for a simple, fast, beautiful dessert that will certainly please your guests.
This icebox cheesecake has the same deep, fluffy texture as a regular cheesecake, lightened with whipped cream and layered instead of a crumbly crust with graham crackers. With its several textures, it seems complex, and no one can guess in a couple of minutes that this icebox cheesecake was made.
TO MAKE THIS CAKE YOU'LL NEED FEW SIMPLE INGREDIENTS:
850 grams.Of fresh strawberries.
3 Cups.Of milk.
2 divided whip cartons.
2 packages.Of flavored pudding.
Graham biscuit, enough to make a medium crust.
For cream cheese, I used a medium container at room temp.
Sweetened condensed milk: 1 medium can is enough.
DIRECTIONS:
Step 1:
I properly washed the fresh strawberries, then I sliced them into thin slices, and set them aside for later.
Step 2:
I placed at the bottom of a medium baking tray the graham biscuits.
Step 3:
I blended the sweetened condensed milk with the cream cheese until light and fluffy, using my electric mixer.
Step 4:
After that, I applied the mixture of milk and pudding and I beat it for another 3 minutes.
Step 5:
For the filling, I poured over the graham cracker with a layer of strawberry slices inside, then with another layer of cream, then with another layer of strawberry slices, making one, two, three layers of the cream.
Step 6:
I put the plate in the fridge to cool down for at least 6 hours, but I prefer to let it overnight.
Step 7:
For the topping, I used the leftover graham biscuits; I sprinkled the crumbs over the strawberries, and I served it!!
Every time I tried this strawberry cream cheese icebox cake, it stole my heart!! The flavor, the scent, the creamiest bit in my mouth are unbelievably delicious!! Every occasion I prepared it, it stays memorable!! So try our recipe and don't forget to show us the results in the comments below!!
------------- Advertisement - Continue Reading Below -------------
Uh, ENJOY IT!