------------- Advertisement - Continue Reading Below -------------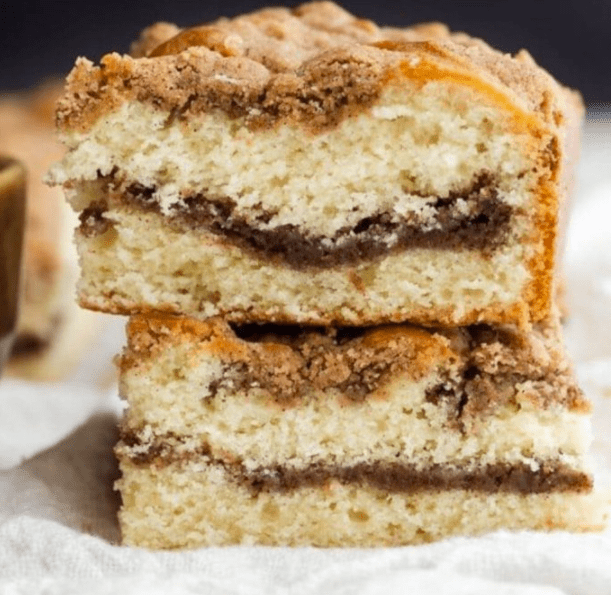 The best low carb coffee cake recipe ever! The steps for making this sugar free and low carb desert is surprisingly easy. So easy I was able to whip up a batch in the morning before work. Surprise your friends, family, or even coworkers (if you like them) with a delicious coffee cake. They will not be able to tell that it's keto, gluten free or even sugar free! This is a perfect *convince them to try keto* dessert recipe.
My Inspiration for this Recipe
In middle school I would arrive at least 30 minutes before first period to grab some hot chocolate and coffee cake before class. The school cafeteria didn't serve the best food but for some reason these pre-packaged coffee cakes tasted spectacular at the time. In retrospect, it was probably the candida in my gut convincing me that I need 60 grams of sugar first thing in the morning, EVERY MORNING, but hey we live and we learn.
Fast forward to today, I still enjoy my morning quiet time with coffee and if I am feeling the need for an extra pick me up I will indulge in a delicious coffee cake. It's just like the old days but with much more stress and much less sugar. Coffee cake always takes me back to the good old days.
Ingredients:
The Cake
4 Eggs
2 Cups Almond Flour
1/2 Cup Butter
1/2 Cup Non Dairy Milk
2 Tbsp Truvia 2:1 Sugar Replacement
2 Tsp Baking Soda
2 Tsp Vanilla Extract
1/2 Tsp Salt
The Filling
3/4 Cup Almond Flour
3 Tbsp Butter
3 Tbsp Cocoa Powder
2 Tbsp Truvia 2:1 Sugar Replacement
1 Tbsp Instant Coffee
1 Tsp Cinnamon
The Streusel
1 Cup Almond Flour
3 Tbsp Truvia 2:1 Sugar Replacement
3 Tbsp Butter
1 Tsp Cinnamon
Directions:
The Cake
Melt the butter in a microwave for two minutes in 30 second increments. Once the butter is completely melted, let it sit for 2 minutes to cool down.
To the butter add eggs, milk, sweetener and vanilla extract. Combine ingredients without over beating the eggs.
In a separate bowl sift together almond flour, baking soda and salt.
Combine wet and dry ingredients without over mixing.
The Filling and the Streusel
On medium heat combine all dry ingredients in "The Filling" category above to a small sized saucepan. Whisk mixture constantly for 3-4 minutes until the dry ingredients have lightly toasted.
Turn off the heat and add butter while stirring the mixture continuously until the butter has completely melted and incorporated with the dry ingredients
Set the filling aside and repeat the same steps above for "The Streusel" ingredients.
The Assembly
Pre-heat the oven to 350F.
Prepare your baking pan by spraying it with coconut oil.
Add half of the cake into a 9X9 baking pan. Wiggle the baking pan back and fourth so the cake batter can spread and cover all corners of the pan.
Spread the filling evenly on top of the first layer of cake.
Add the second layer of cake to cover the filling layer.
Add the streusel on top of the final cake layer.
Bake in the oven for 20 minutes or until the streusel is light brown.
Let the cake sit until cool before cutting into it.
Serve and enjoy.
Sweetener Sweetness, Calories and Carbs
Each slice of coffee cake comes out to be 2.2 NET CARBS! I used a 9×9 inch pan to make 16 large cake squares . Please note the nutrition facts for this coffee cake above are calculated WITHOUT sugar alcohols facts. There are a million types of different sweeteners on the market and all of them vary in calories, sweetness levels and carbs. Be sure to check the nutrition facts for the sugar substitute you are using and add the nutrition info to get accurate nutrition facts.
It's all about personal preference.
I tend to lean towards sweeteners with an erythritol and stevia blend, but if you don't have some handy in your pantry you don't have to head to the grocery store just yet. You can make smart substitutions and stick with ingredients you prefer. Just be sure to use a granulated form of your preferred sweetener.
------------- Advertisement - Continue Reading Below -------------
The sweetener I used in this recipe is Truvia. Truvia is an erythritol and stevia blend so it measures 2x sweeter than sugar, and it's extremely easy to find in any grocery store. If you use a different type of sweetener be sure to adjust the volume of your sweetener to the same sweetness level provided in the recipe.