------------- Advertisement - Continue Reading Below -------------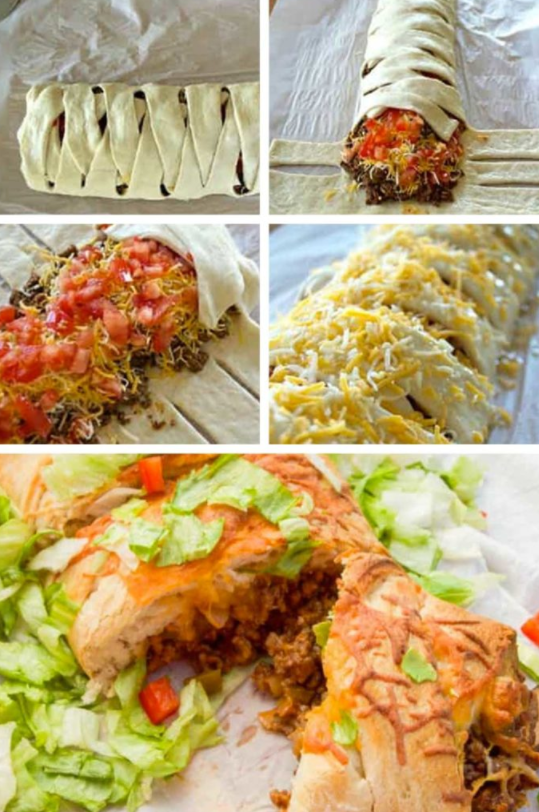 Ingredients:
1 can refrigerated pizza dough
2 tablespoons olive oil
½ cup chopped onion
¾ pound ground beef
3 tablespoons taco seasoning
1 cup Mexican blend shredded cheese, divided
1 tomato, diced, plus additional for top, if desired
1 ½ cups chopped lettuce
Sour cream and salsa for serving, if desired
Directions:
Preheat the oven to 375 degrees Fahrenheit (190 degrees Celsius).
Sauté the onions in the olive oil until translucent and just starting to brown.
Add the ground beef and taco seasoning, and fully cook the ground beef.
Once it's fully-cooked, drain the ground beef and set aside.
Unroll the pizza dough onto parchment paper. On both sides, cut equal strips, going about 1 ½ into the dough but NOT all the way from side to side. The dough should like it has fringe.
Layer the ground beef, tomatoes, and cheese in the center of the dough.
Braid the dough strips over the top of the filling, so that the filling is almost fully-encased in the dough.
Slide the braided loaf onto a baking sheet. Bake for 25 to 30 minutes, until browned on top.
Garnish the top with tomatoes, lettuce, and the remaining cheese. Serve with salsa (or taco sauce) and enjoy!