------------- Advertisement - Continue Reading Below -------------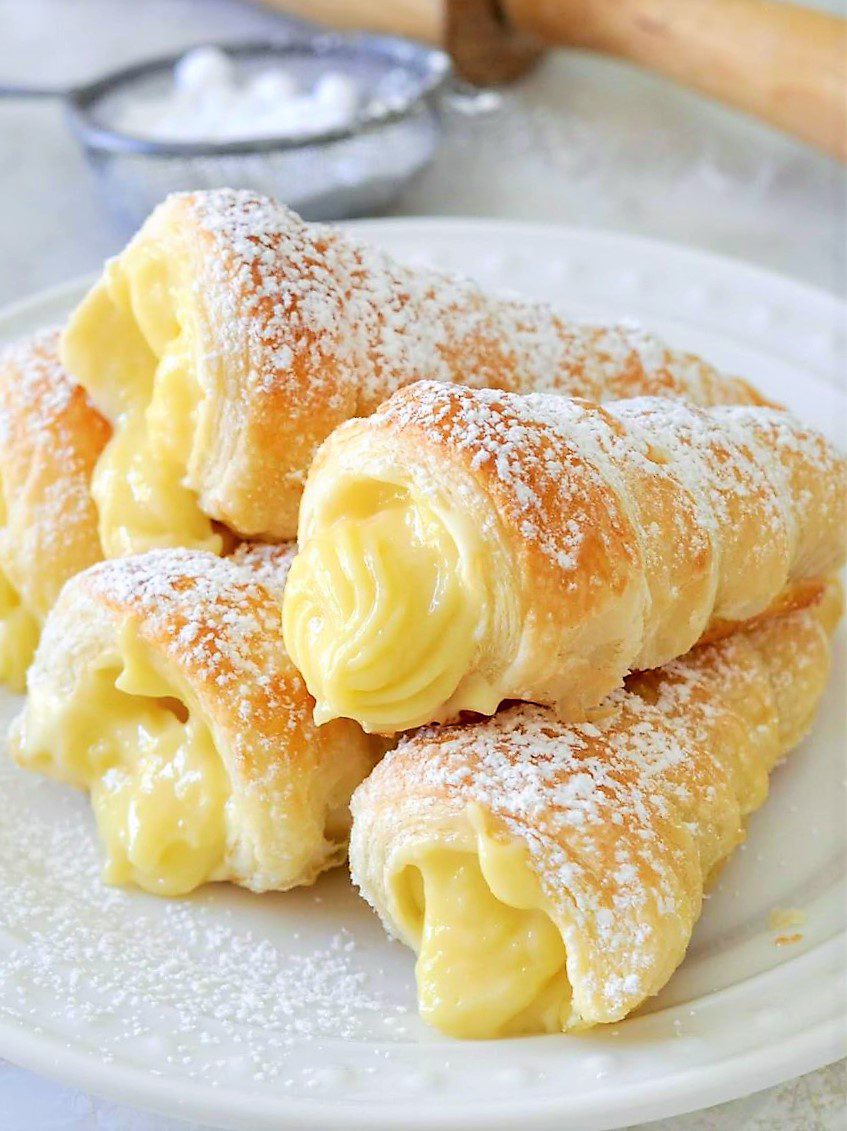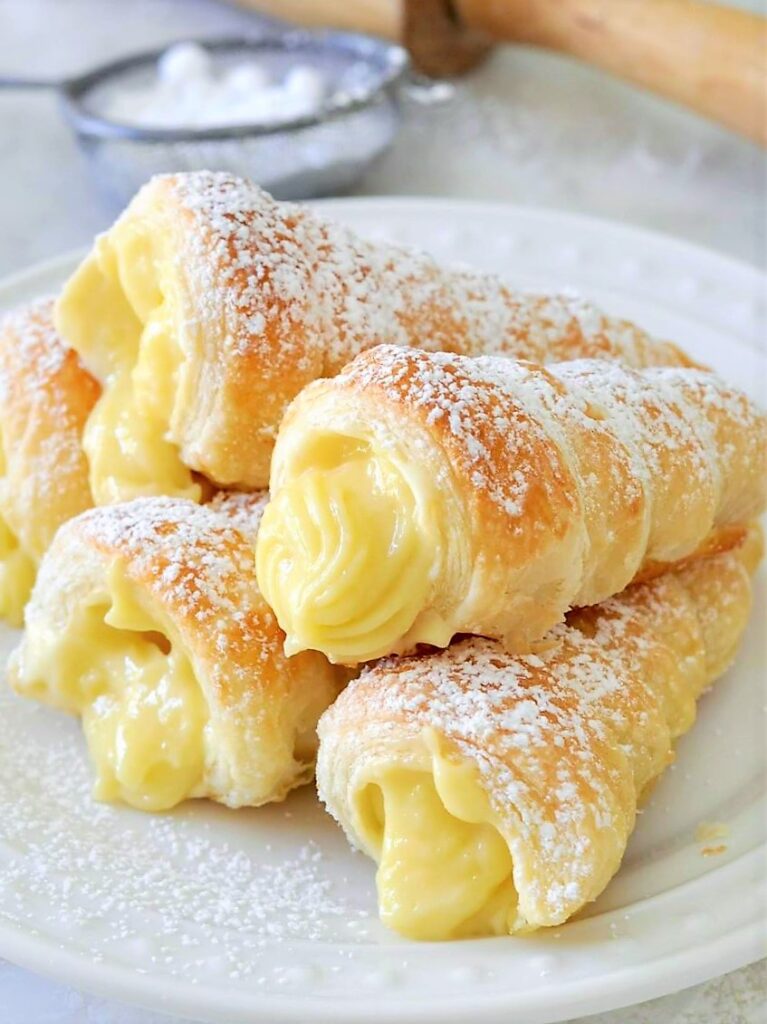 Table of Contents
Hey there, Kitchies! If you're a fan of Italian desserts, you'll love this Italian Cream Stuffed Cannoncini. Originally from Piedmont, this dessert is popular throughout northern Italy and can often be found in Italian pastry shops.
The crispy puff pastry cones are filled with a delicious vanilla pastry cream that will transport you to the charming cafes of Italy. With a flaky puff pastry exterior and a creamy, sweet filling, these treats are sure to delight your taste buds.
To make this dessert, you'll need to start by making the custard cream. Whisk together egg yolks, sugar, vanilla extract, and flour, and gradually add hot milk while whisking continuously. Cook the mixture until it thickens, and then let it cool in a glass bowl.
Next, preheat your oven to 400°F (200°C) and roll out a sheet of puff pastry into a rectangle. Cut the pastry into 12 slices and roll each slice into a cone shape, leaving some overlapping dough at the bottom. Brush each cone with beaten egg and bake them for 15-20 minutes until golden brown.
Let the pastry cones cool for a few minutes before removing them from the baking sheet. Gently twist the cones to remove them from the mold, and then fill them with the custard cream. Dust with powdered sugar and serve!
This recipe is perfect for anyone looking to impress their guests with a delicious Italian dessert. The crispy puff pastry cones and creamy vanilla custard make for a perfect combination that's sure to satisfy your sweet tooth.
Cuisine: Italian
Servings: 12

Prep Time: 30 minutes
Cook Time: 20 minutes
Total Time: 50 minutes
So, let's get started KMT Show ! Here's what you'll need to make this recipe so special :
Ingredients:
For the custard cream:
3 egg yolks
3 tsp (30 g) all-purpose flour
1/2 cup (100 g) sugar
1 tsp vanilla extract
8 oz (235 ml) milk
For the cannoncini:
1 sheet of puff pastry, thawed (8 oz/225 g)
1/4 cup (50 g) sugar
1 egg, beaten
Powdered sugar for dusting
It's time to put on your KMT chef's hat and start create your own version, Kitchies!! Simply follow these easy-peasy steps!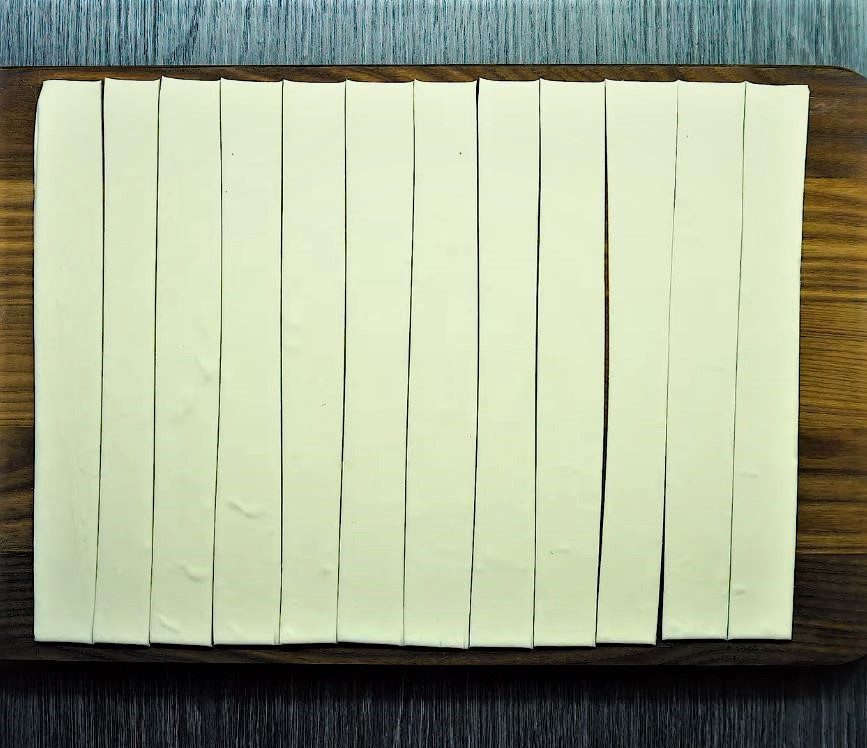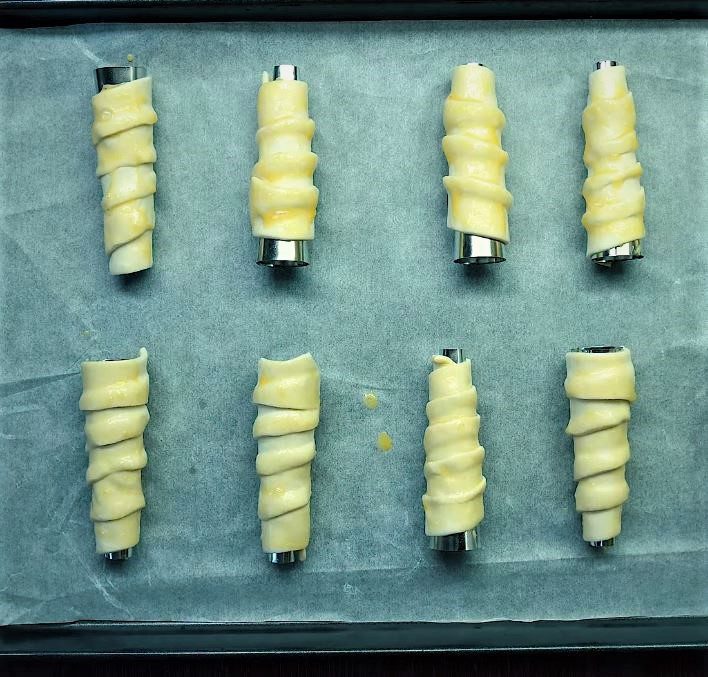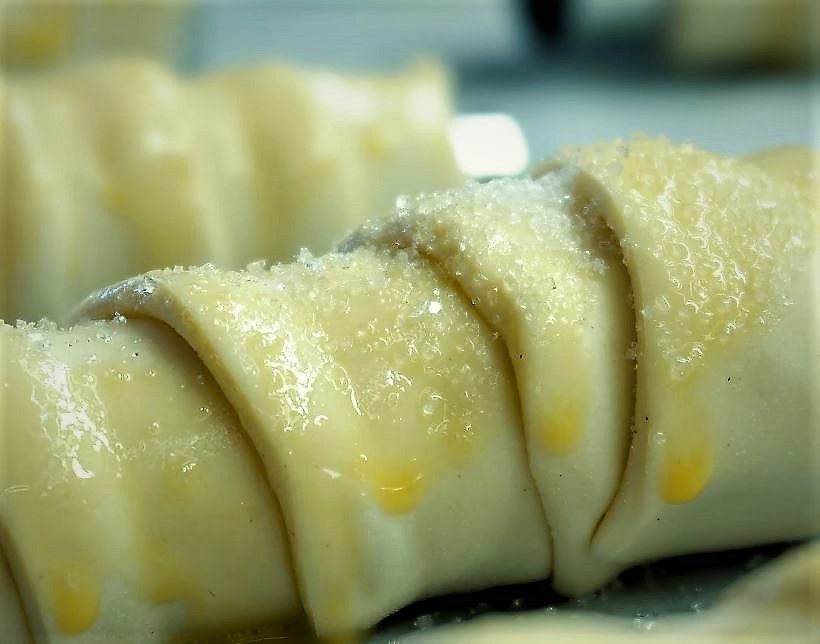 How to Make Cream Stuffed Cannoncini :
Start by preparing the custard cream. Heat the milk until it is warm but not boiling.
In a saucepan, whisk together the egg yolks, sugar, vanilla extract, and flour until fluffy. Gradually add a little milk while whisking to avoid lumps.
Place the saucepan on the heat and continue stirring until the mixture thickens. Make sure it doesn't stick to the bottom of the pan.
Reduce the heat and cook for another 2 minutes until the custard reaches the desired thickness. Pour the cream into a glass bowl, cover with plastic wrap, and set aside for at least an hour to cool.
Preheat the oven to 200°C (400°F). Sprinkle the table sugar over the puff pastry sheet. Roll it into a 30 x 30 cm rectangle.
Cut the pastry sheet into 12 slices, each about 1 inch wide. A helpful technique is to cut the dough into 3 pieces, and then cut each piece into 4 strips.
Take each slice and shape it into a cone, overlapping the dough to create the cone shape. Make sure the dough is sealed.
Place the cones on a baking sheet lined with parchment paper, leaving some space between them. Keep the strips of dough for decoration.
Beat the egg with a teaspoon of water and gently brush each cone with the egg wash.
Using cone-shaped molds, carefully place the cones on the molds to prevent them from sticking. Bake in the preheated oven at 200°C (400°F) for 15-20 minutes or until the surface turns golden brown.
Allow the cannoncini to cool for a few minutes, then carefully remove them from the molds. If they stick, gently twist the molds to release them.
Fill each cone with the prepared custard cream. Dust with powdered sugar for a final touch of sweetness.
Master this recipe like a Pro/Expert with these helpful Tips:
KM'Tips:
Be careful not to overcook the custard cream as it can become too thick. Keep stirring and monitor the heat to achieve the desired consistency.
Make sure the puff pastry is thawed properly before using it to ensure a flaky and golden exterior.
To make the cannoncini look even more elegant, you can drizzle them with chocolate or caramel sauce.
Make sure to leave some overlapping dough at the bottom of each cone to prevent the custard cream from leaking out.
SUBSTITUTIONS AND VARIATIONS:
For a more flavorful custard cream, you can add lemon zest or a splash of liquor such as rum or amaretto.
You can use different flavored pastry creams such as chocolate, coffee, or pistachio.
Try adding chopped nuts or dried fruit to the custard cream for extra texture and flavor.
Instead of puff pastry, you can use phyllo dough or pie crust.
WANNA MAKE A HEALTHIER VERSION:
To make a healthier version of this recipe, you can use low-fat milk or almond milk instead of whole milk. You may also cut back on the sugar or use a sugar substitute.
Use whole wheat puff pastry or phyllo dough instead of regular puff pastry to increase the fiber content.
Substitute part of the sugar with a natural sweetener like stevia or maple syrup.
Instead of dusting the cannoncini with powdered sugar, sprinkle them with a light dusting of cinnamon for added flavor.
While keeping your health goals in mind, enjoy these Italian Cream Stuffed Cannoncini. Enjoy the flavors of Italy in a lighter, more nutritious way!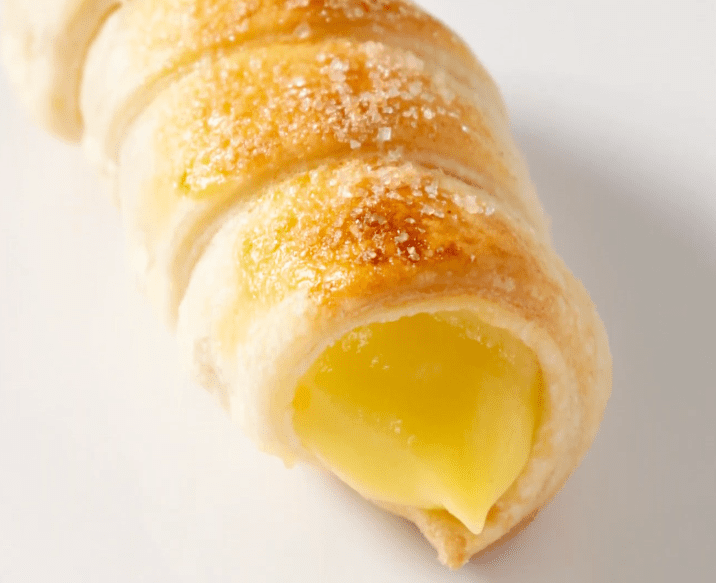 Nutrition Information:
Please note that the following nutrition information is approximate and may vary depending on the specific ingredients, quantities used and serving sizes.
Serving size: 1 cannoncino

Calories: 190
Total Fat: 11g
Saturated Fat: 3.5g
Cholesterol: 55mg
Sodium: 70mg
Total Carbohydrates: 19g
Dietary Fiber: 0g
Sugar: 11g
Protein: 3g
And there you have it, Kitchies! A delicious and easy-to-make Italian Cream Stuffed Cannoncini recipe that's sure to impress your guests. Don't forget to let us know how it turns out, and check out our other Italian dessert recipes for more sweet inspiration.
Categories: Dessert, Italian
Are you curious about anything else? Take a look at the most frequently questions Below we get about this recipe:
Don't forget Sharing is Caring! let us know how your version of the recipe turns out! We'd love to hear about your cooking adventures and see your creations.
Feel free to Share your photos, leave a review, or drop a comment below. Your feedback and experiences are valuable to us and our community.
Please remember to SHARE on Facebook and PIN IT!
FOLLOW ME US PINTEREST BY CLICKING HERE
FAQs :
Q: Can I make the custard cream ahead of time?
A: Yes, you can prepare the custard cream in advance. Simply store it in an airtight container in the refrigerator for up to 2 days. Allow it to come to room temperature before filling the cannoncini.
Q: Can I freeze the baked cannoncini?
A: Yes, you can freeze the baked cannoncini. Place them in a freezer-safe container or bag, separating the layers with parchment paper. They can be frozen for up to 2 months. Thaw them at room temperature before filling them with the custard cream.
Q: Can I use pre-made custard instead of making it from scratch?
A: Absolutely! If you prefer, you can use store-bought custard instead of making it from scratch. Just ensure that it has a similar consistency and flavor to the homemade custard cream.
Q: Can I use different pastry fillings?
A: Yes, you can get creative with the fillings. Besides the traditional vanilla pastry cream, you can experiment with different flavors such as chocolate, fruit compote, or even a nut-based filling.
Q: Can I use a different type of pastry dough?
A: While puff pastry is traditionally used for cannoncini, you can certainly try other types of pastry dough, such as phyllo dough or even homemade pastry dough. The texture and taste may vary slightly, but it can add an interesting twist to the dessert.
Q: Can I make mini cannoncini instead of larger ones?
A: Absolutely! If you prefer smaller portions, you can cut the puff pastry into smaller strips and shape mini cones. Just remember to adjust the baking time accordingly, as they may require less time to cook.
Q: Can I add any additional toppings or garnishes?
A: Yes, you can add some extra flair to your cannoncini. Consider drizzling them with melted chocolate, sprinkling them with chopped nuts, or adding a dollop of whipped cream on top for a delightful presentation.
Q: How long can I store the filled cannoncini?
A: The filled cannoncini are best enjoyed fresh. If you have leftovers, store them in an airtight container in the refrigerator for up to 2 days. However, note that the pastry may lose some of its crispiness over time.
Q: Can I make this recipe dairy-free?
A: Yes, you can make this recipe dairy-free by using plant-based milk, such as almond milk or oat milk, in place of regular milk. You can also substitute coconut cream or a dairy-free alternative for the heavy cream in the custard.
Q: Can I make a gluten-free version of this recipe?
A: Yes, you can make a gluten-free version by using gluten-free puff pastry or gluten-free pastry dough. Ensure that all the ingredients used, including the flour in the custard cream, are certified gluten-free.