------------- Advertisement - Continue Reading Below -------------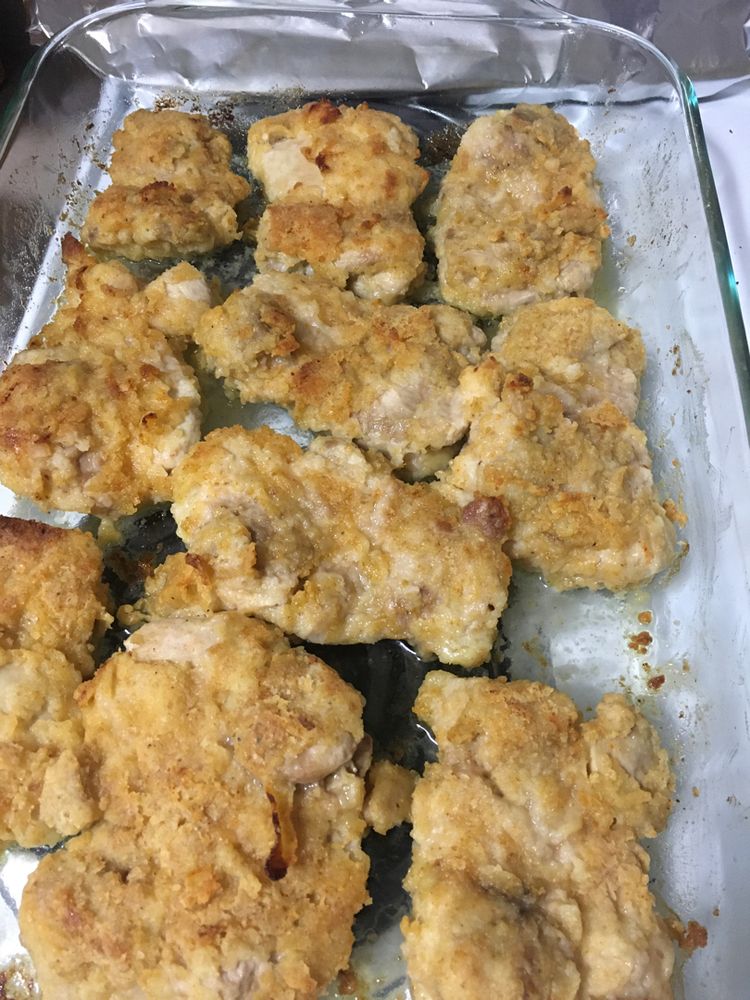 Welcome Kitchies, to a finger-licking experience with our Crispy Buttermilk Oven Fried Chicken! This tender and juicy chicken dish will leave you craving for more. Inspired by a recipe from Taste of the South magazine, we've added a few personal touches to take it to the next level. Get ready to savor the irresistible flavors and enjoy the crispy goodness!
Imagine sinking your teeth into perfectly seasoned chicken with a golden, crispy coating, revealing moist and succulent meat inside. Our Buttermilk Oven Fried Chicken is the epitome of comfort food that will have your taste buds dancing with delight. With a longer marinating time and a flavorful breadcrumb mixture, this recipe promises to satisfy your cravings.
Our recipe is all about achieving the ideal combination of juicy chicken and a crispy crust. The buttermilk marinade works its magic, infusing the meat with tenderness and flavor, while the Parmesan and breadcrumb coating ensures a satisfying crunch. Whether you follow the original recipe or add your own twists, this Buttermilk Oven Fried Chicken will undoubtedly become a favorite in your household.
------------- Advertisement - Continue Reading Below -------------
So, let's get started KMT Show ! Here's what you'll need to make this recipe so special :
Servings: 4

Prep Time: 15 minutes (plus marinating time)
Cook Time: 40-45 minutes
Total Time: 55-60 minutes (including marinating time)
Ingredients :
1 1/2 cups buttermilk
1 tablespoon hot sauce (adjust to taste)
1 teaspoon kosher salt
1 1/2 teaspoons ground black pepper, divided
2 pounds skinless chicken thighs
1 cup finely grated Parmesan cheese
1/2 cup panko (Japanese) bread crumbs
1 teaspoon chopped fresh thyme (or 1/4 teaspoon dried thyme)
3/4 teaspoon ground paprika
It's time to put on your KMT chef's hat and start create your own version, Kitchies!! Simply follow these easy-peasy steps!
How to make Buttermilk Oven Fried Chicken :
In a large bowl, whisk together the buttermilk, hot sauce, salt, and 1 teaspoon of pepper. Add the chicken thighs and ensure they are fully coated in the marinade. Cover the bowl and refrigerate for at least 3 hours (or up to 6 hours for enhanced flavor).
Preheat your oven to 400°F (200°C). Line a baking sheet with parchment paper or foil for easy cleanup.
In a medium bowl, combine the grated Parmesan cheese, panko bread crumbs, chopped fresh thyme, ground paprika, and the remaining 1/2 teaspoon of ground black pepper.
Working with one piece at a time, remove a chicken thigh from the marinade, allowing any excess marinade to drip off. Dredge the chicken in the breadcrumb mixture, pressing gently to coat the thigh evenly. Place the coated chicken thigh on the prepared baking sheet. Repeat with the remaining chicken thighs.
Bake the chicken thighs in the preheated oven for 40 to 45 minutes or until they turn golden brown and the internal temperature reaches 165°F (74°C).
Once cooked, remove the chicken from the oven and let it rest for a few minutes before serving. This allows the juices to redistribute, ensuring a tender and juicy bite.
Enjoy this Crispy Buttermilk Oven Fried Chicken at its finest! Feel free to experiment with additional spices or seasonings to suit your taste preferences.
Substitutions and Variations:
For a healthier version, use skinless chicken breasts instead of thighs and opt for whole wheat breadcrumbs or almond flour instead of panko bread crumbs.
If you prefer a spicier kick, increase the amount of hot sauce or add a pinch of cayenne pepper to the breadcrumb mixture.
Experiment with different herbs and spices like rosemary, smoked paprika, or garlic powder to create your own unique flavor profile.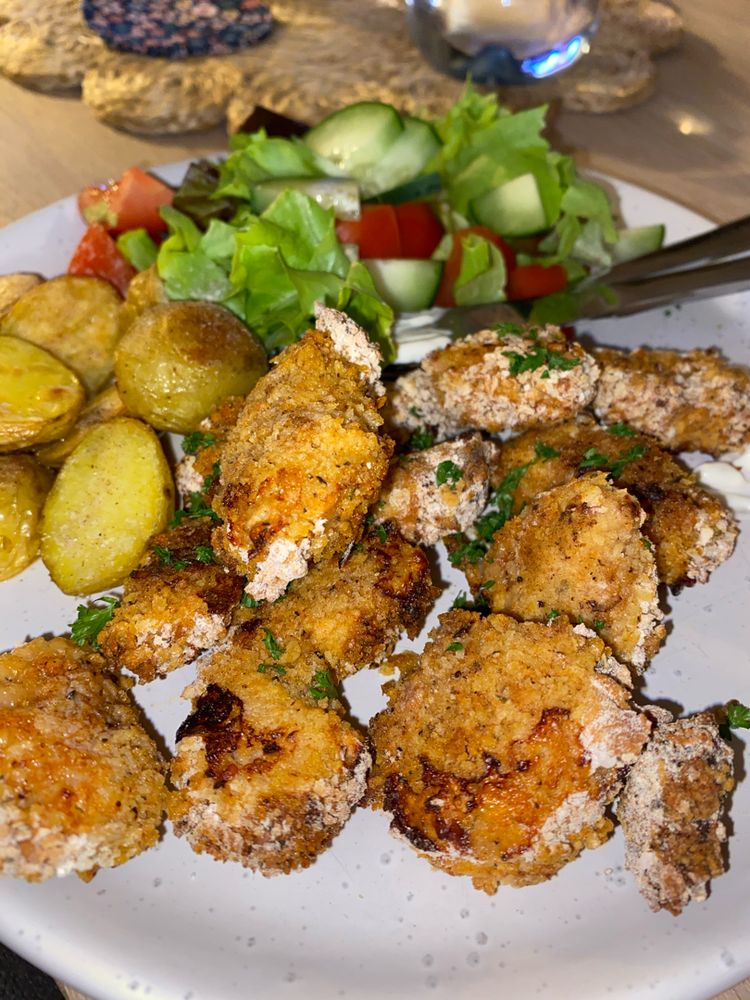 Master this recipe like a Pro/Expert with these helpful Tips:
KM'Tips :
For extra crispy results, place a wire rack on the baking sheet before placing the coated chicken thighs. This allows air to circulate and prevents the bottoms from becoming soggy.
If you don't have buttermilk, you can make a substitute by adding 1 tablespoon of lemon juice or vinegar to 1 cup of milk. Let it sit for 5 minutes before using.
For a more intense flavor, add additional herbs or spices to the buttermilk marinade, such as garlic powder, onion powder, or smoked paprika.
Make sure to preheat your oven properly to ensure even cooking and a crispy exterior.
Nutrition Information (per serving):
Calories: 380
Protein: 38g
Fat: 16g
Carbohydrates: 17g
Fiber: 1g
Sugar: 3g
Categories: Chicken Recipes, Oven Baked Recipes, Comfort Food, Family-Friendly Meals
You wanna Make a healthier version :
For those looking for a healthier twist, you can make a few adjustments to this recipe. Here are some suggestions :
Low-carb : replace the breadcrumbs with crushed pork rinds or almond flour.
Gluten-free; use gluten-free breadcrumbs or crushed gluten-free crackers.
Lower-fat: use skinless chicken breast and reduce the amount of Parmesan cheese or use a reduced-fat version.
WW (Weight Watchers) : use skinless chicken breast and calculate the SmartPoints accordingly.
And there you have it! Crispy Buttermilk Oven Fried Chicken that will surely satisfy your cravings. Don't forget to share your cooking success and consider exploring our other mouthwatering recipes!
Are you curious about anything else? Take a look at the most frequently questions Below we get about this recipe:
FAQs:
Can I use boneless chicken breasts instead of chicken thighs?

Yes, you can use boneless chicken breasts if you prefer. Adjust the cooking time accordingly, as chicken breasts may cook faster than thighs. Ensure the internal temperature reaches 165°F (75°C) for fully cooked chicken.


Can I use regular breadcrumbs instead of panko breadcrumbs?

Yes, regular breadcrumbs can be used as a substitute for panko breadcrumbs. However, panko breadcrumbs tend to create a crispier coating. If using regular breadcrumbs, consider toasting them slightly before coating the chicken for added crunch.


Can I make this recipe ahead of time?

While the chicken is best served fresh out of the oven, you can prepare the buttermilk marinade and coat the chicken with the breadcrumb mixture in advance. Keep them refrigerated separately, and then bake the chicken just before serving for the best texture and flavor.


What does soaking chicken in buttermilk do?

Soaking chicken in buttermilk serves several purposes. Firstly, the acidity in buttermilk helps to tenderize the meat, resulting in a more tender and juicy texture. Secondly, the enzymes in buttermilk work to break down proteins in the chicken, further enhancing its tenderness. Lastly, buttermilk adds a subtle tangy flavor to the chicken, enhancing its taste.


How long does it take to marinate chicken in buttermilk?

The recommended marinating time for chicken in buttermilk is typically around 1 to 24 hours. In the case of the Buttermilk Oven Fried Chicken recipe, it suggests marinating the chicken for 3 hours. However, you mentioned marinating it for 6 hours, which is perfectly fine and can result in even more flavorful and tender chicken.


Can I soak chicken in regular milk instead of buttermilk?

Yes, you can use regular milk as a substitute for buttermilk. While buttermilk has a thicker consistency and tangy flavor, regular milk can still help tenderize the chicken. To mimic the tanginess of buttermilk, you can add a tablespoon of lemon juice or vinegar to one cup of regular milk and let it sit for a few minutes before using it as a substitute.


Why does buttermilk make chicken taste better?

Buttermilk contains lactic acid, which helps to break down proteins in the chicken and improves its texture. Additionally, the tangy flavor of buttermilk adds a pleasant taste to the chicken, enhancing its overall flavor profile. The combination of tenderizing effects and flavor enhancement is what makes buttermilk a popular choice for marinating chicken.