------------- Advertisement - Continue Reading Below -------------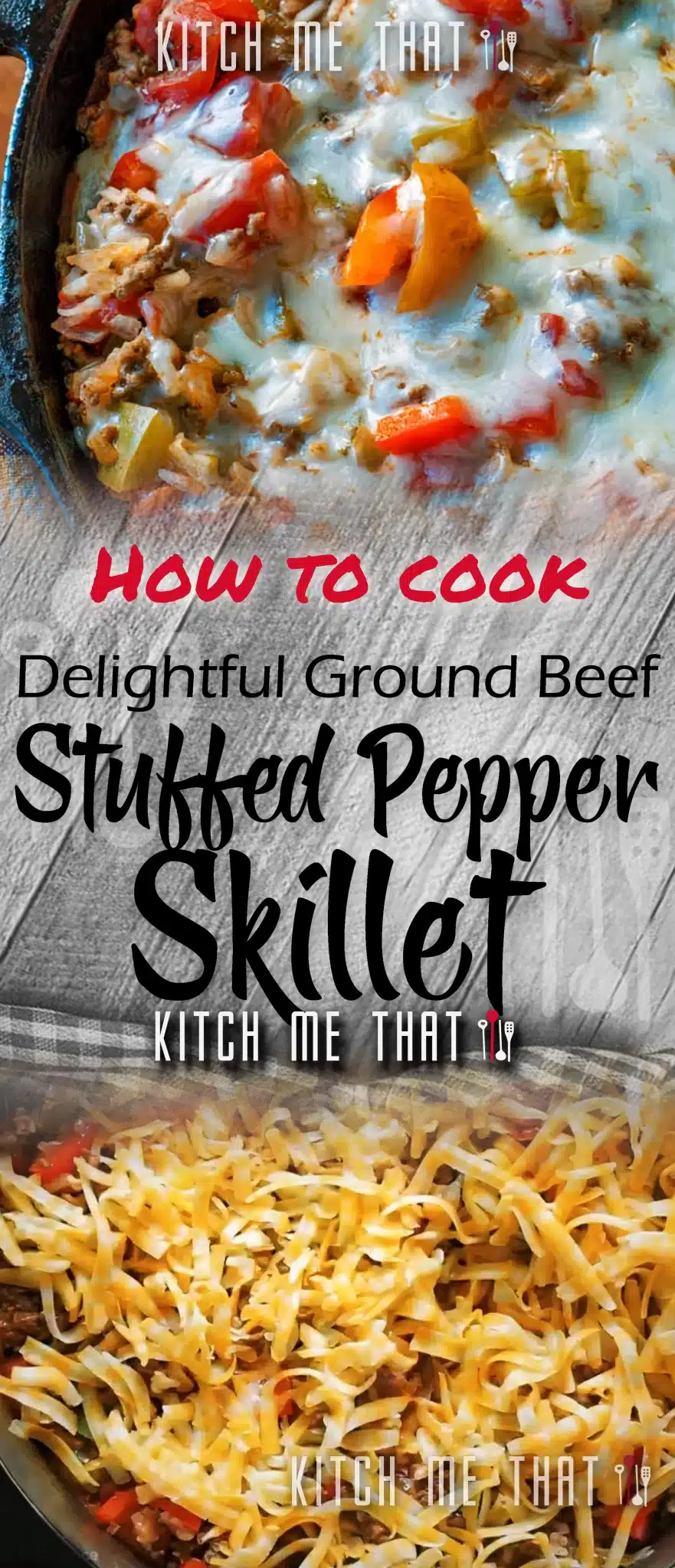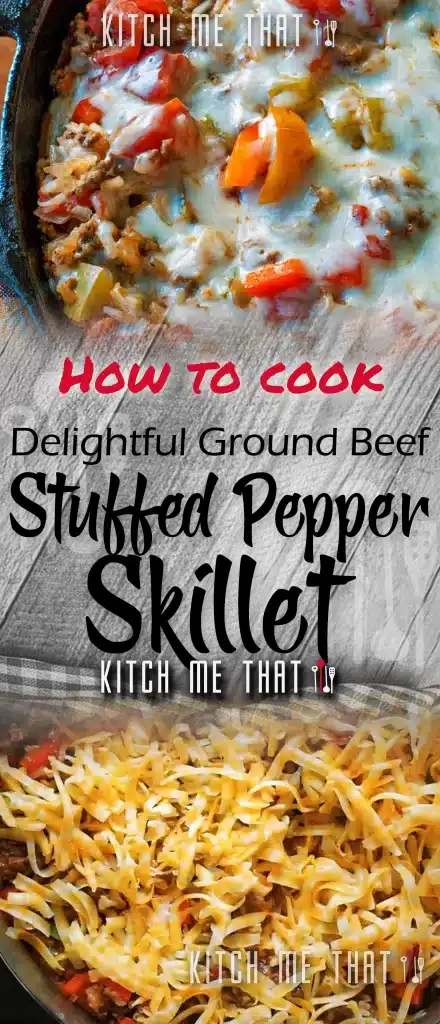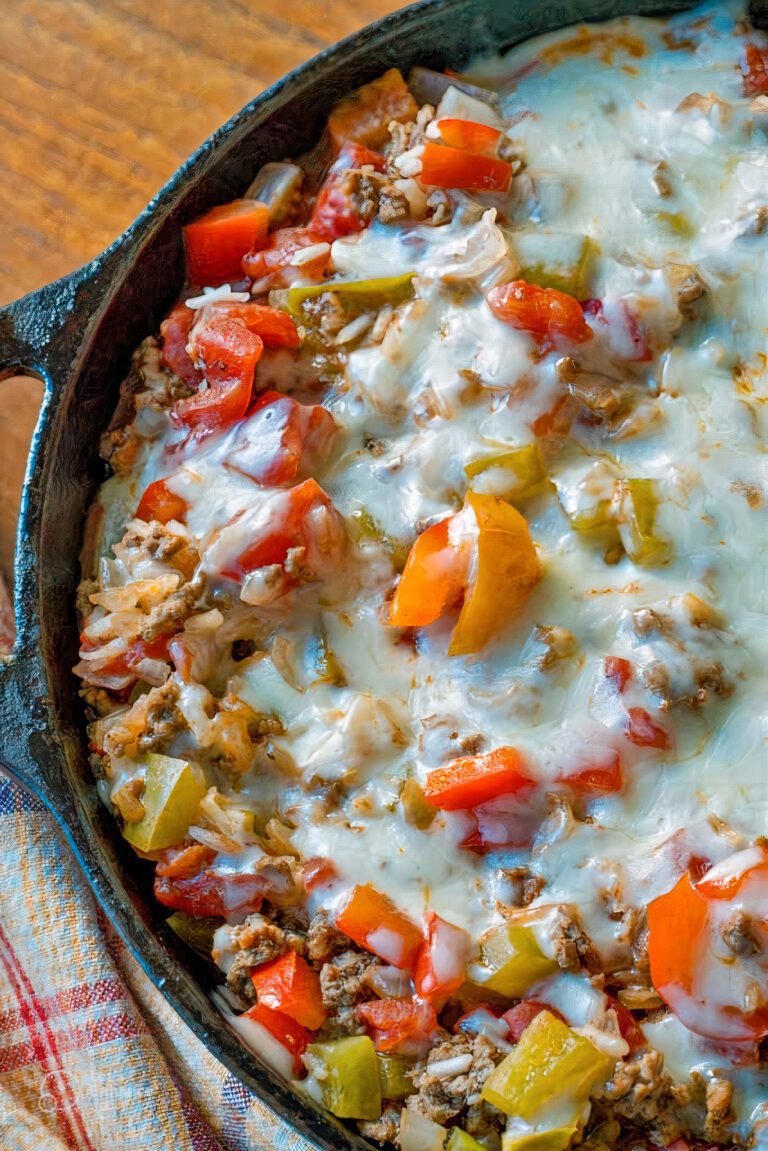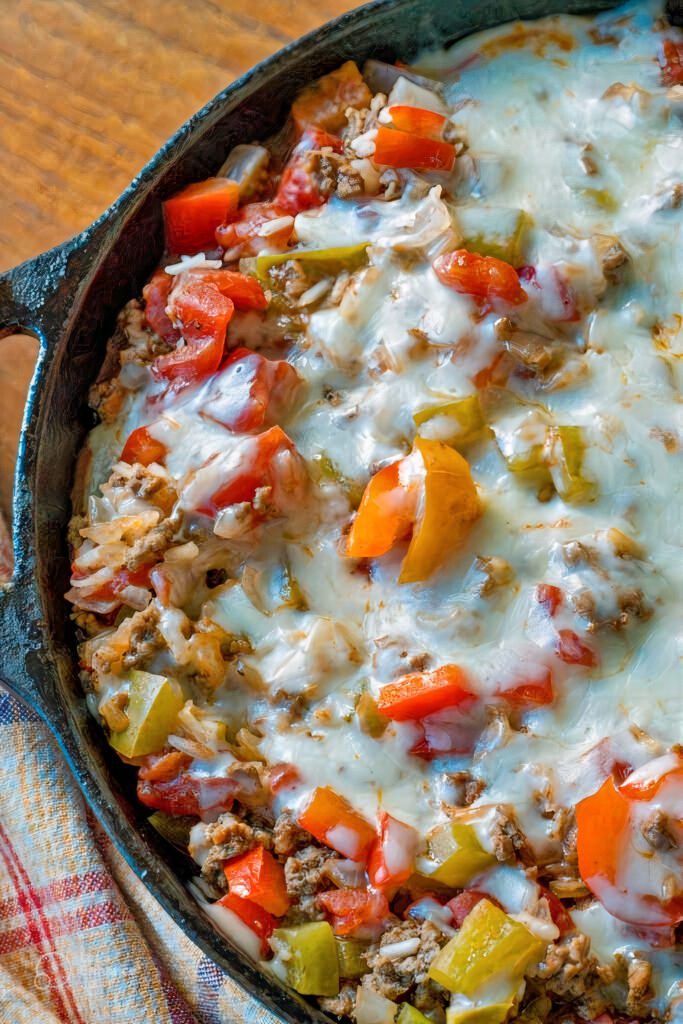 You're Not Ready for this irresistible combination of ground beef, colorful bell peppers, and melted cheese! Prepare to be captivated by the enticing aroma and delectable flavors of our Ground Beef Stuffed Pepper Skillet. This recipe, inspired by the passion for homemade cooking, is here to ignite your taste buds and transport you to a world of culinary delight.
Did you know that Beef is one of the most widely consumed meats worldwide? From its rich flavor to its nutritional benefits, beef has become a staple in many households. As we delve into the deliciousness of this Ground Beef Stuffed Pepper Skillet recipe, let's also explore some interesting facts about beef and cattle that you may find intriguing.
Here are some interesting Fun Facts About Beef and Cattle:
The United States and Brazil lead the world in beef production, showcasing their significant contributions to the global meat industry.
Cows have an impressive jaw movement count of over 40,000 per day, emphasizing their unique physiology and feeding habits.
Cattle's salivary glands work tirelessly, producing an astonishing 50-75 liters of saliva each day, aiding in the digestion process.
To put it into perspective, the meat from a single cow can yield approximately 720 quarter-pound hamburgers, enough to satisfy a family of four with daily burgers for nearly six months!
Cattle contribute to the medical field as well, with more than 100 medicines derived from them, including vital substances like insulin and estrogen.
The versatility of cattle is evident as a single cowhide can produce enough leather to craft 18 soccer balls, showcasing the wide range of uses for their byproducts.
With almost 800 registered breeds worldwide, cattle come in various sizes, colors, and characteristics. The captivating breed pictured here is known as the "Black Baldy."
Countries such as Uruguay, New Zealand, Argentina, Australia, and Brazil have more cows than people, highlighting the significant role of cattle in their economies and agricultural practices.
Cattle are descendants of the Middle Eastern aurochs, which were large ox-like creatures. Sadly, the last auroch passed away naturally in Poland in 1627, marking the end of an era.
Mince, which plays a crucial role in beef production, accounts for nearly 40% of the meat's output. This versatile ingredient is used in various dishes worldwide, including the beloved hamburger.
This recipe encapsulates the essence of hearty home-cooked meals while infusing them with a touch of culinary ingenuity.
Serving: 4 servings

Prep Time: 10 minutes
Cook Time: 30 minutes
Total Time: 40 minutes
Ingredients:
1 pound ground beef
1/2 diced onion
3 cloves minced garlic
1/2 cup diced green bell pepper
1/2 cup diced red bell pepper
14.5 ounces diced tomatoes
3/4 cup white rice (Jasmine rice works well)
2 cups beef broth
2 tablespoons tomato paste
1 teaspoon Italian seasoning
1/2 teaspoon salt
1/4 teaspoon black pepper
1 1/2 cups shredded cheese (your choice)
1 tablespoon chopped parsley
How to Make Ground Beef Stuffed Pepper Skillet :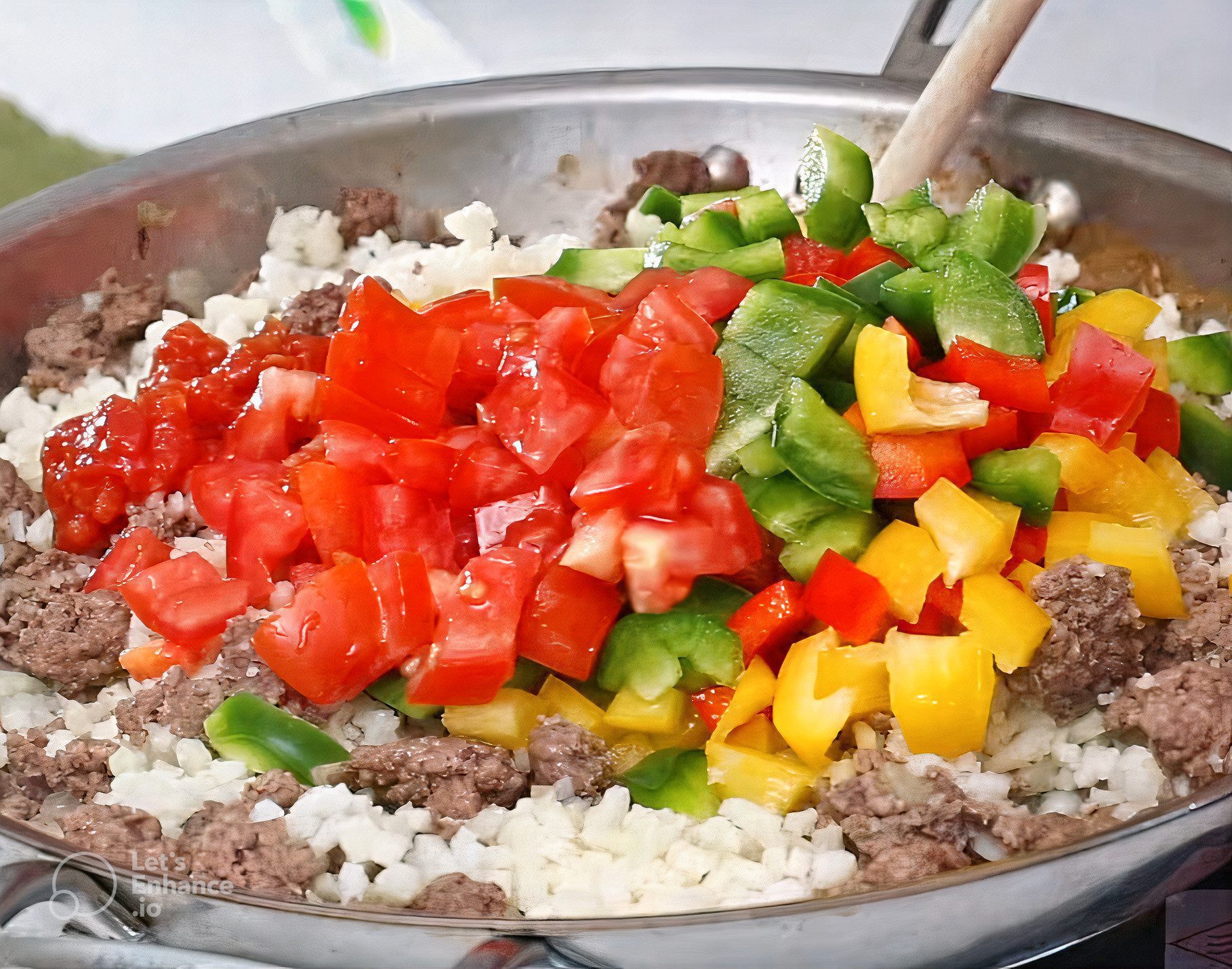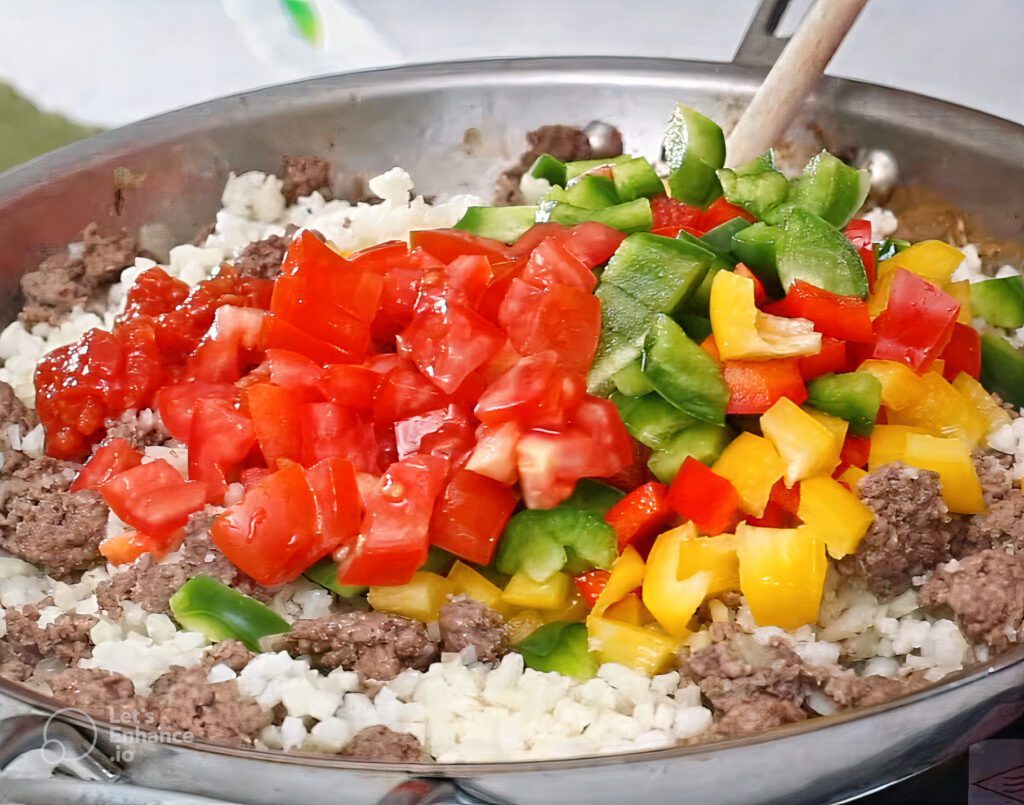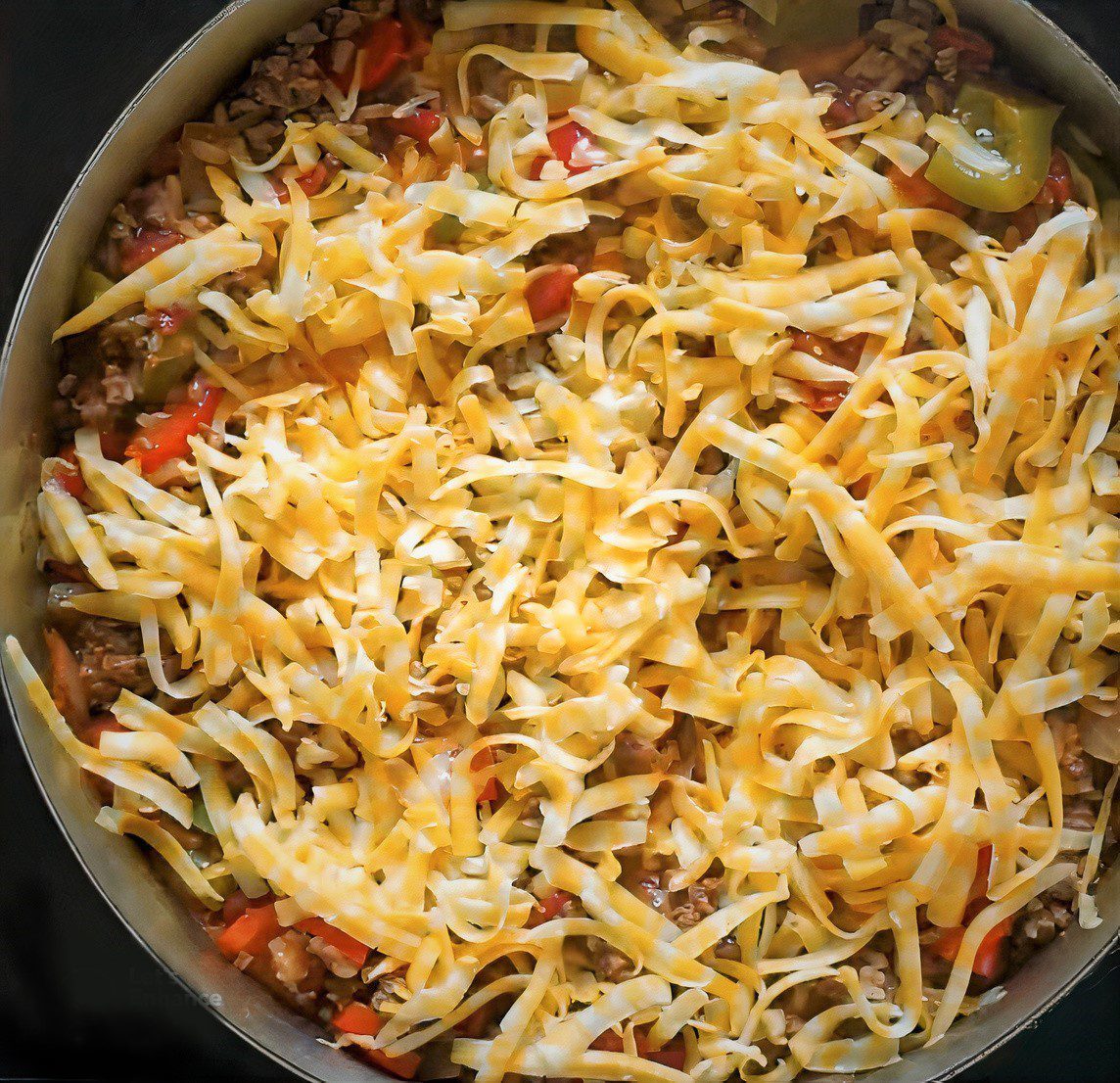 Brown the ground beef in a skillet with the diced onion and minced garlic over medium heat until it is thoroughly cooked, crumbled, and no longer pink. Drain any excess fat.
Return the skillet to the heat and add the diced green and red bell peppers, diced tomatoes, white rice, beef broth, tomato paste, Italian seasoning, salt, and black pepper. Bring the mixture to a boil after thoroughly combining all of the ingredients.
Once boiling, reduce the heat to a simmer. Cover the skillet and let the mixture cook for about 18 minutes or until the rice is fully cooked.
Fluff the rice with a fork and sprinkle the shredded cheese evenly over the skillet. Cover the skillet once again and allow the cheese to melt over low heat.
Garnish your flavorful Ground Beef Stuffed Pepper Skillet with freshly chopped parsley for a vibrant touch.
KM'Tips :
For a healthier version, opt for lean ground beef or use ground turkey or chicken. This modification reduces the fat content while maintaining the savory flavor.
Explore different cheese options to add your own unique touch. Cheddar, mozzarella, or a blend of cheeses work well to enhance the cheesiness of the dish.
Add extra veggies to increase the nutritional value and taste. Consider incorporating corn kernels or diced zucchini for additional texture and flavor.
Variations and Substitutions:
For a spicier kick, add a pinch of cayenne pepper or red pepper flakes to the skillet while cooking.
Feel free to experiment with different types of bell peppers, such as yellow or orange, for a colorful twist.
Replace the ground beef with ground turkey or chicken for a leaner protein option.
Vegetarian option: Substitute the ground beef with plant-based ground meat alternatives for a delicious meatless version.
Serve this hearty and flavorful one-pan meal to your family and friends, and savor the delightful combination of tender ground beef, colorful bell peppers, and the creamy melted cheese. The aromatic blend of seasonings adds an extra layer of depth to this satisfying dish.
Whether you're seeking a comforting weeknight dinner or a dish to impress guests, this Ground Beef Stuffed Pepper Skillet will surely become a favorite in your recipe collection. Enjoy the mouthwatering flavors and the convenience of a delicious meal prepared in just one pan.
Nutrition Information:
Serving Size: 1 serving (approximately 1/4 of the recipe)
Calories: 410
Total Fat: 21g
Saturated Fat: 9g
Cholesterol: 78mg
Sodium: 935mg
Carbohydrates: 31g
Fiber: 2g
Sugars: 4g
Protein: 25g
And there you have it! A delightful Ground Beef Stuffed Pepper Skillet that combines the heartiness of beef, the vibrant colors of bell peppers, and the creamy goodness of melted cheese. Prepare to savor every bite of this satisfying one-pan meal.
Don't forget to let us know how your Ground Beef Stuffed Pepper Skillet turns out, and consider exploring more of our mouthwatering recipes. Happy cooking!
Categories: Beef, One-Pan Meals, Skillet, Comfort Food
Delightful Ground Beef Stuffed Pepper Skillet
FAQs :
Can I use ground turkey instead of ground beef in this recipe?
Yes, you can substitute ground turkey for ground beef in this recipe. It will provide a leaner option while still offering delicious flavors.
What other vegetables can I add to the skillet?
Feel free to get creative and add additional vegetables to the skillet. Some great options include diced zucchini, corn kernels, or even chopped mushrooms for added texture and flavor.
Can I use brown rice instead of white rice?
Yes, you can use brown rice as a healthier alternative to white rice. Keep in mind that brown rice may require a slightly longer cooking time, so adjust accordingly.
How can I make this recipe spicy?
To add some heat to the dish, you can include diced jalapenos or sprinkle red pepper flakes while cooking the ground beef. You can also serve the skillet with hot sauce or sriracha on the side for individuals who prefer extra spice.
Can I freeze the leftovers?
Yes, you can freeze the leftovers of the Ground Beef Stuffed Pepper Skillet. Allow it to cool completely, portion it into airtight containers or freezer bags, and label them with the date. When you're ready to enjoy it again, simply thaw in the refrigerator and reheat on the stovetop or in the microwave.
Can I use quinoa instead of rice for a healthier option?
Absolutely! Quinoa is a nutritious substitute for rice. Cook it according to package instructions and use it in place of rice in the recipe. Quinoa offers a protein-packed and gluten-free alternative.
Can I use different types of cheese for the topping?
Yes, you can use different types of cheese based on your preference. Cheddar, mozzarella, or a blend of cheeses like Monterey Jack and Colby are excellent choices. Experiment with different cheeses to find your favorite combination.
How long does this recipe stay fresh in the refrigerator?
The Ground Beef Stuffed Pepper Skillet can be stored in the refrigerator for up to 3-4 days. Make sure to transfer the leftovers into an airtight container to maintain freshness.
Can I use pre-cooked rice to save time?
Yes, you can use pre-cooked rice to save time in this recipe. Simply add the cooked rice towards the end of the cooking process and stir until heated through.
Can I make this recipe in advance and reheat it later?
Absolutely! This recipe is great for meal prep or make-ahead dinners. Once cooked, let it cool and store it in the refrigerator. When ready to serve, reheat in the skillet or microwave until heated through.