------------- Advertisement - Continue Reading Below -------------
 Prep: 16 Cook: 12 Wait: 0 Serving: 4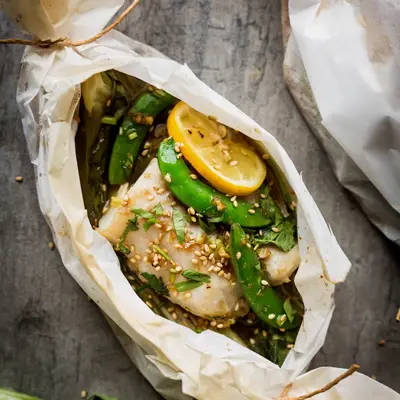 Ingredients | 11 total
1 teaspoon finely grated orange peel (optional)
1 ½ teaspoons finely chopped fresh ginger
1 teaspoon finely chopped garlic
1 teaspoon raw honey or brown sugar
2 teaspoons mirin or sake
½ pound fresh vegetables (such as trimmed asparagus, cut into 1-inch pieces and/or zucchini, cut in half lengthwise and then sliced into thin half moons)
1 teaspoon toasted sesame oilMaggi® Seasoning Sauce
2 tablespoons reduced-sodium soy sauce
4 (3 to 4 ounces each) skinless fillets of sole, flounder, salmon, cod or other fish
¼ cup thinly sliced green onions
Directions
Combine soy sauce, mirin, ginger, garlic, honey, orange peel and oil in small bowl; stir well.

Arrange four 12 x 16-inch pieces of parchment paper on work surface. Fold each in half and crease.

Open up and on one half, place fish fillets alongside each crease. Season fish with ground black pepper.

Top fish evenly with vegetables. Drizzle evenly with soy sauce mixture. Top each with a splash of seasoning sauce.

Fold parchment paper over, covering fish and vegetables. Fold open edge twice. Fold and pleat all the way around to make an airtight packet. Place packets on rimmed baking sheet.

Bake at 425° F for 12 to 14 minutes, depending on thickness of fish. Parchment paper should be puffed and lightly browned.

Fish is done when it's opaque and flakes easily when tested with a fork.

Transfer packets to plates. Carefully open packets; sprinkle with green onions.

Garnish with sesame seeds, if desired. Serve with rice, if desired.
Nutrition Information
100 calories per serving Serving size: 4
2.88g fat 6.79g carbs 12.61g protein