------------- Advertisement - Continue Reading Below -------------
serves 8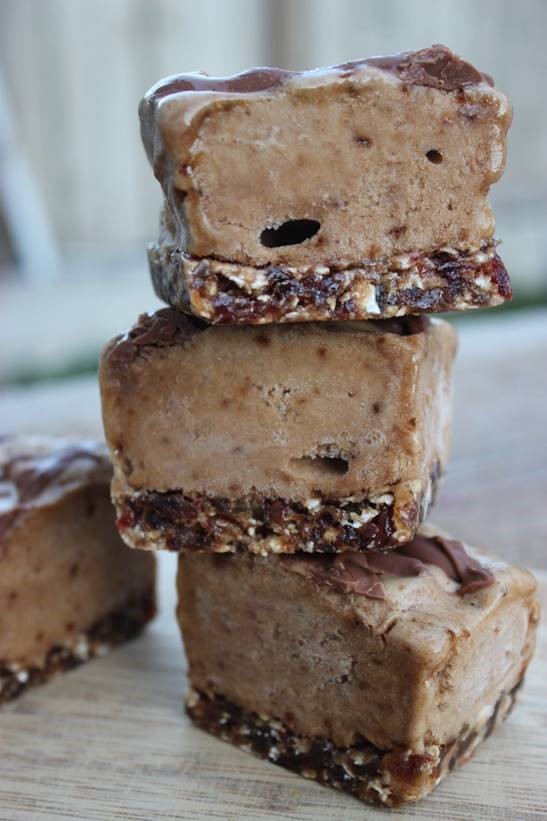 Ingredients
· 1 cup pitted dates (160 g)
· 1/2 cup raw oats
· 1/4 cup water
· 4 frozen bananas (approx. 440 g)
· 1 TBSP + 1 tsp instant coffee powder
·         2 oz sugar free chocolate
How To
In a food processor, blend together the pitted dates, raw oats, and water.
Be sure to use soft dates; if your dates are too firm, soak them in water for at least 3 hours before blending.
Line a 9×9 dish with saran wrap; this will be helpful later to remove the bars. Press the blended mixture along the inside of the 9×9 dish to create a solid base. Then, place the frozen bananas and instant coffee into the food processor.
This may take 3-5 minutes to fully blend the bananas; be patient. Once a thick coffee cream is visible, evenly spread it on top of the base layer previously placed in the 9×9 dish.
Melt 2 oz of sugar free chocolate and drizzle it on top of the coffee cream layer. Freeze for 2 hours or more, then slice into 8 pieces and serve.
Store any extra servings in the freezer.
To ensure this recipe is dairy free and vegan, use dark chocolate (no milk).
nutritional information per serving
163 calories; 3 g fat, 32 g carbs (3 g fiber), 2 g protein