------------- Advertisement - Continue Reading Below -------------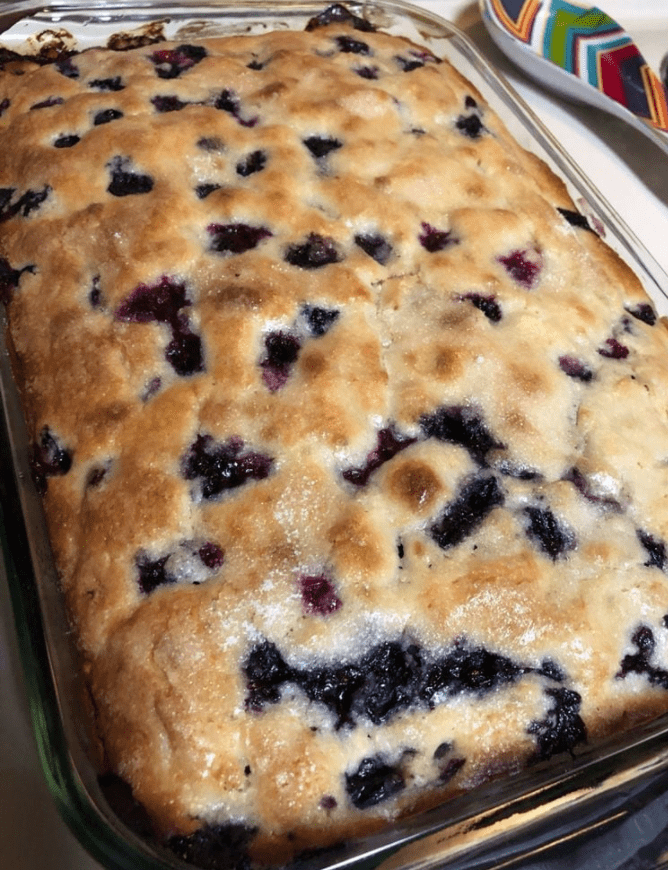 This blueberry buttermilk cake is a simple yet divine creation that combines the tangy goodness of buttermilk with the natural sweetness of fresh blueberries. The result? A moist and fluffy cake that will transport you to dessert heaven. The velvety crumb, dotted with plump blueberries, is a delightful surprise in every bite. Whether you're an experienced baker or a novice in the kitchen, this recipe is a guaranteed success.
Welcome to KMT Show! Are you hungry for some delicious and easy home-style cooking with a twist? Hungry no more, Kitchies! We're here to inspire you with a mouthwatering recipe that will leave you craving for more.
This homemade blueberry buttermilk cake has delightful flavors. It's the ideal treat for any occasion, thanks to its moist texture and explosion of luscious blueberries. This cake is sure to dazzle whether you're hosting a summer celebration or simply desiring a sweet pleasure. Prepare to embark on a culinary adventure that will excite your taste buds and leave you wanting more.
So, let's get started KMT Show ! Here's what you'll need to make this recipe so special :
Servings: 12

Prep Time: 30 minutes
Cook Time: 45 minutes
Total Time: 1 hour 15 minutes
Ingredients:
4 cups all-purpose flour
3 tablespoons baking powder
1 teaspoon baking soda
1 teaspoon salt
1/2 cup butter
1 cup sugar
2 eggs
1 teaspoon vanilla extract
2 cups buttermilk
2 cups fresh blueberries
2/3 cup all-purpose flour
2/3 cup sugar
6 tablespoons softened butter
It's time to put on your KMT chef's hat and start create your own version, Kitchies!! Simply follow these easy-peasy steps!
How to Make Moist and Delicious Blueberry Buttermilk Cake :
Preheat the oven to 350°F (175°C) and grease a 13″ x 9″ rectangular baking dish.
In a bowl, combine 4 cups of all-purpose flour, baking powder, baking soda, and salt. Set aside.
In a large bowl, cream together 1/2 cup of butter and 1 cup of sugar until fluffy. Add the eggs, one at a time, and mix well. Stir in the vanilla extract.
Alternately add the flour mixture and buttermilk to the butter mixture, beginning and ending with the flour mixture. Gently fold in the fresh blueberries.
In a small bowl, mix 2/3 cup of flour and 2/3 cup of sugar. Cut in 6 tablespoons of softened butter until crumbly.
Pour the cake batter into the prepared baking dish and sprinkle the crumb mixture over the top.
Bake for 45 to 60 minutes or until a toothpick inserted into the center comes out clean.
Once baked, remove the cake from the oven and let it cool before serving.
Substitutions and Variations:
For a healthier version, you can use whole wheat flour or substitute some of the butter with applesauce.
Add a touch of lemon zest to the batter for a refreshing twist.
Serve the cake with a dollop of whipped cream or a scoop of vanilla ice cream for an extra treat.
KM'Tips:
To ensure a moist cake, do not overmix the batter. Gently fold in the blueberries and avoid excessive stirring.
Allow the cake to cool completely before cutting into slices to maintain its shape and texture.
You wanna Make a healthier version:
Substitute all-purpose flour with whole wheat flour for added fiber.
Use a sugar substitute like stevia or erythritol to reduce the overall sugar content.
Replace some or all of the butter with unsweetened applesauce to reduce the fat content.
Nutrition information (per serving):
per serving (1/12th of the cake):
Calories: 407
Protein: 7g
Fat: 14g
Carbohydrates: 65g
Fiber: 2g
Sugar: 31g
And there you have it! A scrumptious Blueberry Buttermilk Cake that will delight your taste buds with its moist texture and burst of fruity goodness. We hope you enjoy creating this delightful treat as much as we enjoyed sharing the recipe with you.

Don't forget to let us know how your cake turns out. We'd love to hear about your baking adventures and any variations you tried. Remember, the kitchen is a place for creativity and experimentation, so feel free to add your own personal touch to this recipe.
------------- Advertisement - Continue Reading Below -------------
Happy baking and bon appétit!
Are you curious about anything else? Take a look at the most frequently questions Below we get about this recipe:
What can I use as a substitute for buttermilk?
Answer: If you don't have buttermilk on hand, you can make a substitute by combining 1 cup of milk with 1 tablespoon of lemon juice or white vinegar. Let it sit for about 5 minutes until it curdles, and then use it as a replacement for buttermilk in the recipe.
Can I use frozen blueberries instead of fresh ones?
Answer: Yes, you can use frozen blueberries in this recipe. Keep in mind that frozen blueberries may release more moisture while baking, so make sure to thaw them and pat them dry before adding them to the batter.
Can I make this cake ahead of time?
Answer: Absolutely! This cake can be made ahead of time and stored in an airtight container at room temperature for up to 2 days. Alternatively, you can refrigerate it for up to 5 days. Just make sure to bring it to room temperature before serving.
Can I add other fruits to this cake?
Answer: Certainly! While the recipe calls for blueberries, you can experiment with other fruits as well. Raspberries, blackberries, or chopped strawberries would work well in this cake. Just make sure to adjust the quantities accordingly.
Can I freeze the cake for later?
Answer: Yes, you can freeze this cake for future enjoyment. Wrap it tightly in plastic wrap and then place it in an airtight container or freezer bag. It can be frozen for up to 2-3 months. Thaw it in the refrigerator overnight before serving.
Can I use whole wheat flour instead of all-purpose flour?
Answer: Yes, you can substitute part or all of the all-purpose flour with whole wheat flour. Keep in mind that whole wheat flour may result in a denser texture and slightly nuttier flavor. You may also need to adjust the liquid content slightly as whole wheat flour absorbs more moisture.