------------- Advertisement - Continue Reading Below -------------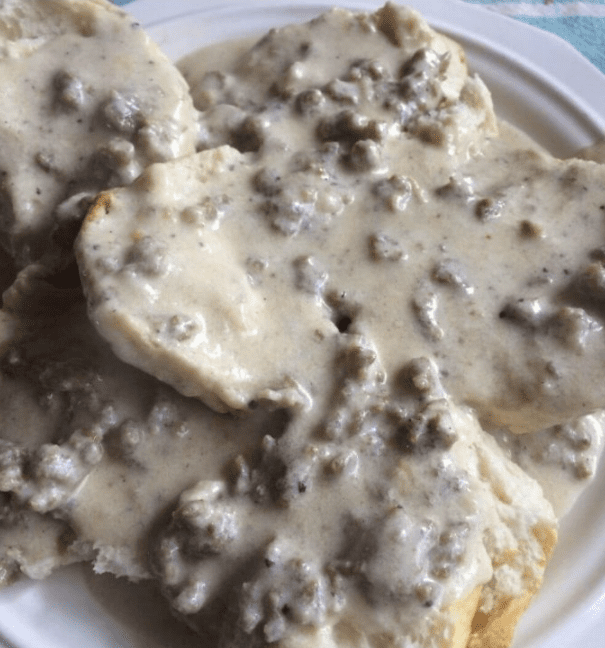 Saturday morning Biscuits with Sausage Gravy is a popular breakfast item here in the mid-west. Now this isn't something we have all the time. Once every six weeks is about standard for our household.
If you have never made your own biscuits or sausage gravy here are two no-fail recipes for you to enjoy.
Biscuits
Ingredients:
2 1/4 cups all-purpose flour
1 Tablespoon baking powder
1 Tablespoon sugar
1 teaspoon salt
1/3 cup shortening
1 cup milk
Directions:
Pre-heat oven to 425 degrees. Grease baking sheet.
Combine flour, baking powder, salt, sugar in a large bowl. Cut in shortening until coarse and crumbly. Add half the milk stirring to combine. Add rest of the milk and stir to combine.
On a floured surface turn out dough and knead around 18 times.
Pat dough out flat. Cut out biscuits. Place on greased baking sheet. Bake for 13 to 15 minutes. Brush the tops of the biscuits with butter immediately.
Sausage Gravy
Ingredients:
1 pound breakfast sausage
1/3 cup all-purpose flour
4 cups milk
1/2 teaspoon salt
2 Tablespoons pepper
Directions:
In a heavy skillet brown sausage over medium heat. Be sure to break up the sausage into small pieces and cook until all the pink is gone.
Turn heat to medium low and sprinkle half the flour over the meat. Stir so the sausage soaks up the flour. Add rest of the flour and cook for couple more minutes stirring all the time.
Add all the milk. Stir everything to combine. Continue cooking the gravy, stirring constantly for around 12 minutes. You don't want it to stick and burn on the bottom. Keep cooking and stirring until everything is nice and thick and bubbly.
Add salt and pepper.
Serve immediately over biscuits. ENJOY!