------------- Advertisement - Continue Reading Below -------------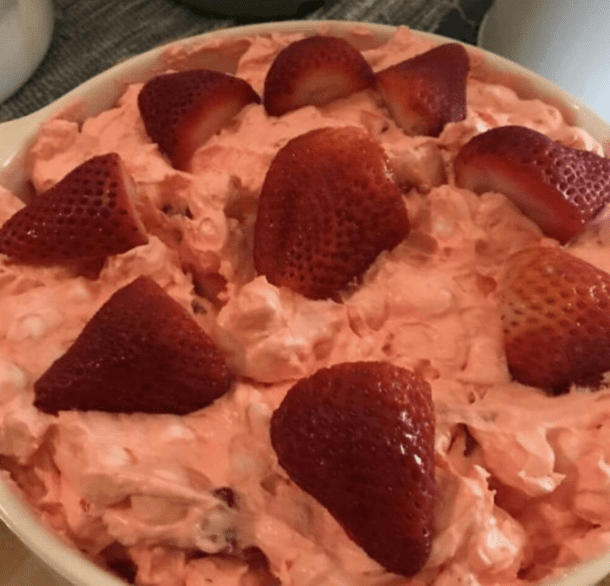 Here is the perfect summer or for that matter anytime of year side dish to go with your dinner. Serve it as a dessert or just set it out as a side dish. Either one works.
Strawberry Fluff takes little time to make. It is all about the chilling in-between. Make it the night before and serve the next day.
How to make this amazing STRAWBERRY FLUFF SALAD ??
Ingredients:
1 4.6 ounce package cook and serve vanilla pudding
1 6 ounce package strawberry jello
2 cups water
1 16 ounce tub of cool whip
1/2 page of mini marshmallows
2 cups strawberries sliced
Directions:
In a large sauce pan mix vanilla pudding and strawberry jello, along with 2 cups of water.
Stir until mixed. Bring to a boil, stirring regularly.
Remove from heat.
Pour into a mixing bowl and cover with plastic.
Refrigerate for 6 hours or over night.
After 6 hours beat the mixture with a mixer until creamy.
Fold in cool whip.
Fold in marshmallows and strawberries.
Garnish with more slices of strawberries on top.
Chill 1 hour or until ready to serve.