------------- Advertisement - Continue Reading Below -------------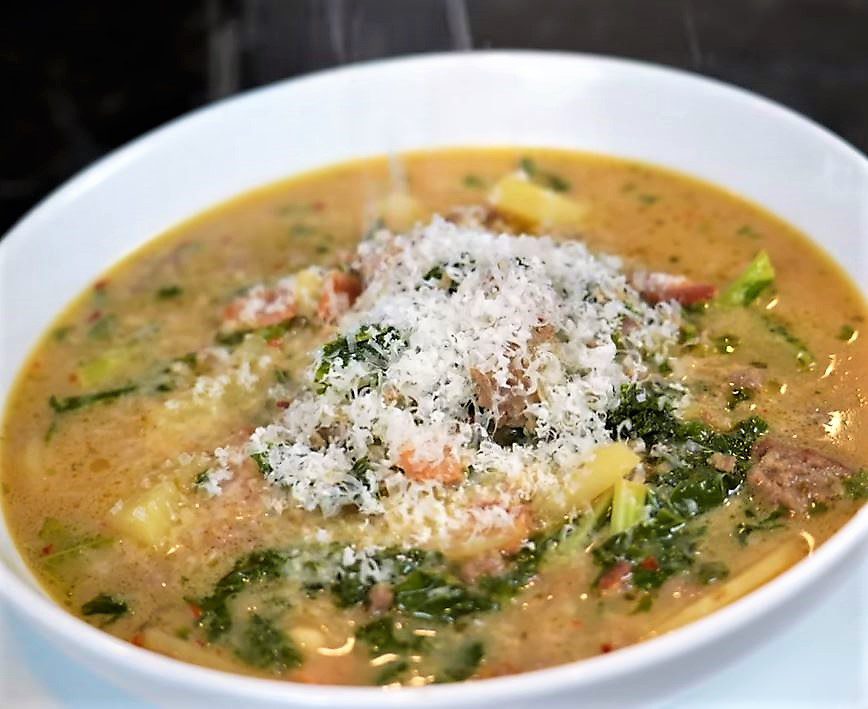 Table of Contents
Greetings, Food Lovers! Get ready Kitchies to savor the delectable flavors of Olive Garden Zuppa Toscana Soup. This easy-to-follow recipe will surpass your expectations and bring the taste of the famous restaurant right to your kitchen.
You're transported back to your childhood, sitting in an Olive Garden, relishing in the delightful dishes they serve. One particular favorite, the Zuppa Toscana, has always held a special place in your heart. From the savory Italian sausage to the creamy broth, it's a symphony of flavors that brings comfort and satisfaction. Today, I'll share with you a recipe that recreates this beloved soup with a touch of homemade magic.
Get ready to be amazed as your taste buds dance with joy! And prepare to elevate your soup game with this remarkable Olive Garden Zuppa Toscana Soup recipe. With its hearty blend of Italian sausage, bacon, and tender potatoes bathed in a rich broth, this dish is a winner in every bite. The secret lies in the carefully selected ingredients and simple cooking techniques, allowing you to achieve a restaurant-quality soup in the comfort of your own home. Experience the warmth and satisfaction that this delightful soup brings.
------------- Advertisement - Continue Reading Below -------------
Cuisine: Italian
Servings: 6

Prep Time: 15 minutes
Cook Time: 35 minutes
Total Time: 50 minutes
So, let's get started KMT Show ! Here's what you'll need to make this recipe so special :
Ingredients:
1 pound hot Italian sausage
1/2 pound minced bacon
7 cups water
3 cubes chicken broth with chicken flavor
2 large russet potatoes, peeled, cleaned, and cut into cubes
2 cloves garlic, minced
1 medium onion, chopped
2 cups shredded cabbage
1 cup heavy whipping cream
Salt and pepper to taste
It's time to put on your KMT chef's hat and start create your own version, Kitchies!! Simply follow these easy-peasy steps!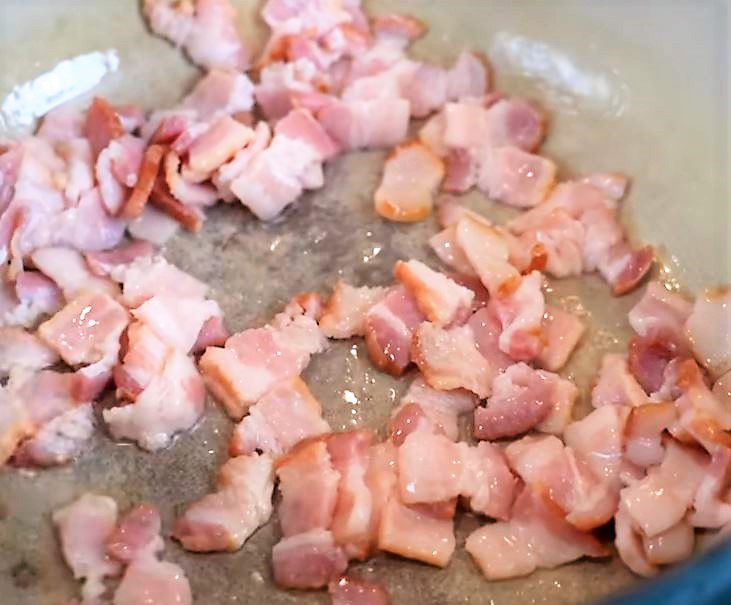 How to Make Zuppa Toscana Soup :
In a Dutch oven or large soup pot over medium heat, brown the hot Italian sausage, cutting it into small pieces while frying. Once browned, strain the sausage and set it aside.
In the same Dutch oven or soup pot over medium heat, brown the minced bacon. Once browned, remove it from the pot and set it aside, leaving 2 tablespoons of bacon fat in the skillet.
Fry the potatoes, onions, and garlic in the bacon fat over medium or low to medium heat. Sauté the onions until translucent and the potatoes until they are slightly firm but starting to soften.
Add the cooked sausage, bacon, 7 cups of water, and 3 cubes of chicken broth to the Dutch oven or soup pot. Cook over low heat until the potatoes are soft and tender.
Stir in the shredded cabbage and continue cooking for a few more minutes until the cabbage is wilted.
Finally, pour in the heavy whipping cream and season with salt and pepper to taste. Stir well to incorporate all the flavors and simmer for a few minutes to allow the soup to thicken slightly.
Serve hot and savor every spoonful of this delectable Olive Garden Zuppa Toscana soup.
Master this recipe like a Pro/Expert with these helpful Tips:
KM'Tips :
If you prefer a smokier flavor, substitute the bacon with smoked bacon.

For an extra kick of flavor, you can use spicy Italian sausage instead of hot Italian sausage.

If you prefer a lighter version, you can substitute half-and-half or whole milk for the heavy whipping cream.

Garnish each bowl of soup with a sprinkle of grated Parmesan cheese and a handful of crispy bacon bits for added texture and taste.

Serve the soup with a sprinkle of grated Parmesan cheese and a side of warm crusty bread for a complete meal.
Substitutions and Variations:
To make this soup vegetarian-friendly, replace the Italian sausage and bacon with plant-based alternatives, such as vegan sausage, tempeh bacon or mushrooms and zucchini.
Add some heat to the soup by incorporating red pepper flakes or a dash of cayenne pepper.
For added richness, you can stir in a tablespoon of butter or olive oil before adding the vegetables.
Wanna Make a Healthier Version?
For those looking for a healthier twist, you can make a few adjustments to this recipe. Here are some suggestions :
Use low-sodium chicken broth to control the sodium levels.
Use lean turkey or chicken sausage instead of hot Italian sausage to reduce the fat content.
Opt for turkey bacon or turkey ham instead of regular bacon for a lighter option.
Replace heavy whipping cream with a lighter alternative like half-and-half or Greek yogurt, low-fat milk or a non-dairy milk alternative to reduce the calorie and fat content.
Increase the amount of vegetables, such as adding more kale or spinach, for added nutrients.
Creamy Cauliflower Option: Substitute some of the potatoes with cauliflower florets for a lighter, low-carb version of the soup.
Nutrition Information:
Please note that the following nutrition information is approximate and may vary depending on the specific ingredients, quantities used and serving sizes.
Serving Size: 1 bowl

Calories: 380
Fat: 27g
Carbohydrates: 16g
Protein: 19g
And there you have it! Indulge in the delightful flavors of Olive Garden Zuppa Toscana Soup, and prepare to be amazed. Don't forget to share your cooking journey with us and explore more of our KMT Recipes that will satisfy your culinary cravings. Whether it's breakfast, lunch, dinner, or brunch, we've got you covered.
Categories: Dinner, Soup, Italian Cuisine
Zuppa Toscana, Olive Garden,
Are you curious about anything else? Take a look at the most frequently questions Below we get about this recipe:
Don't forget Sharing is Caring! let us know how your version of the recipe turns out! We'd love to hear about your cooking adventures and see your creations.
Feel free to Share your photos, leave a review, or drop a comment below. Your feedback and experiences are valuable to us and our community.
Please remember to SHARE on Facebook and PIN IT!
FOLLOW ME US PINTEREST BY CLICKING HERE
FAQs:
Can I use different types of sausage?
Absolutely! Feel free to experiment with mild or sweet Italian sausage, or even try a combination of sausage flavors for added depth.
Can I use kale instead of cabbage?
Certainly! Kale is a great substitute for cabbage in this recipe. Just make sure to remove the tough stems and chop it into bite-sized pieces.
Can I make this soup in a slow cooker?
Yes, you can adapt the recipe for a slow cooker. Brown the sausage and bacon before adding them to the slow cooker along with the other ingredients. Cook on low for 6-8 hours or on high for 3-4 hours, until the potatoes are tender. Adjust the seasoning before serving.
How can I make this soup vegetarian-friendly?
To make a vegetarian version of this soup, replace the hot Italian sausage and bacon with vegetarian alternatives, such as plant-based sausages or tempeh. You can also add more vegetables like mushrooms and zucchini for added flavor and texture.
Can I make this soup dairy-free?
Yes, you can make this soup dairy-free by substituting the heavy whipping cream with a non-dairy alternative like coconut cream or almond milk. Make sure to choose a non-dairy option that suits your dietary preferences.
Can I use different types of potatoes in this recipe?
Absolutely! While russet potatoes are traditionally used in Zuppa Toscana, you can experiment with different varieties like Yukon Gold or red potatoes. Just keep in mind that different types of potatoes may have varying textures and cooking times.
Can I add other vegetables to this soup?
Definitely! Feel free to customize the soup by adding your favorite vegetables. Chopped carrots, spinach, or kale are popular additions that can enhance the nutritional value and taste of the dish.
How can I adjust the spiciness of the soup?
If you prefer a milder flavor, you can use mild Italian sausage instead of hot. Alternatively, you can reduce or omit the red pepper flakes for a less spicy version. Adjust the seasoning according to your taste preferences.
Can I make this soup in advance?
Yes, you can make this soup in advance and reheat it when ready to serve. Store the cooled soup in an airtight container in the refrigerator for up to 3 days. Reheat gently on the stovetop or in the microwave, stirring occasionally.
Olive Garden