------------- Advertisement - Continue Reading Below -------------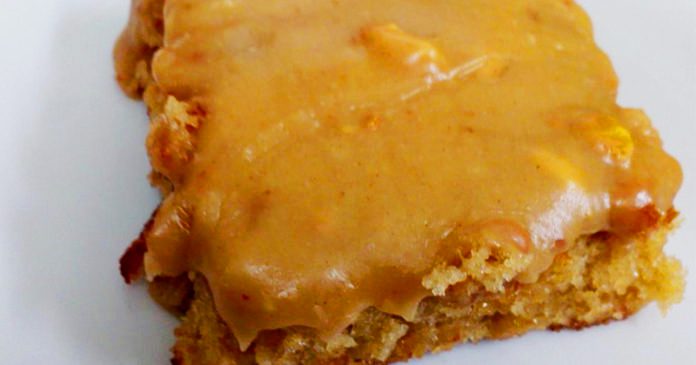 How to Make this Easy Delish You Need To Make This Michigan Maple Peanut Butter Sheet Cake Recipe Enjoy it and don't forget to share it! Sharing is Caring!!
"A magical melting moment of pure maple pleasure mixed with the wholesome goodness of peanut butter in a soft, moist delicious cake topped with a nutty peanut butter frosting. You can even add a cream cheese frosting drizzle for extra-special occasions!"
Ingredients
Cake:
2 cups white sugar
2 cups all-purpose flour
1 cup hot water
2/3 cup creamy peanut butter
1/2 cup butter
1 cup vanilla yogurt
2 eggs
1 teaspoon baking soda
Frosting:
2/3 cup chunky peanut butter
1/2 cup butter
6 tablespoons milk
2 1/2 cups confectioners' sugar
1 tablespoon pure Michigan maple syrup
1/2 cup finely chopped walnuts
1/3 cup finely chopped pecans
1/4 cup sliced almonds
Frosting Drizzle (Optional):
1 (8 ounce) package cream cheese, softened (optional)
1/2 cup confectioners' sugar (optional)
1 tablespoon milk (optional)
1 teaspoon almond extract (optional)
1 cup frozen whipped topping, thawed (optional)
Directions
Preheat oven to 400 degrees F (200 degrees C). Grease and flour the bottom of a 15×20-inch rimmed baking sheet or jelly roll pan, or line it with parchment paper.
Sift white sugar and flour together in a bowl.
Combine hot water, creamy peanut butter, and 1/2 cup butter in a saucepan; bring to a boil, stirring frequently. Remove from heat.
Blend yogurt, eggs, and baking soda together in a bowl. Pour peanut butter mixture into egg mixture in a steady stream, stirring constantly. Mix flour mixture into peanut butter mixture until batter is combined. Spread batter into prepared baking sheet.
Bake in preheated oven until the center of the cake springs back when touched lightly with a fingertip, about 20 minutes. Cool on wire rack.
Combine chunky peanut butter, 1/2 cup butter, and 6 tablespoons milk in a small saucepan; bring to a boil, stirring constantly. Reduce heat to low; stir in confectioners' sugar and maple syrup until sugar dissolves and frosting is smooth. Pour warm frosting over warm cake. Sprinkle walnuts, pecans, and almonds over the top; cool completely.
Stir cream cheese, 1/2 cup confectioners' sugar, and 1 tablespoon milk together in a bowl until smooth; add almond extract. Fold whipped topping into cream cheese mixture until frosting is creamy and runny. Drizzle cream cheese frosting over the top of cooled cake.