------------- Advertisement - Continue Reading Below -------------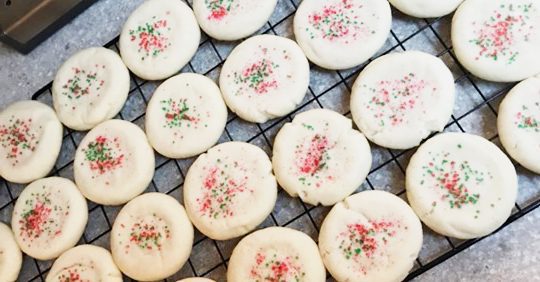 How to Make this Easy Delish Whipped Shortbread Cookies Are Holiday-Perfect Recipe Enjoy it and don't forget to share it! Sharing is Caring!!
Recipe By:

William Anatooskin
"A festive melt in your mouth cookie, and very easy to make."
Ingredients
1 cup butter, softened
1 1/2 cups all-purpose flour
1/2 cup confectioners' sugar
1/4 cup red maraschino cherries, quartered
1/4 cup green maraschino cherries, quartered
Directions
Preheat oven to 350 degrees F (175 degrees C).
In a large bowl, combine butter, flour, and confectioners' sugar. With an electric mixer, beat for 10 minutes, until light and fluffy. Spoon onto cookie sheets, spacing cookies 2 inches apart. Place a piece of maraschino cherry onto the middle of each cookie, alternating between red and green.
Bake for 15 to 17 minutes in the preheated oven, or until the bottoms of the cookies are lightly browned. Remove from oven, and let cool on cookie sheet for 5 minutes, then transfer cookies on to wire rack to cool. Store in an airtight container, separating each layer with waxed paper.