------------- Advertisement - Continue Reading Below -------------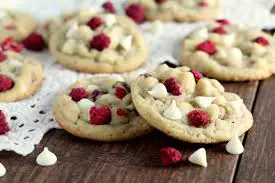 serves 7
INGREDIENTS
· 1/2 cup coconut flour
· 1/4 cup baking stevia
· 3/4 cup fresh raspberries
· 1 tsp baking soda
· 1/4 cup unsweetened almond milk
· 1/3 cup cashew butter
· 1 whole egg
· 1 egg white
·         1 oz sugar free white chocolate chips
HOW TO
Preheat the oven to 350⁰ F.

Mix everything in a bowl.

Form the dough into 7 thick cookies, lightly flattening each on a baking sheet sprayed with nonstick spray.

Bake at 350⁰ F for 10-12 minutes until lightly browned.
If dairy free or paleo, use dark chocolate (no milk) or omit the chocolate entirely.
nutritional information per serving
150 calories; 10 g fat, 12 g carbs (4 g fiber), 5 g protein