------------- Advertisement - Continue Reading Below -------------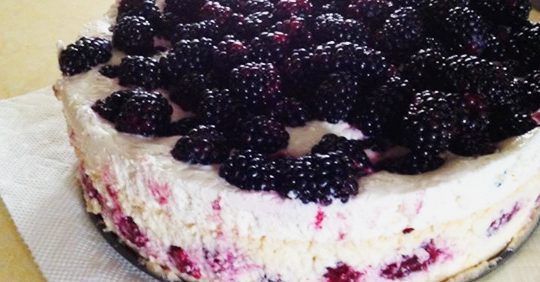 How to Make this Easy Delish Very Berry Cheesecake Recipe Enjoy it and don't forget to share it! Sharing is Caring!!
"A rich reward for picking your way through the thorny brambles. Use your choice of fresh raspberries, blueberries, blackberries, boysenberries and/or chopped pitted cherries. If you don't want to use alcohol, you may substitute orange juice."
Ingredients
40 vanilla wafers, crushed
6 tablespoons butter, melted
2 (8 ounce) packages cream cheese, softened
3/4 cup white sugar
2 tablespoons all-purpose flour
2 teaspoons vanilla extract
1 cup cottage cheese, creamed
1/4 cup cherry brandy
3 eggs
3 1/2 cups fresh blackberries
1 tablespoon cherry brandy
1 tablespoon white sugar
Directions
In a medium bowl, stir together vanilla wafer crumbs and butter. Press the mixture into the bottom and 1 3/4 inch up the sides of an 8 inch springform pan. Set aside.
In a large bowl, stir together cream cheese, 3/4 cup sugar, flour, and vanilla. Beat with an electric mixer on low speed until smooth. Set aside. Place cottage cheese in a blender or food processor. Blend until smooth. Stir into cream cheese mixture. Stir in the 1/4 cup cherry brandy. Beat in eggs on low speed just till combined. You do not want do incorporate too much air into the batter.

------------- Advertisement - Continue Reading Below -------------

Preheat the oven to 375 degrees F (190 degrees C). Pour half of the cheese mixture into the crust-lined pan. Spread 1 cup of the fruit on top. Top with remaining cheese mixture and 1/2 cup of the fruit. Place in a shallow baking pan in the preheated oven.
Bake for 40 to 45 minutes or till center appears nearly set when shaken. Cool on a wire rack for 15 minutes. Loosen sides. Cool completely on wire rack. Cover and chill for at least 4 hours, or until ready to serve.
For topping, in a medium bowl combine remaining 2 cups fruit, 1 tablespoon cherry brandy, and 1 tablespoon sugar. Cover and chill for up to 2 hours. To serve, cut cheesecake into wedges. Top each serving with fruit topping.