------------- Advertisement - Continue Reading Below -------------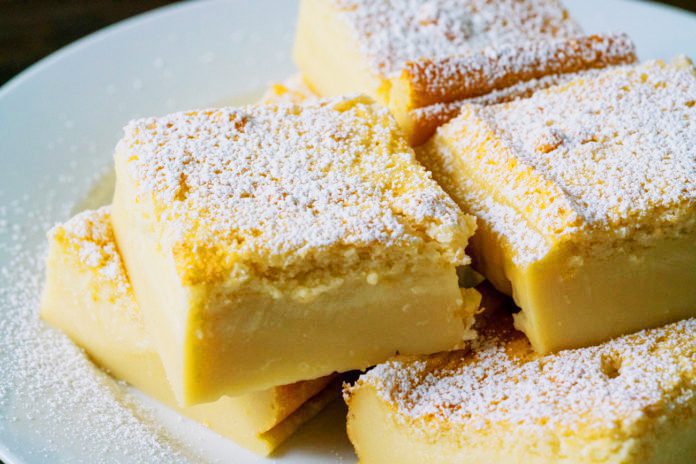 How to Make this Easy Delish Vanilla Custard Magic Bars Recipe Enjoy it and don't forget to share it! Sharing is Caring!!
INGREDIENTS
2 cups warm milk
1 1/4 cups powdered sugar
1 cup all-purpose flour
1/2 cup (1 stick) unsalted butter, melted and cooled
4 eggs, separated
1 tablespoon water
2 teaspoons vanilla extract
1/4 teaspoon kosher salt
Powdered sugar, as needed, garnish
PREPARATION
Preheat oven to 325º F and lightly grease an 8×8-inch baking dish with butter or non-stick spray.
In a completely dry bowl or stand mixer, beat egg whites (making sure there is no yolk in the whites) until stiff peaks form, then set aside.
In a separate bowl, beat egg yolks and powdered sugar until thickened and lightened in color.
Add melted butter and 1 tablespoon water into ribbony egg yolk mixture until combined, 1-2 minutes.
Gradually mix in flour and salt until evenly incorporated, then mix in milk and vanilla extract.
Take 1/3 egg whites and fold it gently into batter. Once incorporated, fold in remaining egg whites.
Pour batter into greased baking dish and place in oven.
Bake for 45-50 minutes, or until center is just set, but still a little jiggly.
Remove from oven and let cool completely. Optional: refrigerate to speed up chilling process.
Slice into bars and dust with powdered sugar to serve. Enjoy!