------------- Advertisement - Continue Reading Below -------------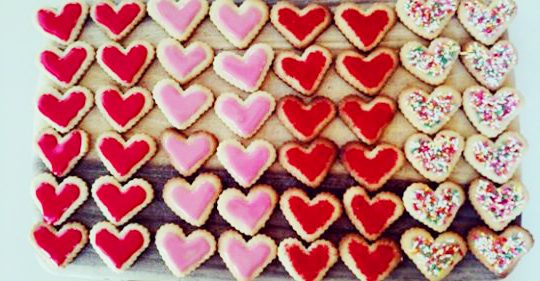 How to Make this Easy Delish Valentine'S Day Cream Cheese Sugar Cookies Recipe Enjoy it and don't forget to share it! Sharing is Caring!!
Recipe By:
Karin Christian
"A soft, chewy, and flavorful sugar cookie. It is very important to chill the dough, as it is too sticky to roll unless well chilled."
Ingredients
1 cup white sugar
1 cup butter, softened
1 (3 ounce) package cream cheese, softened
1/2 teaspoon salt
1/2 teaspoon almond extract
1/2 teaspoon vanilla extract
1 egg yolk
2 1/4 cups all-purpose flour
Directions
In a large bowl, combine the sugar, butter, cream cheese, salt, almond and vanilla extracts, and egg yolk. Beat until smooth. Stir in flour until well blended. Chill the dough for 8 hours, or overnight.
Preheat oven to 375 degrees F (190 degrees C).
On a lightly floured surface, roll out the dough 1/3 at a time to 1/8 inch thickness, refrigerating remaining dough until ready to use. Cut into desired shapes with lightly floured cookie cutters. Place 1 inch apart on ungreased cookie sheets. Leave cookies plain for frosting, or brush with slightly beaten egg white and sprinkle with candy sprinkles or colored sugar.

------------- Advertisement - Continue Reading Below -------------

Bake for 7 to 10 minutes in the preheated oven, or until light and golden brown. Cool cookies completely before frosting.