------------- Advertisement - Continue Reading Below -------------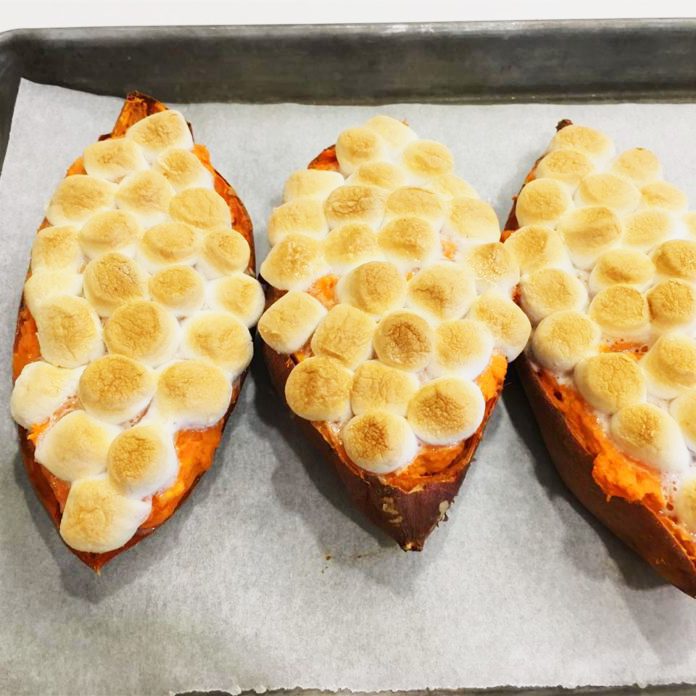 How to Make this Easy Delish Twice-Baked Sweet Potatoes With Browned Butter And Toasted Marshmallows Recipe Enjoy it and don't forget to share it! Sharing is Caring!!
"These individual sweet potatoes are great for Thanksgiving, or any time of year. I browned the butter to add a nutty flavor, plus added some cayenne pepper for a kick."
Ingredients
1 tablespoon olive oil
4 sweet potatoes
sea salt to taste
1/4 cup unsalted butter
1 (8 ounce) package cream cheese, softened
1/2 teaspoon salt
1 pinch cayenne pepper, or more to taste
ground black pepper to taste
1 cup mini marshmallows
Directions
Preheat oven to 400 degrees F (200 degrees C). Line a baking sheet with parchment paper.
Rub olive oil onto the outside of each sweet potato and sprinkle sea salt over each. Arrange sweet potatoes on the prepared baking sheet.
Bake in the preheated oven until a sharp knife easily pierces the potato, 50 to 60 minutes. Cool sweet potatoes until easily handled, 10 to 15 minutes.
Melt butter in a saucepan over medium heat until solids begin to brown and smell nutty, 5 to 8 minutes.
Slice potatoes in half lengthwise and scoop insides into a large bowl. Add browned butter, cream cheese, 1/2 teaspoon salt, cayenne pepper, and black pepper and mash using a potato masher until smooth. Spoon mixture back into the sweet potato skins and top each with 1/4 cup marshmallows. Place sweet potatoes back onto the baking sheet.
Bake in the oven until warmed through and marshmallows are toasted, about 10 minutes.