------------- Advertisement - Continue Reading Below -------------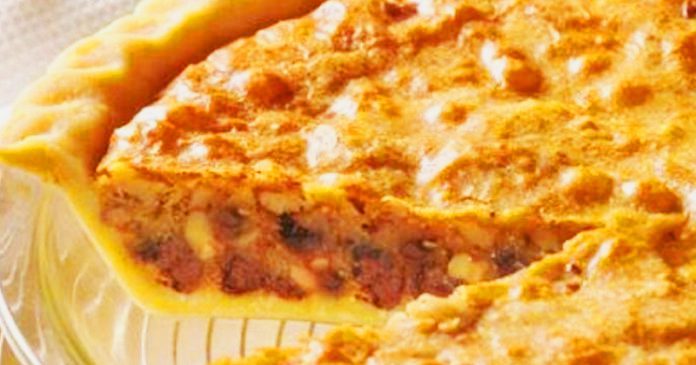 How to Make this Easy Delish Toll House Chocolate Chip Pie Recipe Enjoy it and don't forget to share it! Sharing is Caring!!
INGREDIENTS:
1 unbaked 9-inch (4-cup volume) deep-dish pie shell *
2 large eggs
1/2 cup all-purpose flour
1/2 cup granulated sugar
1/2 cup packed brown sugar
3/4 cup (1 1/2 sticks) butter, softened
1 cup (6 oz.) NESTLÉ® TOLL HOUSE® Semi-Sweet Chocolate Morsels
1 cup chopped nuts
Sweetened whipped cream or ice cream (optional)
Instructions:
PREHEAT oven to 325° F.
BEAT eggs in large mixer bowl on high speed until foamy. Beat in flour, granulated sugar and brown sugar. Beat in butter. Stir in morsels and nuts. Spoon into pie shell.
BAKE for 55 to 60 minutes or until knife inserted halfway between edge and center comes out clean. Cool on wire rack. Serve warm with whipped cream, if desired.
* If using frozen pie shell, use deep-dish style, thawed completely. Bake on baking sheet; increase baking time slightly.