------------- Advertisement - Continue Reading Below -------------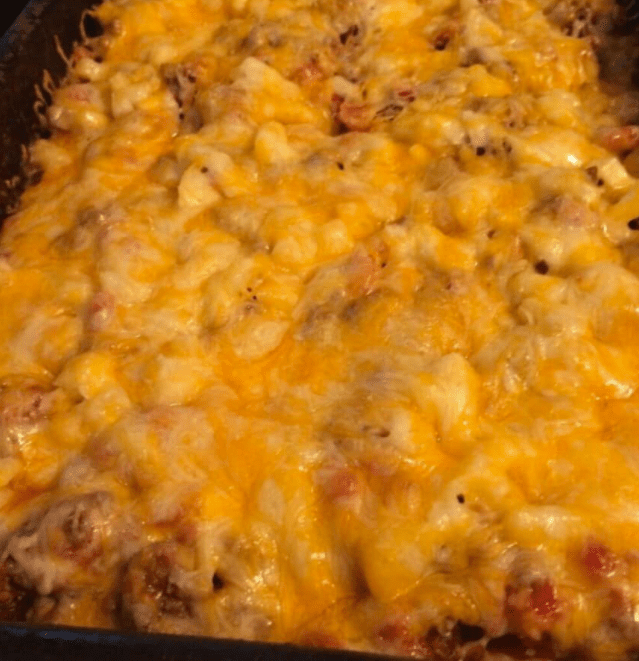 Crock Pot Beefy Potato Taco Casserole is filled with cheesy Mexican sauce, diced potatoes with bell peppers and ground beef!
Make ahead one dish meals are always a life saver around my house. This is a stand alone dish, if you want to add a few toppings here are some suggestions. Sour Cream, cilantro and fresh tomatoes diced.
INGREDIENTS
1 pound ground beef
2 green peppers chopped
1 onion chopped
1 14.5 ounce can diced tomatoes or I use one quart jar of my canned tomatoes
1 package taco season I use my homemade taco season. Find it on the blog.
1/3 cup butter
1/3 cup all-purpose flour
1/4 tsp salt
2 1/4 cups milk
2 pounds potatoes thinly sliced
1 1/2 cups cheddar cheese shredded
INSTRUCTIONS
Pre-heat oven to 350 degrees. Spray a 9 x 13 pan with cooking spray.
Cook ground beef, green peppers and onion until meat is browned. Drain off fat. Stir in tomatoes and taco seasoning.
In medium saucepan melt butter. Stir in flour and salt. Gradually stir in milk. Cook and stir until thickened and bubbly.
Spread half of the potatoes in the baking dish. Top with half of the meat mixture. Drizzle with half of the sauce. Sprinkle with half of the cheese. Repeat for second layer do not add last layer of cheese yet.
Bake covered for 1 hour and 20 minutes. Sprinkle rest of the cheese on top. Bake uncovered to 5 minutes or until cheese melts.
ENJOY!