------------- Advertisement - Continue Reading Below -------------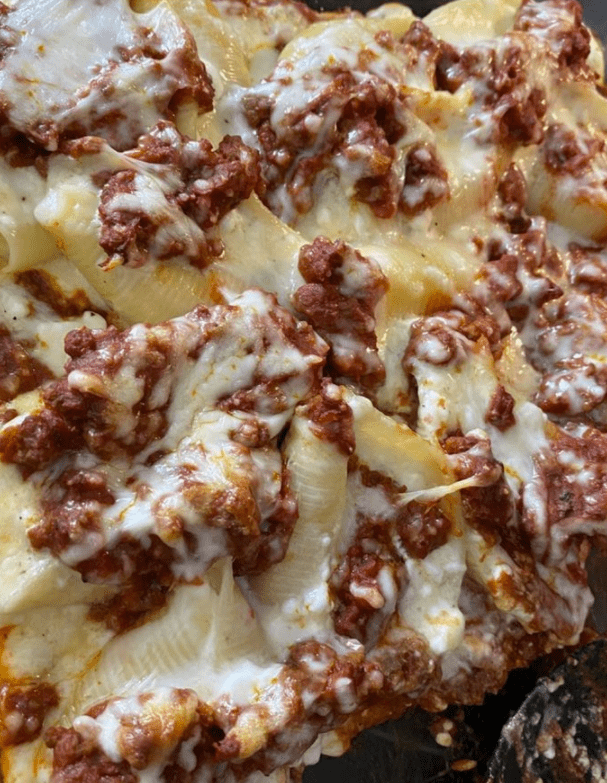 How to Make this easy SUPER STUFFED SHELLS ??
Ingredients :
1 tablespoon plus 1 teaspoon olive oil
2 teaspoons salt
1/2 (12-ounce) box jumbo pasta shells (18 to 20 shells)
2 cups finely chopped onion
2 teaspoons minced garlic
1 pound ground veal
1 (10-ounce) package frozen spinach, thawed and squeezed dry
15 ounces ricotta cheese
2 large eggs
1 cup grated Parmesan cheese
2 cups grated mozzarella cheese
1 tablespoon extra-virgin olive oil
1 teaspoon Essence
1 teaspoon fresh basil, chiffonade
1 teaspoon fresh oregano, chopped
1/2 teaspoon ground black pepper
Emeril's Basic Tomato Sauce
Directions :
Preheat the oven to 350 degrees F. Lightly grease a 2-quart casserole dish with 1 teaspoon of olive oil.
Bring a medium pot of water to a boil. Add 1 teaspoon of the salt and the pasta shells, and cook until al dente, 10 to 12 minutes, stirring occasionally with a long-handled spoon to prevent the shells from sticking together. Drain and rinse under cold running water. Drain.
In a medium skillet, heat the remaining tablespoon of olive oil over medium heat. Add the onions and garlic and cook, stirring, until very soft, 6 to 7 minutes. Add the ground veal and cook, stirring, until browned. Add the squeezed spinach and cook, stirring, for 3 minutes. Remove from the heat and season with salt and pepper.
In a large bowl, combine the ricotta cheese, eggs, Parmesan cheese, and 1 cup of the mozzarella cheese. Add the spinach mixture, the extra-virgin olive oil, Essence, remaining teaspoon of salt, the basil, oregano, and pepper, and stir to combine thoroughly.
Spoon about 2 tablespoons of the spinach-ricotta filling into each cooked pasta shell. Place the filled shells in the prepared dish.
Pour Emeril's Basic Tomato Sauce over the filled shells and top with the remaining 1 cup of mozzarella cheese. Bake, uncovered, until bubbly, about 20 o 25 minutes. Remove from the oven and let rest for 5 minutes before serving.