------------- Advertisement - Continue Reading Below -------------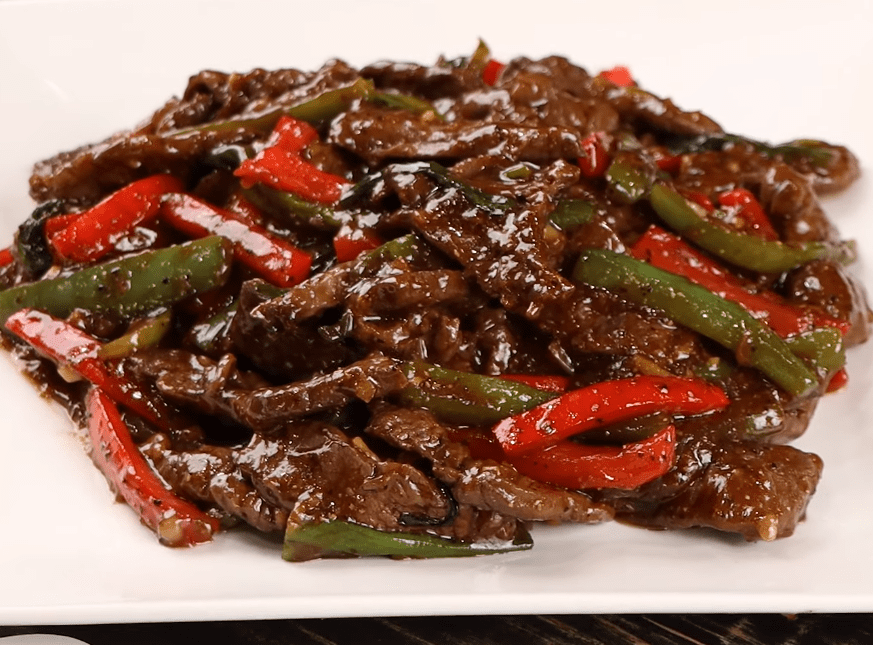 Welcome to KMT Show! Kitchies We're here to inspire you with a mouthwatering recipe that you won't forget anytime soon. Do you love the taste of pepper steak from your favorite Chinese restaurant? Well, we have a recipe that will give you that same fantastic restaurant taste, but you can make it in the comfort of your own kitchen! Our recipe for Best Ever Pepper Steak is a stir fry of thinly sliced flank steak in a savory sauce with green bell peppers. It's a fast and simple meal that is much better than takeout!
The inspiration behind this recipe comes from our love for Asian dishes that are not only easy to make but taste incredible. We wanted to create a dish that was restaurant-quality but could be made at home with just a few simple ingredients. The result is this Best Ever Pepper Steak recipe that we are excited to share with you!
Our Best Ever Pepper Steak recipe is a stir fry of sautéed bell peppers, browned steak, and a savory sauce that is combined in one pleasant dish. The steak is sliced thinly against the grain and seasoned with sea salt and freshly ground black pepper before being cooked until all sides are sealed. The bell peppers are then added to the same pan and cooked until soft before adding minced garlic and ginger for extra flavor. The steak is returned to the pan, and the prepared sauce is poured over it, and the mixture is simmered until the sauce is shiny, creating the perfect texture and taste. This dish is perfect when served over cooked white rice.
So, let's get started KMT Show ! Here's what you'll need to make this recipe so special:
Servings: 4
Prep Time: 10 minutes
Cook Time: 25 minutes
Total Time: 35 minutes
Ingredients:
470 gr. of flank steak, thinly sliced against the grain
1 red bell pepper, thinly sliced
1 green bell pepper, thinly sliced
1/4 cup of low-sodium soy sauce
4 tablespoons of packed brown sugar
3 minced cloves of garlic
2 tablespoons of rice wine vinegar
2 tablespoons of vegetable oil (divided)
1 tablespoon of freshly minced ginger
1 tablespoon of cornstarch
Sea salt
Freshly ground black pepper
Cooked white rice for serving
It's time to put on your KMT chef's hat and start create your own version, Kitchies!! Simply follow these easy-peasy steps!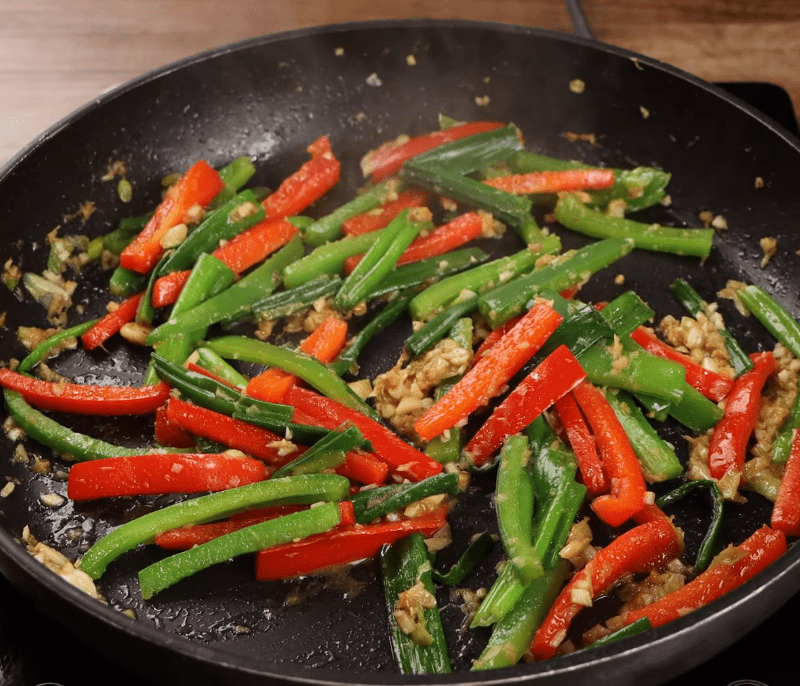 How to prepare this PEPPER STEAK:
In a large bowl, combine the soy sauce, rice wine vinegar, brown sugar, and cornstarch. Whisk the ingredients together to create the sauce.
Heat 1 tablespoon of vegetable oil in a large frying pan over high heat.
Add the sliced steak to the pan, season with salt and black pepper, and cook for about 8 minutes or until all sides are sealed. Once done, remove the steak from the pan and set it aside on a plate.
Add the remaining tablespoon of vegetable oil to the same pan along with the sliced green bell peppers.
Cook the peppers for around 6 minutes or until they are soft.
Add the minced garlic and ginger to the pan and stir everything together for about a minute until fragrant.
Return the steak to the pan and pour the prepared sauce over it. Stir everything together until the sauce is shiny, for about 15 minutes.
Once done, remove the pan from heat and serve the pepper steak over cooked white rice.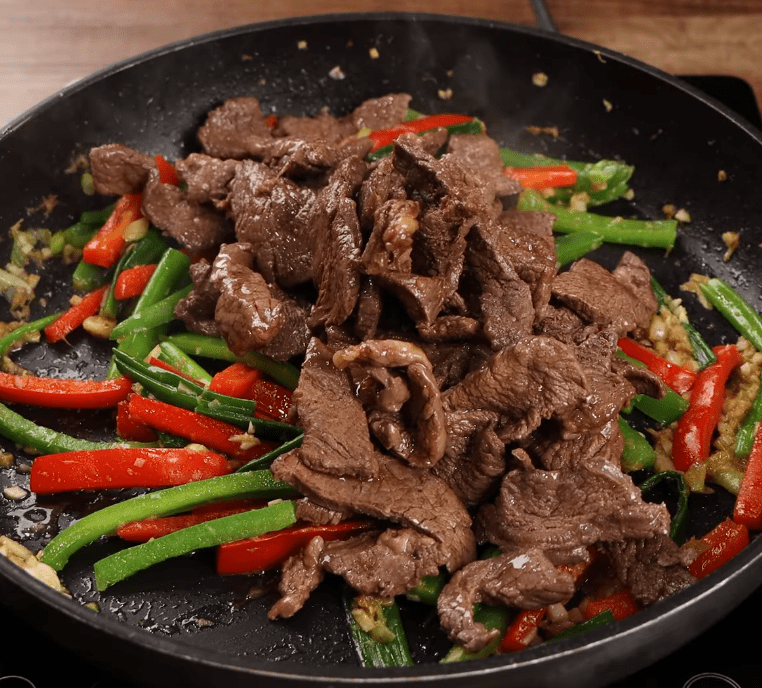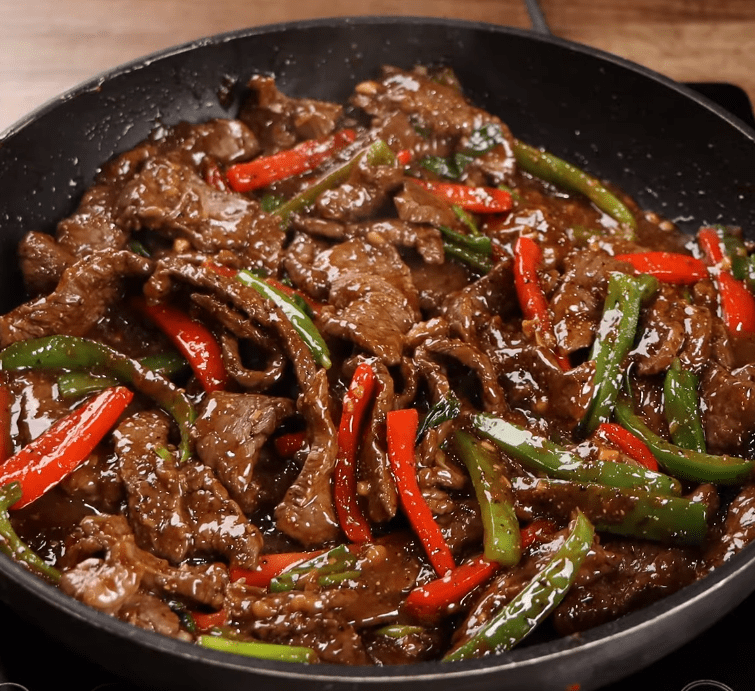 Master this recipe like a pro with these helpful Tips:
KM'Tips
It's essential to slice the flank steak thinly against the grain to achieve a tender and juicy result. Slicing against the grain shortens the muscle fibers and makes the meat more tender to chew.

To save time on prep, you can chop the vegetables ahead of time and store them in the fridge until you're ready to cook.

Don't overcook the vegetables; they should still have a slight crunch to them. Overcooking will result in a mushy texture, which is not desirable.

You can adjust the amount of pepper to your liking. If you like your pepper steak spicier, add more black pepper or even some red pepper flakes.

Let the steak rest for a few minutes before slicing it. This will allow the juices to redistribute and prevent the meat from drying out.
Experiment with different substitutions and variations to find the version of this recipe that best suits your taste and dietary needs.
Substitutions and Variations:
You can use other cuts of beef such as sirloin or ribeye instead of flank steak.
You can substitute the green bell peppers for other vegetables such as mushrooms, carrots..
Meat: You can use other cuts of beef, such as sirloin or rib-eye, instead of flank steak.
Vegetables: You can add other vegetables to the stir-fry, such as onions, mushrooms, or broccoli.
Spiciness: If you prefer your pepper steak to be spicier, you can add some red pepper flakes or hot sauce to the sauce mixture.
Low-carb: If you want to make this recipe low-carb, you can substitute the brown sugar with a low-carb sweetener such as erythritol or stevia.
Gluten-free: To make this recipe gluten-free, use tamari instead of soy sauce and make sure that your cornstarch is gluten-free.
Vegan: You can use seitan or tofu instead of beef to make a vegan version of this recipe. Also, substitute the oyster sauce with a vegan alternative.
Grilled: For a smoky flavor, you can grill the flank steak instead of stir-frying it.
Rice: Instead of white rice, you can use brown rice, quinoa, or cauliflower rice for a healthier option.
Nutrition information:
This recipe yields four servings, with each serving containing approximately 350 calories, 30 grams of protein, 20 grams of carbohydrates, and 16 grams of fat.
Thanks for joining us on this culinary adventure and trying out our Pepper Steak recipe. We hope you enjoyed making it as much as you'll enjoy eating it. Don't forget to share your experience with us in the comments below and tag us in your social media posts.

Stay tuned for more delicious and easy-to-follow recipes from KMT Show. Happy cooking!
------------- Advertisement - Continue Reading Below -------------
Categories : Asian cuisine, stir-fry, beef dishes, easy meals, family-friendly.
Are you curious about anything else? Take a look at the most frequently questions we get about this recipe:
FAQs:
Q1. Can I use a different cut of beef instead of flank steak?

Yes, you can use other cuts of beef, such as sirloin or ribeye. However, flank steak is the best choice because it is lean and tender.

Q2. Can I use different colors of bell peppers?

Yes, you can use any color of bell peppers you like. Red, yellow, and orange peppers will add some extra sweetness and color to the dish.

Q3. Can I make this recipe ahead of time?

Yes, you can prepare the ingredients ahead of time and store them in the fridge. When you're ready to cook, simply stir-fry the ingredients together.

Q4. Can I freeze leftovers?

Yes, you can freeze the leftovers in an airtight container for up to 3 months.

Q5. Can I use other types of vinegar instead of rice wine vinegar?

Yes, you can use other types of vinegar, such as white vinegar or apple cider vinegar. However, rice wine vinegar has a milder and sweeter flavor, which works well in this recipe.