------------- Advertisement - Continue Reading Below -------------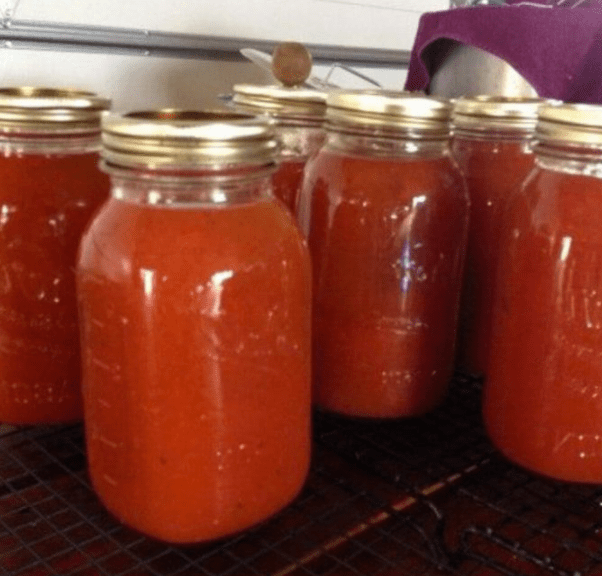 Does your family enjoy fresh homemade juice? Here is a delicious juice which taste like V8 juice. This is called V8 Juice. There are only seven ingredients. We process this V8 Juice in a water bath process. Honestly a couple of jars never get processed. They are consumed before being put in the water bath. Fresh vegetables, no preservatives. Doesn't get any better tasting or healthier.
------------- Advertisement - Continue Reading Below -------------
Needed: Strainer, large bowl, non-reactive pot (glass, enamel or stainless steel), potato masher.
Let's Make this Amazing HOMEMADE V8 JUICE ??
Ingredients:
24 pounds tomatoes,
1 pound carrots scrubbed diced,
1 bunch celery scrubbed diced,
1 cup diced onions,
1 large bunch parsley,
1 Tablespoon sea salt,
1 bottle lemon juice.
Directions:
Wash tomatoes. Slice a shallow edge from the top of the tomato, to remove the stem and core.
Cut tomatoes into quarters.
Add tomatoes to your stockpot. Use a potato masher (or immersion blender) to break up wedges. Turn burner to medium heat.
Add carrots, celery, onions, parsley.
Stir frequently to prevent sticking and scorching.
Simmer 35 minutes. Carrots and celery should be tender.
Strain everything into a large pot.
Return liquid to clean stockpot.
Juice remaining vegetables. Use a food mill, food processor or blender.
Strain vegetables. Add to rest of your liquid.
Add salt.
Heat juice to 190 degrees. DO NOT BOIL.
Wash and prepare glass jar and lids.
Add 1 Tablespoon of lemon juice to each pint jar. 2 Tablespoons to quart jar.
Ladle hot juice into jars. Leave 1/2 inch head space.
Wipe jars. Add lids and rings.
In a hot water bath, process pints 35 minutes. Quarts 40 minutes.
Shake before drinking.
Tip: You can add 1 cup of spinach, 1 Tablespoon black pepper or 2 Tablespoons Worcestershire sauce. Remember it is your juice, make it to your tastes.