RECIPES
Southern Fried Chicken Gizzards
------------- Advertisement - Continue Reading Below -------------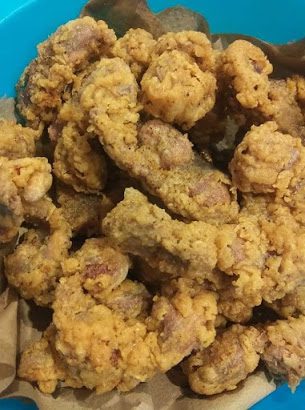 Southern Fried Chicken Gizzards
Ingredients
1 pound chicken gizzards, rinsed
2 stalks celery, cut into chunks
1 onion, cut into chunks
2 eaches bay leaves
1 ½ teaspoons celery salt, divided
1 teaspoon seasoned salt
½ teaspoon ground black pepper
½ teaspoon dried Italian herb seasoning
1 teaspoon garlic powder
¼ teaspoon ground cumin
½ teaspoon Louisiana-style hot sauce
3 cups oil for deep frying
1 cup all-purpose flour
Directions
Step 1
Place the chicken gizzards, celery, onion, bay leaves, and 1 teaspoon of celery salt into a saucepan, and pour in enough water to cover the gizzards by 1 inch. Bring the gizzards to a boil, reduce heat to low, cover, and simmer until tender, about 2 1/2 hours. Pour in more water during simmering, if needed, to keep gizzards covered. Remove the gizzards to a bowl, discard the celery and onion, and reserve the broth.
------------- Advertisement - Continue Reading Below -------------
Step 2
Season the gizzards with 1/2 teaspoon of celery salt, the seasoned salt, pepper, Italian seasoning, garlic powder, cumin, and hot sauce, stirring to combine well. Pour 1/3 cup of the reserved broth over the seasoned gizzards, and refrigerate for 30 minutes or more, stirring often. (Save or freeze the remaining broth for another use, if desired.)
Step 3
Heat oil in a deep-fryer or large saucepan to 375 degrees F (190 degrees C).
Step 4
Place the flour in a plastic bag, and pour in the gizzards with their seasoning. Shake the bag to thoroughly coat the gizzards with flour. Gently lower about 1/4 of the gizzards per batch into the hot oil, and fry until golden brown, about 5 minutes per batch. Drain the gizzards on paper towels, and serve hot.