------------- Advertisement - Continue Reading Below -------------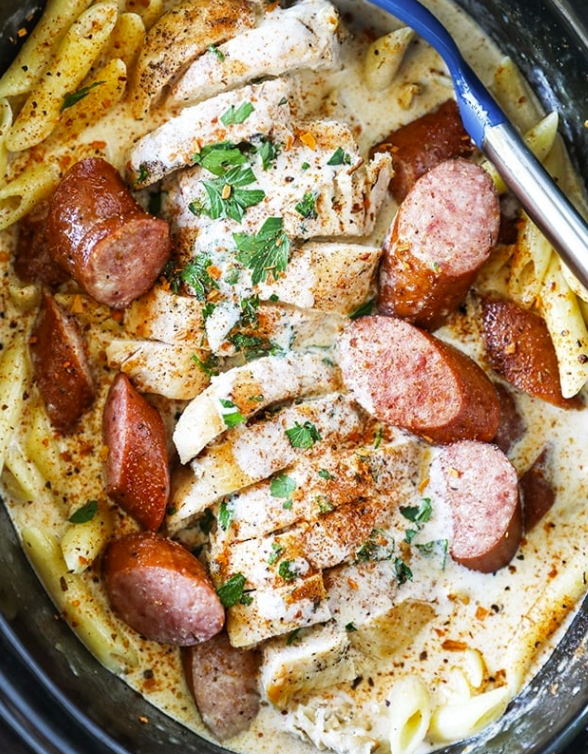 A delicious meal perfect for dinner time or dinner guests! Cajun Chicken Alfredo is packed with flavor and so easy to make in the slow cooker!
Servings: 8 | Calories: 928 kcal
Ingredients
1 tablespoon olive oil
1 pound chicken breasts
1 pound smoked sausage sliced into 1 inch pieces
3 cups of heavy cream
4 cups of low sodium chicken broth
4 tablespoons butter
2 tablespoons coarse cajun seasoning
2 cloves garlic smashed
1 pound of uncooked penne pasta
1/2 cup hot water
8 oz freshly shredded parmesan cheese about 2 1/2 cups
kosher salt and black pepper
garlic powder
Instructions
Pat chicken breasts dry and season with salt, pepper and a sprinkle of garlic powder. Heat olive oil over high heat and quickly sear chicken breasts on both sides.
Add chicken breasts,sausage, heavy cream, chicken broth, butter, garlic cloves and 1/2 teaspoon of kosher salt, cajun seasoning and several turns of freshly ground black pepper to slow cooker.
Cook on low for about 4 hours or high for 2-3 hours, until chicken has reached 165 degrees.
Remove chicken from slow cooker and set aside to cool and slice.
Stir in 1/2 cup of hot water and uncooked penne pasta, cover and cook on high for about 30 minutes. Just until pasta is tender.
Once pasta is tender, stir in parmesan cheese, sliced chicken and additional salt and black pepper to taste.
Notes
Important Tip: Yes, there is enough liquid in the recipe to cook the pasta. However, you will need to keep an eye on the pasta and stir it around. Once the pasta is done and the sauce is to the thickness you like, turn off the slow cooker or turn to "keep warm". You do not want to burn the noodles.
------------- Advertisement - Continue Reading Below -------------