------------- Advertisement - Continue Reading Below -------------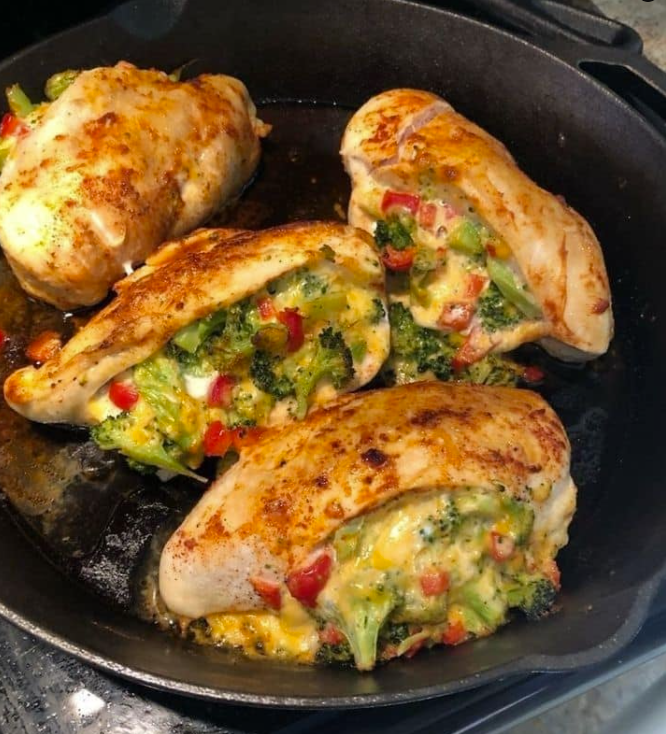 Chicken is really great meat. Versatile as desired, it can be prepared in several ways. Sweet and savory, Asian, Italian or simply roasted, the possibilities are nearly endless!
Ingredients :
° 3 chicken breasts
° Salt / Pepper
° 1 1/2 teaspoons (8 ml) garlic powder, divided
° ½ teaspoon (1 ml) paprika
° 1 cup (175 grams) of broccoli florets
° ½ cup (90 g) diced red pepper
° 1 cup (100 grams) grated light cheddar cheese
° 1 tsp (15 ml) mayonnaiise
° 2 tsp (30 ml) oil-olive
Preparation:
Preheaat oven 425°F (220°C).
Season both sides of the chicken breasts with salt, pepper, paprika, and ½ teaspoon garlic powder.
Using a knife, cut the chicken into crosswise slices to form a pocket for garnish.
Placing broccoli in microwave-safe dish also add 2 tsp water. Covering with plastic-wrap & cooking about 1 min . Drain excess water.
Add the chopped bell pepper, cheese, mayonnaise, the rest of the garlic powder, and salt and pepper to taste. Mix well.
Arrange the filling evenly between the chicken breasts. Put a toothpick to close if necessary.
Heat an oven pan over a medium heat and add the olive oil. Frying chicken for 3-4 min on every side.
Covering pan with tin foil also baking about 15 to 17 min , to chicken is cook through. Let covered for 5 min before serve .
Enjoy !