------------- Advertisement - Continue Reading Below -------------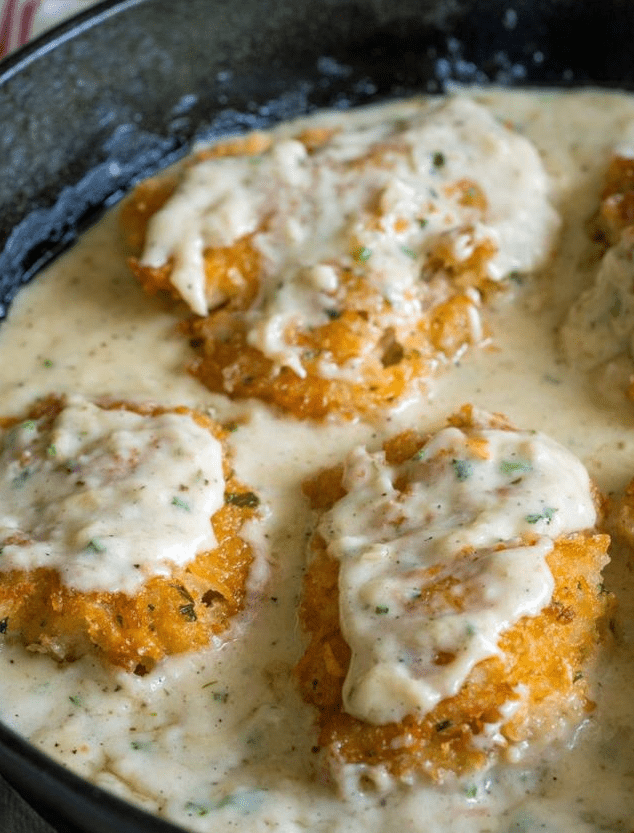 How to Make Roasted Garlic Chicken Skillet ??
Serves 4-6
INGREDIENTS
6 large boneless, skinless chicken thighs or breast tenders, trimmed of fat and pounded to an even thickness
2 cups buttermilk
Seasoned Flour:
2 cups all-purpose flour
1 teaspoon salt
1/2 teaspoon pepper
1/2 teaspoon garlic powder
1/2 teaspoon paprika
Egg Wash:
2 large eggs
1/4 cup water
Breadcrumbs:
2 cups panko or seasoned Italian breadcrumbs
3/4 cup parmesan cheese, grated
2 tablespoons fresh parsley, minced
vegetable oil, as needed, for frying
Sauce:
3 tablespoons unsalted butter
3 tablespoons all-purpose flour
2 heads garlic, ends cut off, roasted and mashed
1 cup low-sodium chicken broth
1/3 cup heavy cream
1/3 cup parmesan cheese, grated
1 tablespoon fresh parsley, finely chopped
kosher salt and freshly ground pepper, to taste
PREPARATION
Preheat oven to 400º F.
Place garlic (with stems removed) cut side up on a sheet of aluminum foil. Drizzle with olive oil and season with salt and pepper, then tightly seal. Roast for 30-35 minutes, or until softened.
Remove from oven and let cool.
Pour buttermilk into a large bowl and soak chicken pieces for 20-30 minutes.
In a large, shallow bowl or dish, whisk together flour, salt, pepper, garlic powder and paprika.
Whisk together eggs and water in a second shallow bowl or dish, then set next to flour mixture.
In a third bowl, whisk panko breadcrumbs together with parmesan cheese and parsley.
Take buttermilk-soaked chicken and shake off excess liquid, then transfer to seasoned flour, making sure to coat all sides.
Dip flour-coated chicken in egg wash, then shake off excess. Finally, dredge chicken in seasoned breadcrumbs.
Heat 2 tablespoons vegetable oil in a heavy-bottomed or cast iron skillet over medium-high heat and, working in batches, brown chicken on both sides. 4-5 minutes per side. Set chicken aside to a paper towel-lined plate to drain.
Add butter to any remaining oil in skillet and heat until melted, then whisk in flour and mashed garlic to create a roux. Cook for 2-3 minutes, stirring continuously, until lightly browned, then stir in chicken broth.
Once smooth, stir in heavy cream, parmesan and parsley, cooking until it just starts to bubble up.
Return chicken to pan, coating it in sauce, cover and cook, reducing heat to low, for another 5-10 minutes, or until cooked through.
Serve hot and enjoy.
Recipe adapted from Bake At Midnite