------------- Advertisement - Continue Reading Below -------------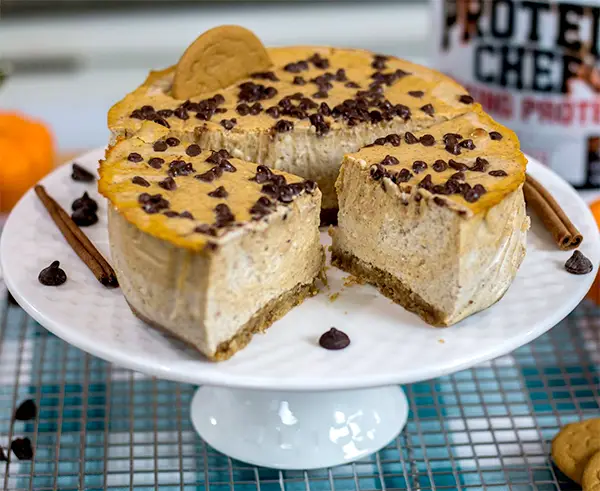 serves 8
Crust
· 1.5 cups almond meal/flour
· 1 TBSP coconut oil
· 1 TBSP almond butter
· 2 TBSP sugar free syrup
Cheesecake
· 2, 6 oz containers of plain greek yogurt
· 8 oz container of 1/3 fat cream cheese
· 2 whole eggs
· 2 egg whites
· 2 scoops vanilla whey protein powder
· 1.5 cups baking stevia
Pumpkin Pie Swirl
· 1/2 cup canned pumpkin
· 1/2 tsp pumpkin pie spice
· 1/3 cup unsweetened almond milk
· 1/4 cup baking stevia
Preheat the oven to 350⁰ F. Mix all of the crust ingredients in a bowl. Press firmly into the base of a pie pan. The crust should bind together as you press it into the pan.
Then, blend all of the cheesecake ingredients in a blender or food processor.
Pour over the cheesecake crust. Finally, mix all of the pumpkin swirl ingredients in a bowl.
Dollop on top of the cheesecake and swirl with a knife. Bake the cheesecake at 350⁰ F for 60 minutes.
Let cool at room temperature for 30 minutes, then refrigerate for 4 hours or longer before serving.
Cut into 8 slices and enjoy.
nutritional information per serving
288 calories; 20 g fat, 12 g carbs (3 g fiber), 20 g protein