------------- Advertisement - Continue Reading Below -------------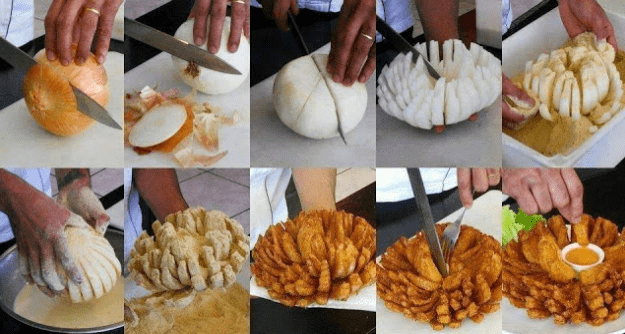 Outback Steakhouse serves 40,000 Bloomin 'onions every day – equivalent to roughly 62 million calories from the chain's popular appetizer: giant onions that are sliced ​​to resemble a flower and fried well.
Several readers, including Sue Rogers of Tomball, TX, wrote to us to get the recipe, but only three people in the company know about it, and none of them will give it up. So, the chefs at Food Network Kitchens sauté onions until they brown the sour paint – and the secret dipping sauce…
Ingredients :
+For diving:
° 2 tablespoons of mayonnaise
° 2 tablespoons of sour cream
° 1 1/2 tsp ketchup
° 1/2 teaspoon Worcestershire sauce
° 1 tablespoon of horseradish
° 1/4 teaspoon paprika
° Pinch of cayenne pepper
° Kosher salt and freshly ground black pepper
+To prepare the onions:
° 1 large, sweet onion, like Vidalia (about 1 pound)
° 2 1/2 cups all-purpose flour
° 1 teaspoon cayenne pepper
° 2 tablespoons of paprika
° 1/2 teaspoon dried thyme
° 1/2 teaspoon dried oregano
° 1/2 teaspoon ground cumin
° Freshly ground black pepper
° 2 large eggs
° 1 cup whole milk
° 1 gallon soybean oil or corn as needed for frying
° Kosher salt
* Directions :
Combine all dipping ingredients in a bowl, cover and cool.
Sliice onion (see note). Whisk the flour, hot pepper, paprika, thyme, thyme, cumin and 1/2 teaspoon of black pepper in a bowl. In a small deep bowl, whisk together eggs, milk and a cup of water.
Place the onion in a separate bowl, sliced ​​side up, and pour the whole flour mixture over it. Covering bowl wiith a dish , then shaking back & forth to distribute flour. Check to make sure the onion is completely covered, especially between the "petals". Lift the onion from the core, turn over the excess flour; Keep the flour bowl.
Using a slotted spoon, completely submerge the onions in the egg mixture (spoon on top, if needed). Remove the excess eggs and let them drip, then repeat the flour process. Put the onions in the refrigerator while the oil is heating up.
Fill a large deep saucepan with at least 3 inches of oil, leaving a 2-inch space on top. Heat the oil over a medium-high heat until the skillet has a temperature of 400 degrees. Get rid of the extra flour from onions. Using a wire skimmer, carefully lower the onion into the oil, slicing side down. Set the temperature so that the temperature of the oil remains close to 350 degrees. Fry about 3 minutes, then stir the onions and cook until golden, for another 3 minutes; Drain on paper towels. Seasonning with salt also serving with dipping.
** Cook's note
How to slice an onion: 1. Chop 1/2 inch off the tip of the onion stalk, and peel it. 2. Lay the onion cut side down. Starting at 1/2 inch from the root, make a cut down all the way to the chalkboard. 3. Repeat the process to make four evenly spaced pieces around the onion. 4. Continue cutting between each section until you get 16 evenly spaced pieces. 5. Turnning onion on and utilize your fingers to sweetly separate outer pieces.
------------- Advertisement - Continue Reading Below -------------
Enjoy !