------------- Advertisement - Continue Reading Below -------------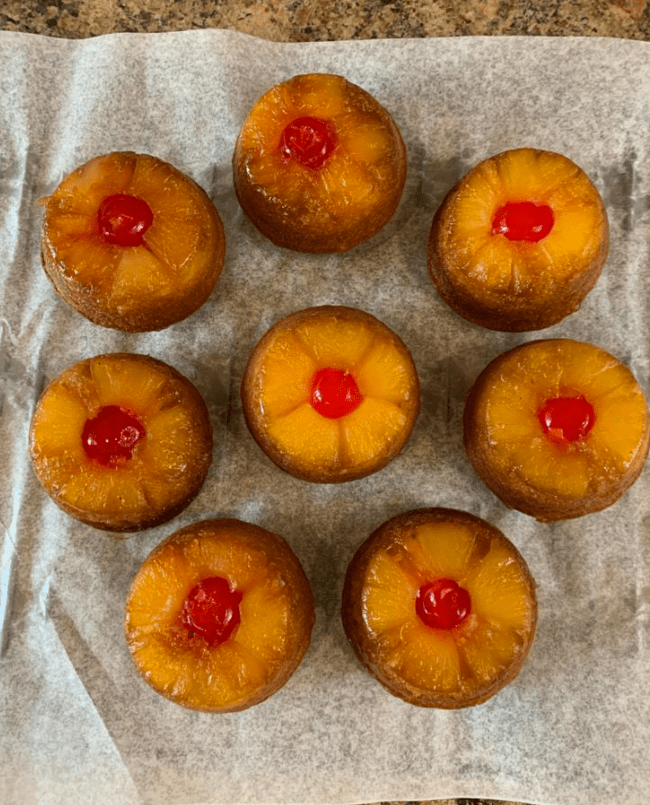 Preparation 30 minutes
Total time 50 minutes
Easy
*Ingredients / for 6 people
15 of brown sugar
3 eggs
120 grams butter
120 g flour
110 grams of sugar
1 sachet of vanilla sugar
1 sachet of baking powder
1 can pineapple slices
Setting
Heat the oven to 180 degrees. In a saucepan, prepare the caramel with 15 pieces of brown sugar, soaked in water. When it becomes golden brown, pour it into several small molds.
Arrange the slices on the bottom of the mold on the caramel. Set the juice aside.
In a salad bowl, work the butter to make it creamy. Add the sugar, and mix well, until the preparation is smooth and all the eggs are incorporated, one at a time. Mix the yeast with the flour and gradually add it to the mixture. If you have any pineapple pieces left, you can mix them into the mixture.
Pour this preparation into the mold without disturbing the pieces and let it cook for 30 minutes. Make sure the cake is well cooked by pricking it with the tip of a knife, which should come out dry.
to end
Invert the mold onto a serving plate. Gradually pour pineapple juice over the cake to allow it to drink: this makes it softer.
Enjoy !