------------- Advertisement - Continue Reading Below -------------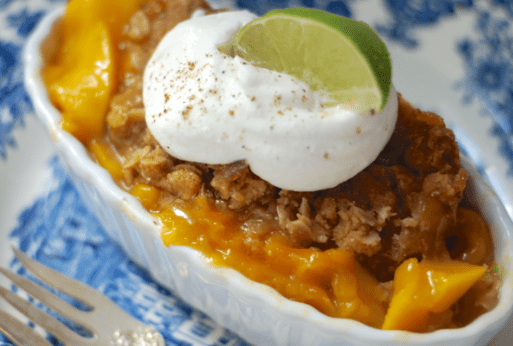 Mmmmmm! Mango crisp is such a beautiful summer treat. It reminds me of a dessert I enjoyed while visiting a little restaurant in Lahaina, Maui. Whenever I cook with mangoes and ginger, the scents transport me to that amazing, tropical island.
for the crumble topping:
1 cup all purpose flour
1 and 1/2 cups old-fashioned oats
1 cup packed brown sugar
1 tsp. freshly grated nutmeg
2 tbsp finely chopped crystallized ginger
2/3 cup cold butter
for the fruit filling:
6 cups sliced ripe mango (about 3 – 4 mangoes, depending on size)
2 Tablespoons freshly squeezed lime juice
1/2 cup packed brown sugar
1/4 cup flour
directions
~ Preheat oven to 350 F. ~
Butter a 9 x 13, glass baking dish. Prepare the topping: In a large bowl, combine flour, oats, brown sugar, nutmeg, and crystallized ginger. Cut in cold butter until mixture resembles coarse crumbs. Set aside.
Peel mango and cut into slices. Discard mango pits. Toss the mango with the lime juice. Combine sugar and flour, and toss with fruit until evenly coated. Taste and adjust sweetness. Spread fruit in the bottom of the prepared dish.
Sprinkle topping evenly over fruit. Bake in preheated oven for about 40 – 50 minutes, until the fruit is bubbling and the topping is crisp and lightly browned. Serve warm or cold with coconut whipped cream! Serves 12.
for the coconut whipped cream:
1 cup heavy whipping cream
1/3 cup coconut cream (not the liquid part, just the cream)
1/2 teaspoon coconut extract
3 Tablespoons powdered sugar
Place all in the bowl of a counter top mixture fitted with the whisk attachment. Whip until stiff peaks form. Cover and refrigerate whatever you don't use right away.
Enjoy!