------------- Advertisement - Continue Reading Below -------------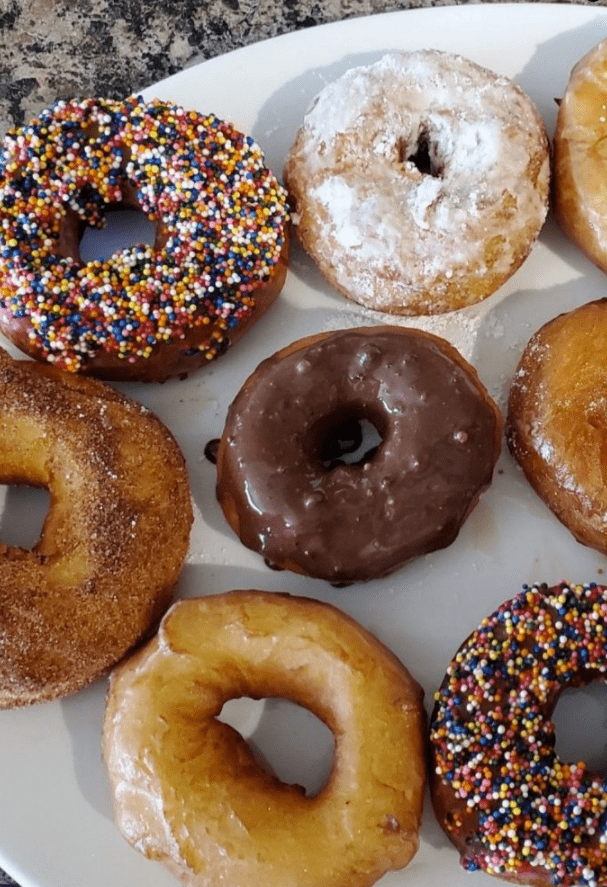 Yum, is all I can really say about these Low Carb Gluten-Free Donuts! They are seriously one of my favorite treats to have that are also Keto friendly. They're very easy and quick to make. Oh, and believe me, they will not last long. I've made these 3 times now and I've had to double the recipe each time because the family will run to the kitchen and hover over the tray to grab as many as they can and run like mad so they don't have to share! Which means, I get my little stash first and then let them know they're ready! Smart! I know!
To make these Low Carb Gluten-Free Donuts I used and mini donut maker that made things a little easier, and they're healthier because these are not fried but baked on the donut maker. If you don't have a mini donut maker you can use a donut pan and bake them in the oven as well. Baking in the oven is quicker because in the donut make you can only make 6 at a time.
I topped mine with powdered sugar (add additional carb info for sugar), melted sugar-free chocolate chips and I made a quick pumpkin flavored glaze as well. Doesn't really matter what you put on top, these are delicious with your favorite topping or you can eat them naked as well. Um, wait, that didn't sound good, I mean the donut is naked on top, not me!
------------- Advertisement - Continue Reading Below -------------
How to Make this Amazing LOW CARB GLUTEN-FREE DONUTS ??
Ingredients:
1 ¼ cups – Almond Flour
¼ cup – Coconut Flour
½ cup – Stevia in The Raw or sweetener of choice remember to add additional for carb points
1 Tbsp. – Baking Powder
1 tsp – Ground Cinnamon
1 tsp – Pumpkin Pie Spice
¼ tsp – Sea Salt
1 can – Squash for pie
½ cup – Almond Milk
4 large – Eggs
1 tsp – Pure Vanilla
1 – Pastry Bag
Topping of choice – melted sugar free chips, powdered sugar or a glaze
Donut Maker or Donut Pan for oven
Non-stick coconut oil spray
Directions:
Heat donut make according to directions or heat oven to 350 degrees.
In a medium bowl combine – flours, stevia, baking powder, cinnamon, pumpkin pie spice, and sea salt. Combine well with a whisk.
In a large bowl whisk together – squash, eggs and vanilla until well combined.
Add dry ingredients to wet ingredients combining well.
Pour batter into pipping bag and snip the tip off.
Spray donut maker with non-stick spray and fill by pipping batter around, close lid and cook for 5 minutes per batch.
If you are using the oven, spray donut pan with non-stick spray and pipe batter into each spot and bake for 8 to 12 minutes until golden brown.
Time will vary in the oven depending on how your oven cooks, so be sure to keep an eye on them.
Remove from donut maker or oven and allow to completely cool on wire rack. Once cool, apply your favorite topping and serve.
Nutrition Information: Serving Size: 3 mini donuts, Calories: 156, Total Carbs: 4 grams, Net Carbs: 3 grams, Protein: 4 grams.
These Low Carb Gluten-Free Donuts are wonderful to pack up and take to work, school, picnics, family functions or just because you want to take a special treat just for yourself to have during your long work day! These delicious donuts are almost guilt free as well.