------------- Advertisement - Continue Reading Below -------------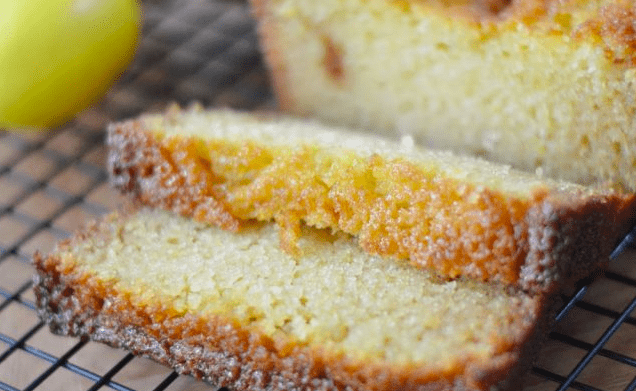 This Lemon Ricotta Pound Cake is incredibly moist and delicious. Somehow there is nothing better than lemony treats. It's also a cinch to throw together.
Ingredients:
3/4 cup (1 1/2 sticks | 6 oz | 170 g) unsalted butter, at room temperature, plus more to grease the baking pan
1 1/2 cups (6.75 oz | 196 g) cake flour (I used all-purpose)
2 teaspoons baking powder
1 teaspoon kosher salt
1 1/2 (13 oz | 366 g) cups whole-milk ricotta cheese
1 1/2 cups plus 1 tablespoon (12.5 oz | 360 g) granulated sugar
3 large eggs
1 teaspoon pure vanilla extract
zest of 1 to 2 lemons
2 tablespoons freshly squeezed lemon juice (less than 1 lemon, usually)
Directions:
Preheat the oven to 350ºF. Grease a 9-by-5-by-3-inch loaf pan or 3 three mini loaf pans with butter (grease pans very well). In a medium bowl, combine the flour, baking powder and salt. Stir to blend.
Using a mixer, cream the butter, ricotta and granulated sugar until blended, about 3 minutes — I never really go over three minutes, and it's ok if there are some visible pieces of butter. In other words, the batter will not look entirely smooth (see photo). With the machine running, add the eggs 1 at a time.
Add the vanilla, zest and lemon juice until combined. Add the dry ingredients, a small amount at a time, until just incorporated.
Pour the batter into the prepared pan and bake until a toothpick comes out clean and the cake pulls away from the sides of the pan, 50 to 60 minutes (or 5 to 10 additional minutes — cover loosely with foil if top is getting too brown) for standard loaf pan and 40 to 45 minutes for mini pans. (Note: Times might vary dramatically depending on the type of pan you are using.
------------- Advertisement - Continue Reading Below -------------
If you are using Pyrex or Corning ware or some other glass or ceramic loaf pan, the loaves might take an hour or an hour and 15 minutes to bake. If you notice the top browning too much before the cake is finished, cover it loosely with a sheet of aluminum foil.)
Let cool in the pan for about 15 minutes, then run a knife around the edges of the pan(s) and transfer loaf/loaves to a rack to cool completely.