------------- Advertisement - Continue Reading Below -------------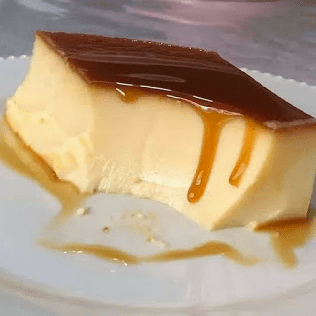 How to make Flan recipe ?
INGREDIENTS
IF YOU WANT IT WITHOUT HOLES ADD 1 TABLESPOON OF CORNSTARCH AT THE TIME OF WHIPPING
1 CAN OF CONDENSED MILK.
5 EGGS
5 TABLESPOONS SUGAR (FOR CARAMEL) 1 SPLASH OF RUM OR LIQUOR.
MILK, TO THE SAME EXTENT AS THE CAN OF CONDENSED MILK.
ESSENCE OF VANILLA, ENOUGH QUANTITY.
Directions
In a metal container (which can be from a metal can, such as Danish biscuits, to a "quesillera" if you have it by hand), add ¼ cup of water and 5 tablespoons of sugar to prepare the candy. It moves constantly preventing the mixture from burning and even getting a golden color.
With the candy still hot, spread it all over the mold and then let it cool.
Place in a blender: eggs, condensed milk and milk. Blend until you get a homogeneous mixture (for approximately 3 minutes). Add a little vanilla and another rum at the end.
• Add this mixture to the metal container and heat the oven at 180 ° C for 50-60 minutes. Time passed and as if it were a cake, insert a stick. If it comes out clean, your quesillo will be ready.
Put it in the refrigerator for 5 hours, unmold, serve and enjoy