------------- Advertisement - Continue Reading Below -------------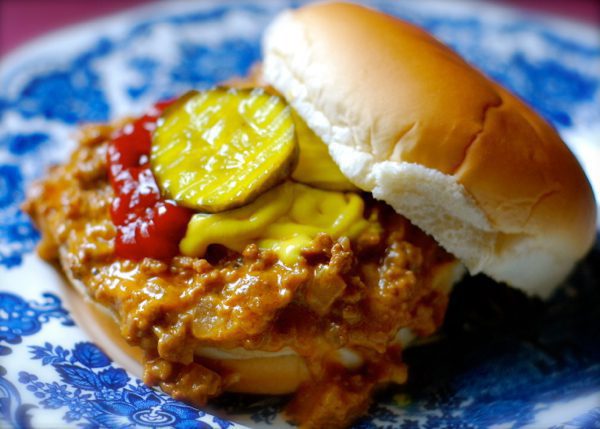 Homemade sloppy joes are incredibly easy to make, and come together in one skillet in about 20 minutes or so. Browned beef is mixed with onion and green pepper and simmered in a sweetened tomato/ketchup sauce. The secret is in finding the right seasoning for the sauce!
WHAT'S THE DIFFERENCE BETWEEN MANWICH AND SLOPPY JOES?
Technically Manwich is a pre-made sauce that's used to make sloppy joes. I'm not sure exactly what's in it, and have never tried it myself, so I can't say that my recipe tastes similar or not. Manwich is marketed as a easy way to make sloppy joes… but in reality, homemade sloppy joes are JUST as easy to make!
If you're looking for something a little bit different to serve on game day, this is the recipe for you! It's so easy and yummy. Different from the hum drum, tired, Sloppy Joe recipe you've made time and time again. Add cheese, and… magic!
We like this recipe for potlucks and kid's birthday parties too.
makes 8 sandwiches
2 lb. lean ground beef
1 medium onion, chopped
3 large cloves garlic, minced
1 Tablespoon olive oil
3/4 cup ketchup
1/4 cup water
2 Tablespoons brown sugar
1 Tablespoon Worcestershire sauce
10 oz. shredded cheddar cheese
hamburger buns
your favorite burger toppings
Brown hamburger and chopped onion. Drain if needed. Transfer to a 4 quart slow cooker.
Saute minced garlic in olive oil until lightly golden. Add garlic, along with ketchup, water, brown sugar, and Worcestershire sauce to the beef/onion mixture in the slow cooker. Stir well. Cover and cook on LOW for 3 hours or high for 1 and 1/2 hours.
Just before serving, stir shredded cheese into the hot beef mixture until melted. Place cheeseburger sloppy joe filling on hamburger buns and top with your favorite burger condiments. We like ketchup, mustard, and sweet pickles!
Enjoy!