------------- Advertisement - Continue Reading Below -------------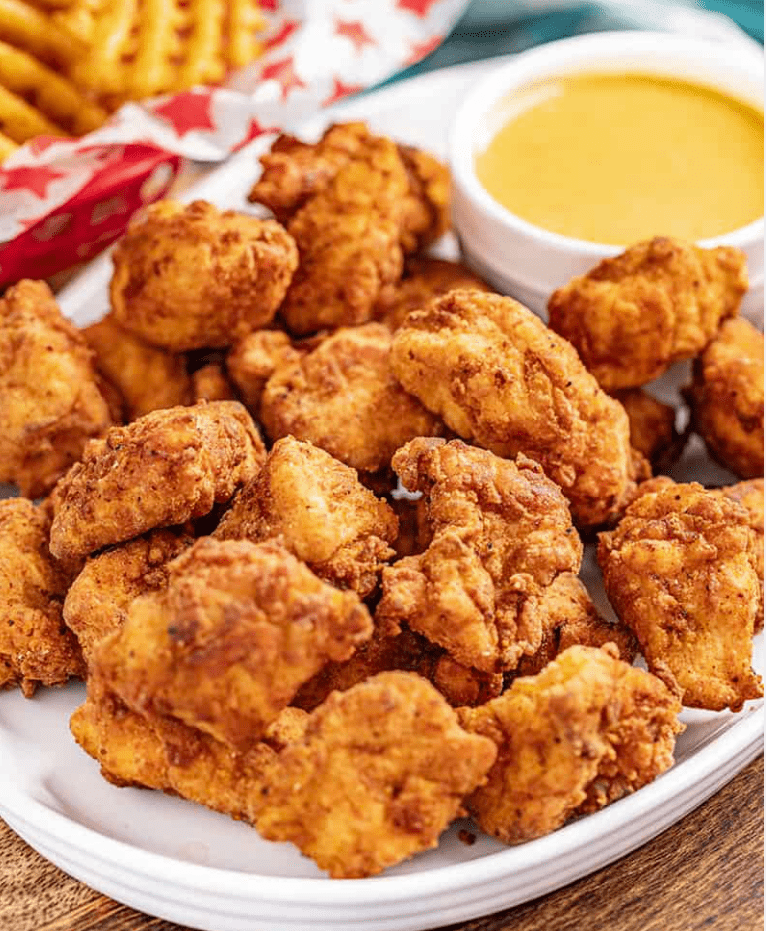 This is How to Make this Amazing Copycat Chick fil A Nuggets Recipe :
INGREDIENTS :
Wet Ingredients :
4 boneless skinless chicken breasts about 2 pounds
2 cups milk or buttermilk
2 teaspoons salt
1 teaspoon M.S.G. optional
1 large egg lightly beaten
Dredging Mixture :
1 1/2 cups all-purpose flour
2 tablespoons powdered sugar
2 teaspoons paprika
1 teaspoon salt
1 teaspoon black pepper
1 teaspoon M.S.G optional
1/2 teaspoon baking soda
For Frying :
INSTRUCTIONS :
Cut chicken breasts into 1-inch cubes (nugget-sized pieces). In a large mixing bowl, whisk together milk, egg, salt, and M.S.G. (if using). Add in nugget pieces and toss to combine. Cover and refrigerate 30 minutes or up to 2 hours.
When ready to cook, pour enough peanut oil into a large skillet to cover the bottom with 2 inches of oil. Heat peanut oil to 350 degrees Fahrenheit and monitor temperature.
Make the dredging mixture by combining flour, powdered sugar, paprika, salt, black pepper, M.S.G. (if using), and baking soda in a shallow bowl or gallon-sized resealable plastic bag.
Remove the chicken breast pieces from the fridge. Remove chicken pieces from milk mixture and tap off excess liquids.
Working in small batches, toss the chicken breast pieces in the dredging mixture to coat. Place on a wire rack until ready to fry.
Fry chicken in peanut oil in small batches for 4 to 5 minutes, until chicken reaches an internal temperature of 165 degrees Fahrenheit. Use a slotted spoon or tongs to remove nuggets from oil and transfer to a paper towel lined plate to drain. Serve hot.