------------- Advertisement - Continue Reading Below -------------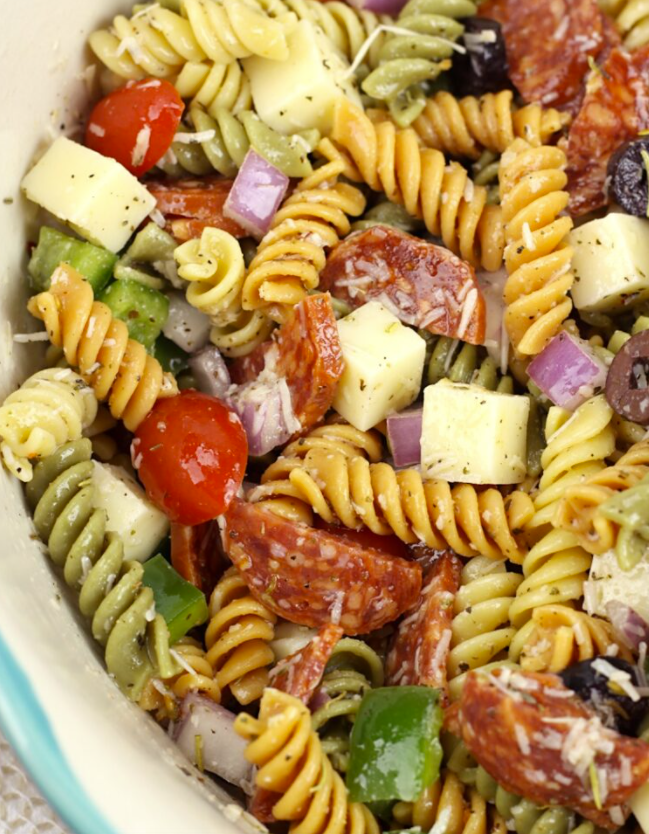 This tasty is unique because it is is made with a tri-color rotin and filled with vegetables and cheeses, and coated in a scratch-made vinaigrette. I think this recipe can be the perfect recipe to feed a crowd.
I really love this classic pasta salad recipe as it is quick, easy, and made from scratch. It also makes enough to feed 24 people or more.
 This pasta salad is made with  simple ingredients such  asrotini pasta, pepperoni, two kinds of cheeses, plenty of veggies, and a homemade vinaigrette dressing. you can prepare this pasta salad at your next family gathering, barbecue, picnic, or birthday party. It is a good option for every occasion everything!
Nutrition
Serving: 0.75cup | Calories: 283kcal | Carbohydrates: 24g | Protein: 13g | Fat: 14g | Saturated Fat: 5g | Cholesterol: 32mg | Sodium: 732mg | Potassium: 193mg | Fiber: 1g | Sugar: 1g | Vitamin A: 330IU | Vitamin C: 8.9mg | Calcium: 169mg | Iron: 1.1mg 
How to Make this Amazing Classic Pasta Salad ??
Ingredients
24 ounces tri-color rotini pasta uncooked
1 pint cherry tomatoes halved
12 ounces sliced pepperoni
1 red onion diced
1 green bell pepper diced
16 ounces mozzarella cheese cubed
1 cup grated parmesan cheese
8 ounces olives sliced
Vinaigrette dressing
1 ½ cups olive oil
½ cup red wine vinegar
2 tablespoons Italian seasoning
2 teaspoons garlic powder
1 ½ teaspoons salt
1 teaspoon pepper
½ teaspoon red pepper flakes
Instructions
Cook pasta according to package directions for al dente pasta. Drain and rinse with cold water until pasta is room temperature. Place pasta in a large bowl.
Add cherry tomatoes, pepperoni, onion, bell pepper, mozzarella, parmesan, and olives to the bowl. Set aside. 
In a separate bowl, add olive oil, vinegar, italian seasoning, garlic powder, salt, pepper, and red pepper flakes. Stir to combine. 
Pour vinaigrette over pasta salad, then toss to coat. Refrigerate for 1 hour before serving. Pasta salad will keep for 3-4 days, refrigerated in a sealed container. 
Pasta WILL continue to soak up the dressing the longer it sits, so it may need a splash of olive oil and vinegar if it has been sitting for several hours.