------------- Advertisement - Continue Reading Below -------------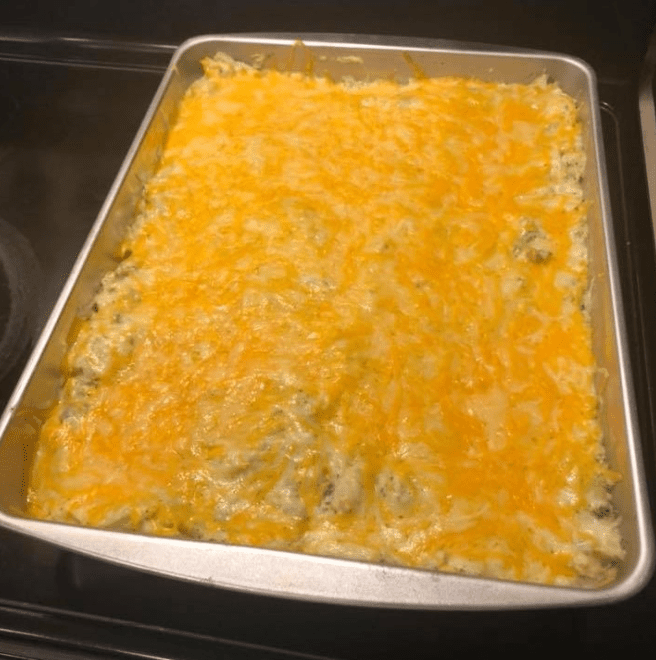 HOW TO MAKE CHICKEN BROCCOLI CASSEROLE?
This Chicken Broccoli Casserole is simply delicious. What more might you wish for than perfectly roasted broccoli, tender and juicy white meat chicken, and an amazingly rich and cheesy sauce? To top it off, it's a nutritious and easy meal with no processed ingredients! Isn't it incredible?
Everyone enjoys a hearty and traditional casserole such as Chicken Divan, or more widely known as Chicken Broccoli Casserole. While several recipes ask for diluted soups to achieve the smooth, fluffy cheese sauce, this one uses just milk, broth, actual cheese, and a trace of natural cornstarch – making it low carb, gluten-free, and even healthier!
You'll adore the combination of tender chicken breast pieces, onions, broccoli florets, and the cheesy, herb-infused sauce. It's the kind of comfort food that makes you genuinely satisfied!
INGREDIENTS NEEDED TO MAKE THIS DELICIOUS CASSEROLE:
------------- Advertisement - Continue Reading Below -------------
About 250 grams.Of chopped onion.
340 grams.Of Chicken breasts or thighs, I removed the skin and cut them into small cubes.
3 minced Garlic cloves.
1 large spoon.Of Olive oil.
105 grams.Of uncooked White rice.
10-ounces.Of Cream of chicken, you can prepare it at home or use the store-bought can.
1¼ Cups.Of Chicken broth.
1½ Cups. Of Broccoli florets, it's about 375 grams.
1½ Cups. Of Shredded cheese, you can use cheddar or other melting cheese.
30 grams.Of chopped Fresh parsley.
Sea salt, to taste.
Ground black pepper, to taste
METHOD OF PREPARATION:
Step 1:
Initially, you need to heat the olive oil in a big ovenproof frying pan over medium heat. Add the sliced onion and cook until softened and translucent, around 2 to 4 minutes.
Step 2:
Next, add the cubed chicken, salt, and pepper and cook for 3 to 5 minutes before adding the garlic and cooking for an additional minute.
Step 3:
Then, substitute the rice and simmer for 2 or 3 minutes before mixing in the cream of chicken and chicken broth or water.
Step 4:
At this step, bring the rice mixture to a simmer. Reduce to a low heat environment, Cook, covered, for 10–12 minutes, stirring periodically, until the rice is tender. Approximately halfway through, search and see whether more broth or water can be included and to ensure the rice does not get sticky.
NOTE:
After tasting, change the seasoning as desired.
Step 5:
Now, stir in the broccoli florets and half of the grated cheese until well combined.
Step 6:
And cook for an additional 2 to three minutes, until your broccoli softens slightly.
Step 7:
When finished, you need to remove the pan from heat and sprinkle the remaining cheese on top.
Step 8:
Finally, put the saucepan under the broiler for a few minutes, just before the cheese melts and starts to brown slightly.
Step 9:
And of course, never forget to garnish with parsley right before serving.
I hope you'll like this casserole as we did!! Truly everyone loves it! Just keep in mind to store any leftovers in tightly covered containers for up to 2 or 3 days, and to reheat, put the casserole in the oven and bake it covered at 350 degrees!!