------------- Advertisement - Continue Reading Below -------------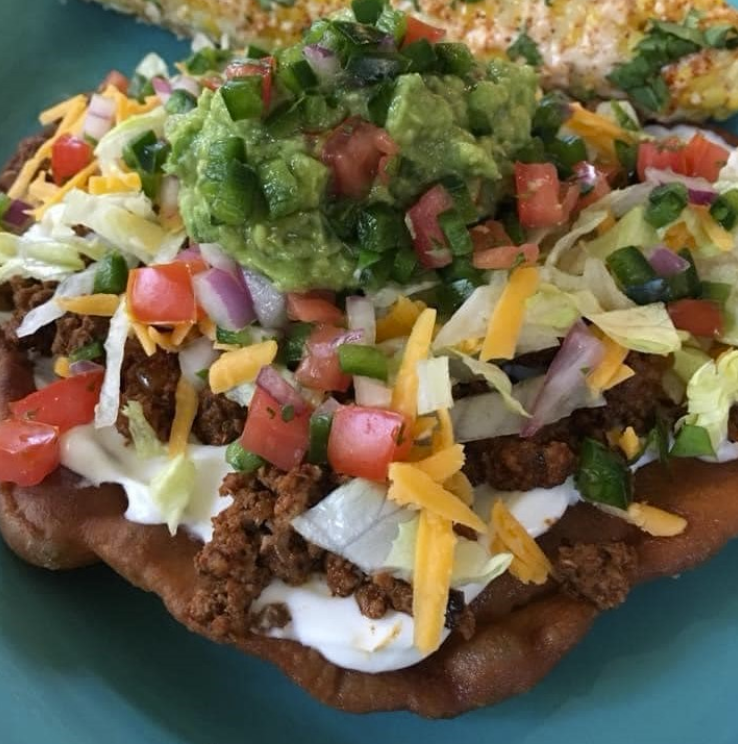 HOW TO MAKE TACOS AND INDIAN FRY BREAD?
Deliciously crispy on the top, fluffy and chew on the inside, Navajo Tacos made with Indian Fry Bread is topped with a meaty mixture of tacos seasoned ground beef and baked beans plus all the fixings including sour cream, shredded lettuce, cheddar cheese, and tomatoes!.
If you've never had a Navajo Taco before, now's the chance to change it.
This Navajo fry bread history is a traumatic one like much of the history of the Native Americans is. "It was created in 1864 using the simplest of ingredients-the flour, salt, and lard that the U.S. government provided to the Navajo people from Arizona when they were forced to leave their historic homeland and march 300 miles by foot on a journey to New Mexico, where they were to resettle, known as the "Long Walk.
The new land did not help its usual vegetable and bean staples, but fried bread became a major part of their diet and community. They can be eaten savory or sweet with these big disks of fried dough, require relatively little time to cook, and are made with the same basic ingredients as when they were first made.
SO LET'S TRY OUR VERSION OF NAVAJO FRY BREAD TACOS TOGETHER!!
INGREDIENTS:
500 gram.Of lean ground beef.
------------- Advertisement - Continue Reading Below -------------
1 can. Of dark red kidney beans, I used the 15 ounces can drain the beans, and rinsed them.
1 large can. Of diced cherry tomatoes, you need to drain it well.
1 small can.Of diced green chilis.
1/2 Cup.Of diced yellow onion.
2 cloves Of garlic, I minced them finely.
1 Large spoon.Of olive oil.
2 small spoons.Of chili powder.
1 small spoon.Of paprika.
1/2 small spoon.Of cumin.
Seasoning: salt and pepper, to taste
OTHER OPTIONAL INGREDIENTS I ADDED FROM TIME TO TIME:
Sliced black olives.
Diced avocados.
fresh salsa.
Drops Of hot sauce.
Chopped cilantro.
THE METHOD:
Step 1:
In a wide skillet, I heated the olive oil over medium-high heat.
Step 2:
When the oil was hot, I stir in the beef to brown, and then I added onions and cooked it stirring frequently and breaking up beef when stirring.
Step 3:
I drained the fat from the beef and returned to the skillet, my mom doesn't drain the fat, she claims it gives it more taste but you can leave it if you'd like.
Step 4:
After that, I added minced garlic, chili powder, paprika, cumin, a can of kidney beans, and diced tomatoes to cooked beef and season with salt and pepper.
Step 5:
I cooked on low for 15 minutes. I spooned the meat mixture onto the Navajo Frybread, then I topped it with the spinach, cheese, tomatoes, sour cream, you can use any optional toppings listed on the list above.
Step 6:
And finally, I served it directly.
NAVAJO FRY BREAD INGREDIENTS:
2 Cups.Of all-purpose flour.
1 Glass.Of warm milk.
1 Large spoon.Of melted butter or shortening.
1+1/2 small spoons.Of baking powder.
1/2 small spoon.Of active dry yeast.
1/2 small spoon.Of salt.
For frying, I used Vegetable oil.
THE METHOD:
Step 1:
I combined the flour with the baking powder, active dry yeast, and salt together in a large mixing bowl.
Step 2:
I whisk the melted shortening into the warm milk and I added this combo to the dry ingredients mixture.
Step 3:
I stir until the mixture falls together and forms a ball, so if the dough should be slightly sticky and elastic, adding an additional 1/4 cup of milk if required.
Step 4:
I covered the dough with plastic wrap and let it sit for about 15 minutes.
Step 5:
I heated 1-inch of frying oil over the stovetop in a large cast-iron skillet to 360 degrees.
Step 6:
I cut the resting dough into 12 equal parts. Working with floured hands and one slice of dough at a time, I rolled the dough into a 6-inch circle on a lightly floured surface and gently I drop it into the hot oil, and cooked for 2 minutes per side until golden brown.
Step 7:
I removed the oil and drained it on a plate lined with paper towels or a baking sheet.
Step 8:
I served the bread soft with Navajo Taco filling!
But you can also serve it with honey butter for brunch!!