------------- Advertisement - Continue Reading Below -------------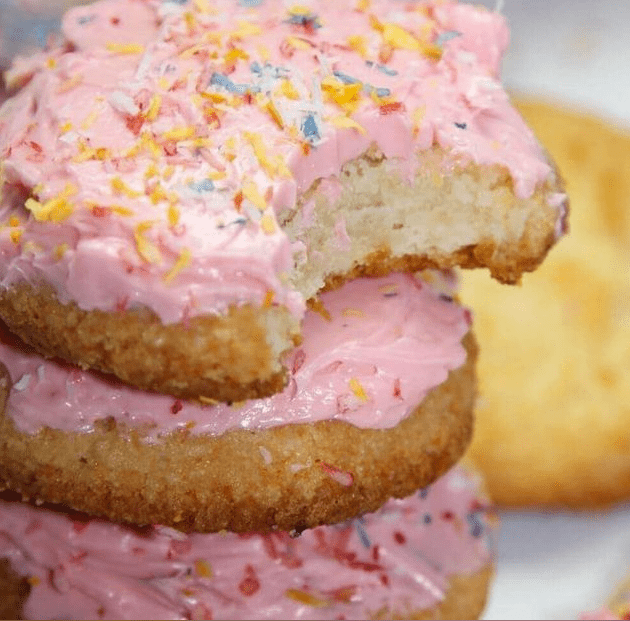 Hands down, this is the Best Low Carb Sugar Cookie Recipe we've ever tested! It took me many, many tries to nail the recipe but I've done it! Learn How to Make Sugar Cookies that everyone will love. These little guys are light, pillowy, buttery, and most importantly Keto.
The recipe is extremely easy to re-create! All you need is a blender or food processor. All the ingredients listed in the recipe are extremely common in keto (or even regular) baking . If you're a desert junkie like me, chances are you'll have all the ingredients in your refrigerator and pantry ready to go right now.
Sweetener of Choice
I use an organic stevia/erythritol blend that I bought from Whole Foods because I couldn't find erythritol and it's literally the best thing that ever happened to me.
It measures 1 tsp Pyure to 2 tsp sugar.
This thing is two times sweeter than sugar and smells like caramel (addicting)
I will usually alternate between Pyure and Truvia sweeteners. Both of these sweeteners measure the same way so you can substitute one for another. They are both an erythritol and stevia blend, but there is one major difference. The biggest difference is availability! Truvia is widely available at pretty much every grocery store. Pyure, however, requires a special trip down to Whole Foods or an Amazon order. If you're someone who's always prepared and has the option of getting either I would defiantly recommend using Pyure.
Can I substitute Pyure for Erythritol?
Erythritol measures 70% of the sweetness of sugar. To match the sweetness level of these cookies, you need approximately 1/2 cup of erythritol… BUTTTTTT….. Erythritol has a cooling affect when used in large amounts. That's a no-go for me in these cookies. If you have to substitute however, I would recommend Swerve or a mix of Erythritol and Stevia combined.
------------- Advertisement - Continue Reading Below -------------
How to Prepare this Amazing SUGAR FREE FROSTED SUGAR COOKIES Step by Step ??
Ingredients:
The Sprinkles
4 Tbsp Unsweetened Coconut Shreds
3 drops Red Food Color
3 drops Yellow Food Color
3 drops Blue Food Color
The Cookies
1 cup Almond Flour
1/2 cup Mozzarella Cheese 60 grams to be exact
4 tbsp Butter Cold
3 tbsp Pyure Stevia or Truvia 2:1 Sugar Ratio
1 tsp Vanilla Extract
1/2 tsp Baking Powder
dash Salt
The Frosting
4 Tbsp Butter Soft at room temperature
2 Tbsp Dairy Free Milk
1 Tbsp Truvia 2:1 Sugar Ratio
1/2 Tsp Vanilla Extract
dash Salt
Directions:
The Sprinkles
Pre heat the oven to 350F and line a baking sheet with parchment paper.
Add 1 Tbsp of coconut flakes into a ziplock baggie. Drop the yellow food colori in the center of the bag. Shake the bag until the coconut flakes are fully coated in color. Remove the flakes from the ziplock and evenly lay them on a cookie sheet lined with parchment paper in one even pile.
Repeat the steps above to create the red and blue sprinkles.
Keep each color in an individual pile.
Toast the coconut shreds for 3 minutes in the oven at 350F. This will amplify the nutty taste as well as dry out the dye colors and prevent them from cross-contamination.
Keep your eye on the coconut shreds they toast fast. Remove the flakes from the cookie sheet immediately after they're out of the oven.
Mix colored flakes and set aside.
The Cookies
Pre heat the oven to 350F and line a baking sheet with parchment paper.
Combine all ingredients except butter into a food processor and blend until mixture is fine, powdery and incorporated. The mozzarella shreds should now blend in with the rest of the ingredients.
Cut the cold butter into 4 smaller pieces and pop it right into the food processor. Process the mixture until the butter is fully incorporated and the mixture clumps together and turns into a dough.
Portion dough and place it on a baking sheet using a cookie scooper.
Place the cookie dough in the freezer for 30 minutes. This will result in a thicker and chewier cookie.
Pop the cookies in the oven for 15-20 minutes. Check for the cookies to be completely melted and a little brown around the edges, that's how you'll know the cookies are ready,
Let cookies cool to room temperature before frosting
The Frosting
Start beating room temperature butter in a hand or stand mixer.
Add sweetener and milk alternating in 4 portions.
Beat the butter mixture until it gets light and airy. This can take some time so don't get discouraged, just keep beating.
Once you've reached a frosting consistency add vanilla extract, salt and food coloring. The food coloring is optional, I used 4 drops of red food coloring to achieve a pink frosting.
Use a butter knife to spread the frosting on to the cookies then finish the design off with a hand full of sprinkles.