------------- Advertisement - Continue Reading Below -------------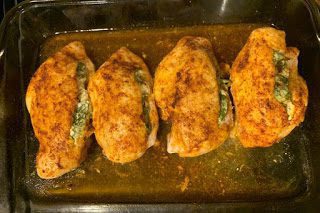 Spinach stuffed chicken .we had cheesy broccoli and rice with it.
Ingredients
4 boneless and skinless chicken breasts
1 tablespoon olive oil
1 tesapoon paprika
1 teaspoon Kosher salt
1/4 teaspoon garlic powder
1/4 teaspoon onion powder
2 tablespoons fat-free cream cheese
2 tablespoons fat-free plain Greek yogurt
1/4 cup grated parmesan cheese
2 cups fresh spinach, chopped
2 cloves garlic, minced
1/2 teaspoon red pepper flakes
Instructions
Preheat oven to 375 degrees. Line a baking sheet with foil and spray with non-stick spray. Set aside.
Place the chicken breasts on a cutting board and gently cut a pocket into each breast's longest side. Drizzle each with the olive oil and coat well.
In a small bowl, combine the paprika, 1/2 teaspoon salt, garlic powder, and onion powder, Mix well and sprinkle over the chicken breast. Set aside.
In a mixing bowl, combine the cream cheese, Greek yogurt, Parmesan, spinach, garlic clove, red pepper and remaining salt. Mix until smooth.
Stuff the spinach mixture into the pocket of each chicken breast and place the stuffed breast onto the prepared baking sheet.
Bake, uncovered, for 30 minutes or until chicken is cooked through and lightly browned. Let cool slightly before serving.
Enjoy
Nutrition Facts
Calories 191
Fat 6.44g
Carbs 5.43g
Protein 29.38g