------------- Advertisement - Continue Reading Below -------------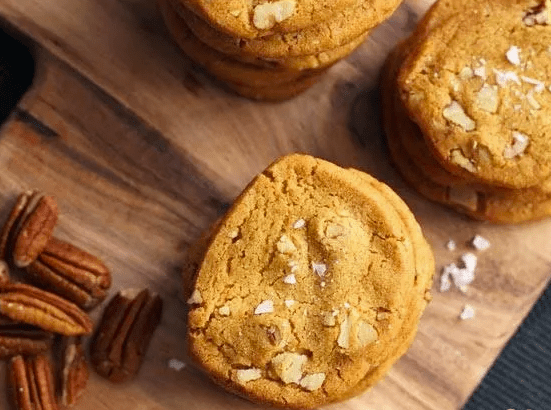 These cookies are wonderfully chewy, boldly tasteful and keep for days in an airtight container. 
Brown butter is exactly what it sounds like… "browned butter". It is the nutty, caramelized, toasty friend of fresh butter. 
As butter melts and then heats to a boiling point, the water in it evaporates. Remember, butter is a water-in-oil emulsion. It contains 15-18% water. Once this water evaporates, the milk solids, including milk proteins and some sugar (lactose), undergo delicious browning reactions that cascade into incredibly flavourful compounds.
INGREDIENTS
¾ cup 175 g unsalted butter
1 cup 220 g packed light brown sugar
1 large egg
1 tsp pure vanilla extract
1 ¾ cup 250 g all-purpose flour
1 tsp baking soda
½ tsp salt
¾ cup chopped pecans
flaked see salt for topping I use Maldon
INSTRUCTIONS
To brown the butter, place it in a small saucepan over medium-low heat and stir until completely melted. Allow butter to come to a boil, stirring constantly. It will bubble and crackle as its water content evaporates. Continue to cook, stirring frequently, until the crackling noises begin to fade and the bubbles subside. A dense foam will form at the surface as the last bit of water squeezes out, and the colour will progress from golden yellow to tan and finally, brown. This takes around 8-10 minutes. Keep a close eye on it as butter can turn from brown to burnt within a matter of seconds.
Once you smell that nutty aroma and begin to see little brown bits as you stir, take the pan off the heat and immediately pour the brown butter into a medium heatproof bowl. Refrigerate for 15 minutes.
Add brown sugar, egg and vanilla to the bowl with the brown butter and beat well. In a small bowl, whisk together flour, baking soda and salt and stir it into the butter mixture. Fold in chopped pecans. At this point the dough may feel a bit greasy. Place dough onto a large piece of parchment paper and roll it into a 12-inch long log. Refrigerate overnight.
Preheat your oven to 350°F. Line two baking sheets with parchment paper and set aside.
Use a sharp knife to slice 5mm rounds and place on prepared baking sheet, spacing them 1 inch apart. Sprinkle flaked sea salt on top. Bake for 8-10 minutes, or until golden and browned around the edges. Transfer to a wire rack to cool completely. The cookies will feel slightly greasy when warm but will handle just fine once cooled.

------------- Advertisement - Continue Reading Below -------------